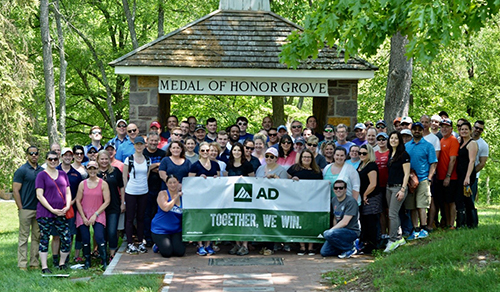 AD Gives Back to Honor and Support Veterans
May 25, 2017
Serving others is a core value here at AD. Our annual Giving Back Days are a great way for us to stay active in our community and work to make a difference in the lives of others—something that we continually strive to do.
The AD associates are always enthusiastic and eager to part take in our Giving Back Day. This year, we volunteered at the Medal of Honor Grove in Valley Forge. The Grove at Valley Forge is the oldest living memorial that honors our nation's Medal of Honor recipients, the highest military honor in our land. Each state has their own acre with their recipient's plaques and an obelisk. Every recipient of The Medal of Honor received a plaque on the 52 acre property.
Our volunteers spent the day cleaning the plaques and obelisks on the property, as well as supporting the administrative work of the organization. In addition, AD associates donated hundreds of toiletries and over $6,000 to Veterans in the Philadelphia area. All of this was made possible through the Veterans Multi-Service Center, a non-profit organization committed to supporting our nation's heroes, our veterans. Their mission is to provide services, programs, opportunities and advancements to the Veterans of the U.S. military, who have given so much to our country, and their families.
We would like to thank our supplier partners, Milwaukee Tool and GoJo for their generous donations. Milwaukee Tool donated leaf blowers to the Medal of Honor Grove and GoJo donated hand sanitizer to the veterans toiletry drive for the Veterans Multi-Service Center. Special thanks to Mission BBQ for discounting our delicious team lunch!
AD's 2017 Giving Back Day was a success and we look forward to staying active in our community until the next Giving Back Day!
To see more pictures from AD's 2017 Giving Back Day, click here.
To make a donation through the Veterans Multi-Service Center, click here.