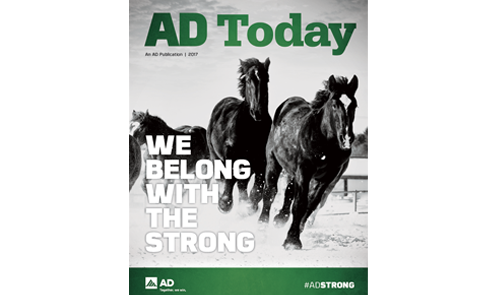 The 2017 AD Today Magazine is Now Online #ADSTRONG
November 29, 2017
"What AD Associates, AD Members and Suppliers have in common is that we never quit. There's a certain toughness and dogged determination we share. I call it 'AD Strong'," shared Bill Weisberg, AD CEO & Chairman in his opening message in this year's AD Today magazine.
Check out Bill's message along with #ADSTRONG stories from our Member and Suppliers here.
Features of this year's magazine include:
A STRONG LEGACY:  Celebrating AD Member companies who have been in business for over 100 years.
BUILDING A SOLID BRAND IN A DIGITAL WORLD: Learn insights on how branding has changed over the past decade and how AD Members and Suppliers are responding to the digital revolution.
STRONG ROOT, STRONG BRANCHES: From planning to execution learn AD Field Marketing Summits best practices.
POWERFUL TIPS ON HOW TO ENGAGE EMPLOYEES: Hear how others create a culture of engagement.
ANNOUNCING THE AD DISASTER RELIEF FOUNDATION
KNOW YOUR STRENGTHS: STRATEGIES TO CURATE YOUR LEADERSHIP TEAM
AD STRONG: What makes you and your company #ADSTRONG?
Also embedded into this year's magazine are a few feature videos, from Bill Weisberg's North American Keynote address to our new HR Services testimonial video. Check out the full magazine here!
Thank you to our advertising supplier partners who support this publication. To download the 2018 AD Today rate card click here.