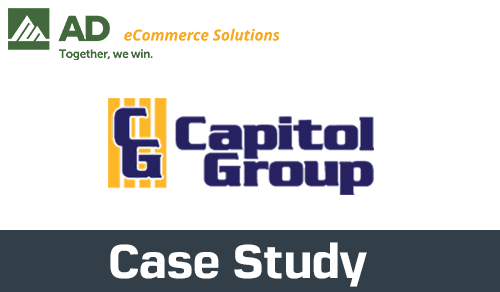 Capitol Group Launches Customer Friendly Mobile App: Creates an Edge Over Their Competition
February 5, 2019
"Capitol Group strives to make the process of doing business with us as easy as possible for our customers. The mobile app gives our customers more flexibility to do their job and enhance their overall experience with Capitol Group." - Ernie Cox, eCommerce Project Leader at Capitol Group.
Company Background
Capitol Group is a third-generation, family-owned business based in Springfield, IL that has been serving Plumbing, Mechanical, HVAC, and Industrial contractors and Retail Design customers from 6 locations since 1946. Capitol Group is an AD Member in the Plumbing, PVF, and HVAC Divisions.
The Challenge
In an increasingly digital marketplace saturated with the large-scale webstores of national chains, Independent Distributors are faced with the need to remain competitive. Many Independent Distributors are adopting the digital mindset and implementing their own eCommerce strategies to keep up with the demands of their customers. Capitol Group was no exception and in 2017 they partnered with AD eCommerce Solutions and AD trusted partner Unilog to build their own Digital Branch.
With the goal of building a digital strategy that would serve their customers' needs and create a user-friendly customer experience, the leadership team at Capitol Group questioned whether a website would suffice. After seeing many of their customers working on smart phones and tablets while on the job site, Capitol Group recognized the need for a seamless user experience across all devices.
The Solution
As a means of offering a more accessible alternative to a mobile-friendly Digital Branch for their customers to use on smart phones and tablets, Capitol Group chose to develop a mobile app that could accommodate their needs. The mobile app was built in conjunction with Unilog and offers the following features:
Scan a barcode to quickly go to the product within the catalog
Post photo queries to Capitol Group's customer service by taking new photos or uploading existing ones of a product directly to the app
Navigate Capitol Group's product catalog, complete with product taxonomy and enriched SKUs
Seamless browsing and check out process
Check with New Products inside the warehouse
Locate Capitol Group branches and enjoy hands-free navigation
Create and save carts for future ordering
My Accounts dashboard that contains all user-related information
To ensure the app would be fully functionaly and user-friendly, Capitol Group performed three launches over a period of 30 days: 
1. Beta Launch
Capitol Group invited their internal sales and customer service teams to test and use the app. This served as formal training for the staff who would later be answering customer questions about the app's functionality.
2. Alpha Launch
Capitol Group asked a small group of customers to engage with the mobile app and test its functionality and provide feedback. This allowed them to learn from their customers what worked, where improvements needed to be made, and what was missing that customers would expect to have.
3. Official Launch
6 months after the launch of their Digital Branch, Capitol Group released their mobile app to the public.
Results
Not only did Capitol Group's mobile app allow their customers to purchase product more easily on their phones and tablets, it offered them a level of self-service that maximized the efficiencies of Capitol Group's sales and customer service teams. The app has become an easy-to-use portal for customers to readily access much-needed resources. Beyond that, both inside and outside sales teams access the app to have on-demand information at a moment's notice.
Capitol Group's customers that have used the scan functionality to process bar code labels have all commented on how much easier it is for them to place their orders.
Since launching, Capitol Group has received the following feedback from their customers:
"Prefers the mobile app over the website" - Jim J.
"Told a competitor that if they aren't thinking of a mobile app like Capitol's then they are going to fall behind. This is the future" - Doug C.
AD eCommerce Solutions leverages AD's scale and community to enable Members to achieve their eCommerce objectives and win in an evolving digital world. To learn more about AD eCommerce Solutions, contact Caroline Ernst at cernst@adhq.com or (610) 977-3162.