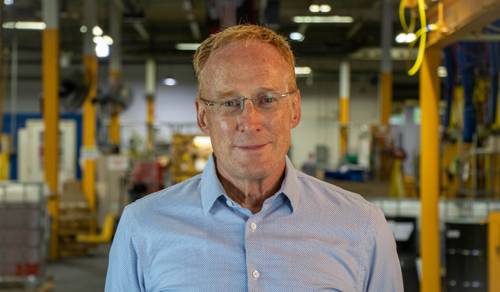 Ericson Manufacturing Hires Brian Earl as Vice President of Sales and Marketing
September 16, 2020
Ericson Manufacturing is pleased to announce that Brian Earl joined the Ericson team this month as the new vice president of sales and marketing. Earl will spearhead Ericson's expansion into new markets and oversee the overall marketing and sales strategy for the organization.
Hailing from Minnesota originally, Earl began his secondary education at the University of Minnesota with his undergraduate and his MBA at the University of Michigan, focusing on strategic marketing and market planning. He has an extensive background in developing and leading a variety of marketing, sales and technical teams serving customers nationally and internationally.
Earl brings his 30 years of experience in both the manufacturing and distributor channels to the role. Previous manufacturing accomplishments include successful positions as the national director of sales at Leviton Manufacturing Company and vice president of sales and distribution at Actuant Electrical. Within the electrical distribution channel, he led as the vice president of sales and marketing at Connexion and Steiner Electric most recently.
"Not only will you find that Brian's career accomplishments are impressive, you will find him more impressive as a person," said John Ericson III, president of Ericson Manufacturing. "Brian is very eager to expand Ericson Manufacturing's markets and continue to deliver our quality, innovative products to our clients and customers."
About Ericson Manufacturing
Ericson manufactures a comprehensive line of power, temporary power and lighting solutions, proudly "Made in the USA." Family owned since 1918, Ericson is the industry leader in electrical safety products with a commitment to safety, ease of use, and reliability – Safety is our Standard.
The Ericson product lines serve various markets, including power generation, petroleum and chemical refining, government, food processing, portable power rental, transportation, shipbuilding and entertainment. In addition to more than 10,000 products available off-the-shelf, Ericson engineers design custom solutions for specific applications. From initial consultation, to design, and manufactured to exacting application standards, Ericson aims to consistently exceed expectations, creating an exceptional experience in all aspects of our delivered solution. For more information, visit Ericson.com.