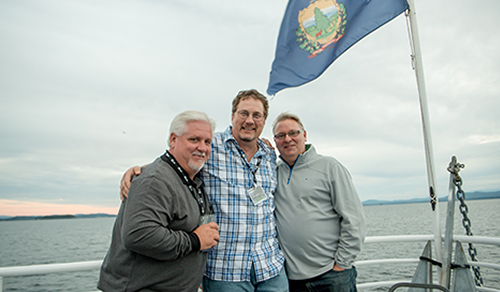 2017 AD Building Materials Annual Fall Meeting Concentrated on Relationship Growth
October 17, 2017
Shortly after the AD Building Materials group celebrated their 20 year milestone at the Annual Spring Meeting, they hosted a successful Annual Fall Meeting in Burlington, VT on September 28th – 30th. As AD Chairman and CEO Bill Weisberg states in the 2017 AD today magazine, "When we reach a successful milestone, we celebrate, as we should, and then we keep on climbing." Continuing the climb, the fall meeting held over 100 attendees who enjoyed building stronger relationships at the Meet & Greet reception, Member Business Meeting, and Individual Network Meetings. In addition to productive meetings, attendees had the chance to appreciate the stunning Lake Champlain views aboard a group dinner cruise and the opportunity to spend more time together by partaking in scheduled tours and activities around the quaint city of Burlington.
With this year's meeting theme being #ADSTRONG, AD Building Materials President Dan Maroni reflects on why the meeting and Building Materials membership is strong. "Fall is a time to harvest and reflect, having our Fall Meeting in Burlington turned out to be a great setting to reflect on our membership's continued strength and commitment to our organization, and our desire to keep independent distribution strong and thriving. Our harvest in 2017 were record sales through AD, added another 6 new members and 4 new suppliers to our organization with many in attendance in Burlington for their first meeting. Part of a good harvest is working efficiently together to get the most of our year - our membership's desire to be helpful to our new members, new suppliers and to AD Building Materials staff is what sets them apart from any other organization. The sense of welcome and energy each brings to our organization is unprecedented and is the continued key to our future strength."
In an effort to build strong future relationships, AD Building Materials invites a future leader as a part of their emerging leader's board representative program to each meeting. Emerging leader Scott St John with Westwood Building Materials located in Lawndale, CA was able to join the group in Burlington. St John expressed his appreciation, "The meeting was fun, informative and well planned. I found the experience to be very interesting and time well spent and look forward to continue working together."
Thank you to our sponsors for making the AD Building Materials Fall Meeting #ADSTRONG:
United States Gypsum Company
Owens Corning Corporation
Crane Composites, Inc.
Palfleet Truck Equipment Company, LLC
To view and download photos, please visit the: AD Flickr Account
The 2018 AD Building Materials Spring Meeting will be held in Nashville, TN at the Renaissance Hotel from April 23rd – 25th.