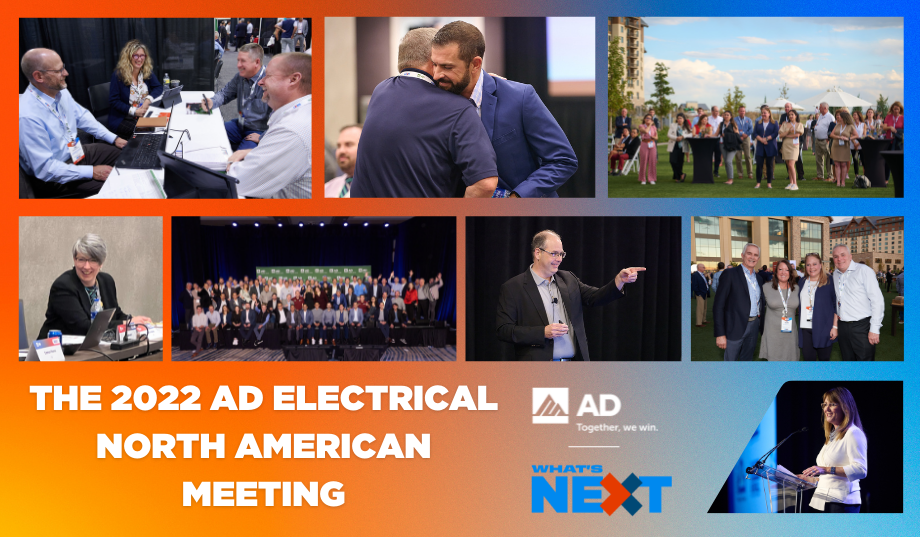 2022 AD Electrical North American Meeting highlights what's next for members and suppliers
October 13, 2022
Aurora, Colo. – From September 19 to 21, the 2022 AD Electrical North American Meeting brought together AD members and suppliers from the U.S., Canada, and Mexico to connect, celebrate their recent successes, and collaborate on opportunities for mutual growth.
The theme for the Electrical North American Meeting and AD's 2022-2023 meeting season is "What's Next" – a call for AD members and supplier partners to embrace new ideas and anticipate the future of their companies. The theme served as a significant backdrop to the meeting's agenda, guiding the focus of the meeting sessions toward partnership and innovation for the future.
AD leadership discuss financial successes
During member business updates, divisional leadership shared financial updates that reflect the growth and success of members and supplier partners.
Across AD's three Electrical divisions in the U.S., Canada, and Mexico, sales by AD Electrical members in 2022 are forecasted to increase by 33%, and member purchases from AD suppliers are expected to increase by 67%.
"It is an honor to work with you (our members) to execute on the programs and initiatives that help us grow together," said Marisol Fernandez, President of AD Electrical & Industrial Business Unit, during the U.S. member business meeting. "We are committed to the continued financial success of the AD community, enhancing the AD network experiences moving forward, and helping our members and suppliers leverage the full scale of AD's available resources."
AD Electrical – Canada forecasts that member purchases from AD suppliers will increase 11% in 2022, and AD Electrical – Mexico forecasts 44% growth of member purchases from AD suppliers.
Network experiences bring value to AD community
The North American Meeting included a reception for AD's Women's Network Group, which helps members make connections, share industry insights on leadership, and work together to attract and retain diverse talent across the industries we serve. AD welcomed Lura McBride and Karmen Wilhelm from Van Meter, Inc. to share their experiences as female leaders in the industry. Both Lura and Karmen delivered powerful messages about their personal experiences that resonated with attendees. These women are phenomenal examples of strong female leaders across the AD Community and represent AD's growing Women's Network Group.
Electrical members and suppliers participated in structured booth appointments designed for companies to discover new business relationships, strengthen existing relationships, and grow their companies together.
Network meetings allowed for members to share best practices with fellow leaders from non-competing AD member companies. In addition, attendees could participate in formal networking sessions that were topic-driven, focusing on key areas like, marketing, purchasing, supply chain operations, and sales management. Additionally, the event featured speakers that educated attendees on key leadership principles and the evolution of supply chain management.
In support of AD's owner/member network, AD brought together select trade publication partners, key owner/members, and a handful of AD executive leaders for a strategic discussion during the meeting focused on promoting and elevating the voice of independent distributors.
"Our community is lucky to work as independent companies where we have the freedom and versatility to make decisions that help our customers and employees," said AD Chairman and CEO Bill Weisberg during his keynote address. "These meetings show the power of relationships in our industry to create growth and help us carry on the legacies of our businesses."
AD community comes together to celebrate bright future
AD Electrical – Canada hosted its first annual 'AD Canada Night,' a reception with a strong emphasis on engagement, connection, and celebration of AD Electrical – Canada's collective strength. The evening brought together over 300 attendees from best-in-class distributors and vendors nationwide for an in-person networking event for the first time in nearly three years.
"We were thrilled to be able to bring a little bit of home to the beautiful city of Denver, and we were grateful for the opportunity to provide a platform for our members and supplier partners to reconnect," said Darryl Lee, Director of Marketing at AD Canada. "The electric energy and keen excitement during the event truly showed that the AD community is stronger than it has ever been in Canada."
AD Mexico's newly formed governance groups gathered for the first time in-person at an AD meeting. The formation of the Divisional Product Committee and Supplier Advisory Council represents the continued growth of AD Mexico and an increased commitment to the development of member and supplier relations.
"I want to take the opportunity to thank AD Mexico members for their support," said Juan Carlos Zacarías, Vice President for AD Mexico. "Despite the conditions of uncertainty with which we started the year due to issues of inflation, logistics and other factors external to business, thanks to their strategies, commitment and support we have achieved growth above the average of the market."
Karen Baker, President of AD Electrical – U.S., joined AD on September 6, making the 2022 AD Electrical North American Meeting her first networking experience as the division's leader.
"This meeting experience was a wonderful opportunity to reconnect with AD's Electrical members and suppliers who have grown their businesses year over year," said Baker. "With many ideas discussed and opportunities created this week, I look forward to continued growth for AD's Electrical divisions and the entire AD community."