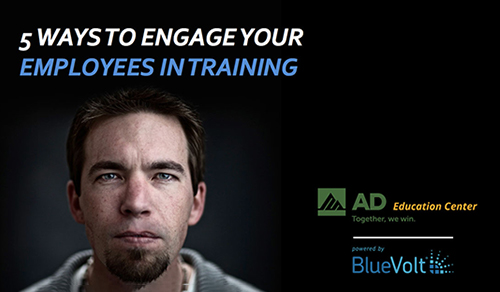 5 Ways to Engage Your Employees in Training that Drives Business Results
October 9, 2017
BlueVolt is an AD HR Service Provider. To learn more about how to leverage AD's recruiting and employment services through BlueVolt, click here.
AD Members know that training is critical to creating value over the career of an employee - and cultivating a knowledgeable workforce that knows your business and products.
The AD Education Center, powered by BlueVolt, is the online training portal available to AD Members as part of your membership - but it can be difficult to get your employees to take training (and use their new-found skills on the job!) Here are 5 proven ways to engage your employees with training, keep them motivated, and make learning central to your organization:
1. Create Executive Buy-In
It's important that initiatives are embraced from the top-down and that executives are not just giving lip service to training. Behavior modeling begins at the C-level: if employees see that their managers (and above!) are bought-in to training as having strategic value to the company, they will embrace it as a company creed and enthusiastically participate in training initiatives. It is just as important to have a training program at the managerial level and higher as it is for everyone else in the company.
2. Make it Formal
Don't just tell employees that they need to take training - make time for it! Have learners formally take their courses on company time, and on company computers. (From a recent survey we did of over 1,200 Distributor learners, we found that 64% of them said they preferred to complete training courses during company time - on a work computer.) And don't just do it once - make it a regular part of company life. Some companies do "Training Tuesdays" where everyone - management included - takes 1 hour during the day to take their assigned training courses. Finally, tying learning behaviors (such as quiz scores and training course completions in a week, month, quarter etc.) to employees performance reviews is the next step to motivate employees and reiterate that training is essential to their jobs.
3. Shrink Their World
Behavior is easiest to change when you identify the training you want your employees to take, and pick the products and courses for them. Identify the training that's key to their job role or your industry, and formalize that information into career plans that map to that job role for that person. (Career plans can be courses that make up Sales 101, 201, 301 etc., or Managerial Training Tracks for different departments.) This also helps keep valuable people at your organization, because smart, knowledgeable people want to grow their careers (rather than stagnate in seemingly dead-end positions that have no upward mobility). Employees will gain valuable skills for their job roles, see a clear future for themselves at your company - and reward you with greater loyalty in the bargain.
4. Enlist Peer-to-Peer Influencers & Champions
From our survey, 44% of Distributor learners said that if they have taken an online product training course, they are seen to be an expert by their peers. Why is this important? Because these are your employees who are bought-in to the power of continual education and self-improvement! Enlist these enthusiastic employees to be your company's official influencers and champions for training, and structure training programs, check-ins, mentorship groups, and incentive events with them leading the way for the others.
5. Use Incentives that Work
We all know that incentives work - so use them! In the survey, over 73% of Distributor respondents said that they felt that $BlueBucks were effective incentives to taking training. For employees, $BlueBucks can be a great way to earn cash value gift cards to retailers such as Amazon.com, Best Buy, Omaha Steaks, and Cabela's (and we always see a spike in course completions leading up to loved ones' birthdays and the Christmas holiday season; there's nothing like letting your dedication to training buy your Christmas presents every year!). To further incentivize, go beyond $BlueBucks with branch competitions, extra incentives, monthly spiffs, and the like. It's a great way to create camaraderie and build competitiveness around company - and employee - performance.
With over 2,180 courses now available in the AD Education Center, now is a great time to create a formal training initiative making use of this valuable resource. (And it's free to all AD members!) Don't miss out on the opportunity to engage your employees with information that can make them better people, better employees, and better advocates for your brand. Login at http://go.bluevolt.com/a-d and get started today!
BlueVolt is the leading elearning solutions provider for channel-oriented organizations. BlueVolt powers the AD Education Center and offers training strategy consulting, custom online courses for adult learners, and training data visualization to its customers. BlueVolt also offers white label learning platform software for manufacturers and distributors who want a customized portal for their own training courses and consolidated training data. These online universities are fully-branded and designed to achieve the customer's Sales, Marketing, HR, Product Management, and overall training goals.