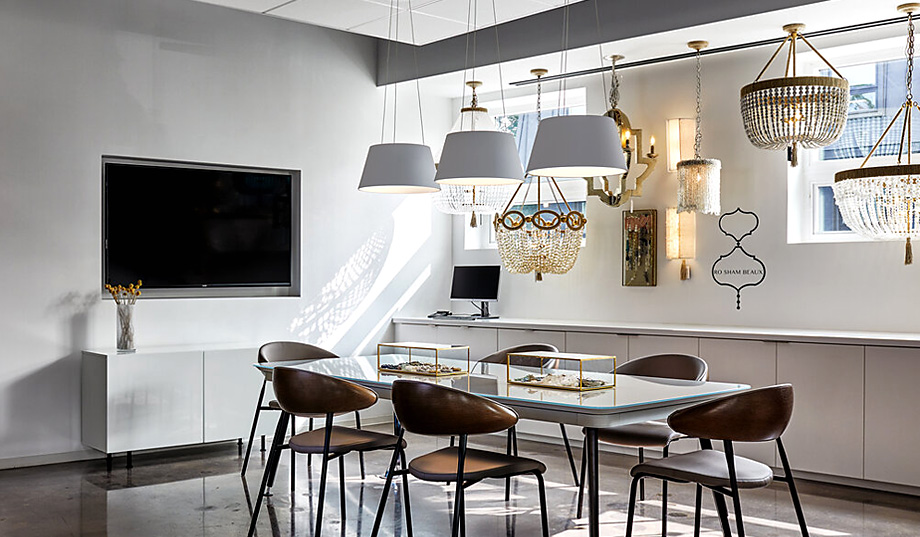 Dominion Electric Supply Company, Inc. — A CEO's Vision Becomes An Award-Winning Lighting Showroom And A Vibrant Neighborhood Space In Arlington, Va
December 10, 2021
Arlington, VA – 10/13/2021 , It started with a vision. In early 2019, Dominion Electric Supply Company, Inc. CEO Stephen Krooth proposed a plan to reposition the company's lighting showrooms as a destination for lighting and interior designers, home builders, and residential customers. The result is a multiple award-winning renovated showroom at 5053 Langston Boulevard (formerly Lee Highway) in Arlington, Virginia that reflects the essence of great lighting — the intersection of art, design, and technology.
To bring Krooth's vision to life, Dominion hired industry-leading architecture firm Gensler to help define and evolve the new lighting showroom and brand. Then-Gensler Studio Director Matthew Rowan worked with Krooth who directed the team to, "Completely rethink the experience of shopping for and understanding lighting. Throw everything out, and focus on the core experience of light."
Reimaging and renovating a 73-year-old space
The Arlington location had been expanded twice, to three time its original size, since Dominion Electric moved into the building in 1947. But in those 73 years, there had never been a renovation like the proposed new showroom.
The goal was to create a collaborative work environment where Dominion lighting specialists could work side by side with interior designers, contractors, or residential customers to demystify the design process and create a destination they'd truly want to visit, rather than one they "had" to visit. After completing the plan for the redesigned showroom, Krooth asked Rowan to join Dominion to implement the plan and bring his vision to life.
The project was completed in two phases during 2020 and represented a substantial investment by Dominion Electric. "At the outset of this project, we could have never predicted that a global health threat would so significantly impact our business. But managing construction during a pandemic gave us time to thoroughly consider how customers would experience the new showroom. We really took our time to fully develop the physical space and a completely new Dominion Lighting brand," explained Rowan.
Within its first year of being open to the public, the re-envisioned space was named a "Five-Star Showroom" by Lutron and "Best Lighting Store" in the Best of Washington DC 2021 awards by Modern Luxury DC magazine. The showroom also won two national awards at the 2021 Lightovation Dallas International Lighting Show. In addition, Dominion Lighting will be honored with the 2022 Designers Choice Award for Best Lighting Showroom by Home and Design Magazine.
In September 2021, Dominion Lighting received an award from ASID (American Society of Interior Designers) in the category of Environments Designed for Retail. This competition included the work of both local and global firms in the DC metropolitan area, and included a broad range of projects, not retail spaces.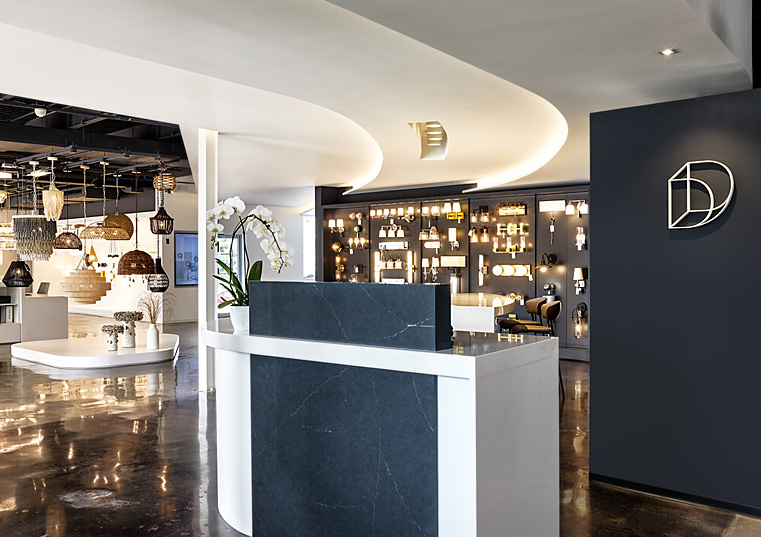 Creating a Unique Customer Experience
What strikes visitors first when entering the new Dominion Lighting showroom is the abundance of light and space. Gone is the overwhelming, low-hanging clutter of traditional lighting stores. Visitors are immediately oriented with clear, open pathways and comfortably spaced clusters of fixtures. The monochromatic color palette and polished floors evoke the feel of an art gallery. The result is an elevated look and feel — a space one would expect to find in Manhattan's SoHo Design District rather than in suburban DC.
The space has been split into two large zones. One is an expansive "gallery" with curated groupings of fixtures clustered around platforms with integrated desks, product catalogs, and hidden storage. The other zone features a series of "vignettes" where higher-end fixtures are displayed in context. A comfortable living room, a dining room with a 16-foot walnut table, and a crisp white kitchen all demonstrate what great lighting can do.
The "Light Lab" is a special room that demonstrates the various effects of light. Voice commands activate a scene mimicking typical builder-grade lighting; a rebalanced scheme with proper lighting direction and placement; and a "relax" scene that demonstrates soft lighting perfect for cocktails with friends. "The Light Lab immerses visitors in a space where they can actually feel the effect of good lighting. This usually creates an 'aha' moment, after which they'll never settle for bad lighting again."
Another unique feature is the bulb wall displaying the many forms of decorative bulbs stocked and available at Dominion. It's one of the most Instagrammed spots in the showroom. Aside from looking cool, it demonstrates how LED bulbs not only match incandescent options, but provide far more latitude and flexibility in design.
The Designer Studio is probably the most important aspect of the new showroom design. It was created specifically for design clientele, builders, and decorators to comfortably review lighting options. The space includes a large digital screen, plenty of table space, and refreshments. The Designer Studio serves as a shared workspace for Dominion's design partners — a place where they can also review finishes and plans, long after the lighting consultation has finished. The space includes dedicated shelving so designers don't need to transport heavy sets of drawings or finish palettes back and forth.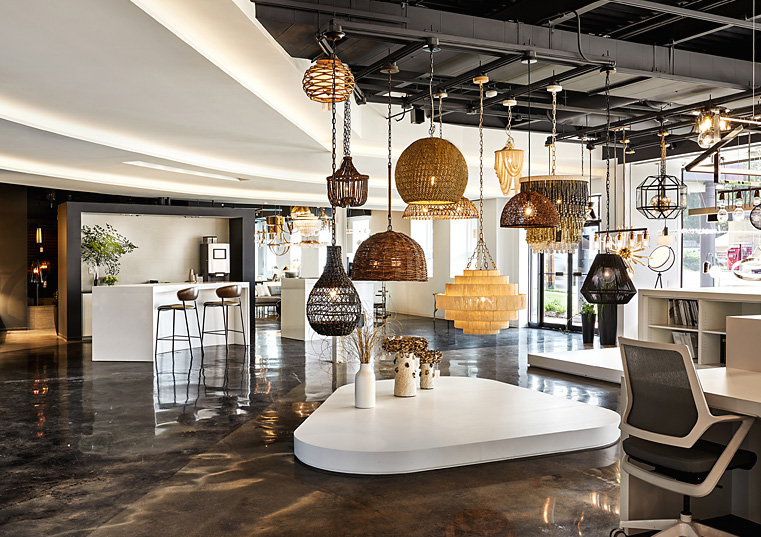 Looking Forward
An unexpected benefit of the pandemic was that it forced Dominion to focus even more intensely on the customer experience. In April 2020, Dominion Lighting implemented an appointment-only format. "COVID has made us even more aware of how we work," Rowan says. "Dominion Lighting has become even more customer-centric. What do our customers want and how can we accommodate that? Our goal is to anticipate their needs before they articulate them."
On Friday, October 8, the Dominion Lighting hosted an event sponsored by the Langston Boulevard Alliance, which was responsible for changing Lee Highway's name to Langston Boulevard. The change was based on the desire to realize the years-long grassroots community effort to create a welcoming Main Street by removing the word "Highway," and to begin to reconcile the painful racial history many people in the community have experienced by removing the name "Lee." John M. Langston was an abolitionist, attorney, educator, and the first Black Congressman from Virginia. As a center of the celebrations commemorating the change, Dominion hosted both an exhibit of art by local artists of color, as well as an exhibit that honors the heritage of the African American community along the corridor. The art show will remain up through November, and the heritage exhibit will remain on display indefinitely.
Dominion Lighting plans to continue hosting designer events, educational sessions, community gatherings, and receptions honoring local artists who exhibit their work in the showroom's gallery
With the award-winning renovated showroom and a new approach to working with customers, VP of Residential Lighting Matt Rowan is optimistic about the future for Dominion Lighting. "The past 18 months have been tough on all businesses, but we've come out strong. And with our reimagined, redesigned space, we're ready to elevate our entire industry by providing a vision that inspires clients, designers, and builders."
About Dominion Electric Supply Company, Inc.
Meyer H. Sharlin founded Dominion Electric in 1940 at 4754 Lee Highway with one truck and one employee. In 1947, Dominion moved to its current location at 5053 Lee Highway. Over the years, under the leadership of Richard Sharlin, Meyer's son, the building was expanded to three times its original size, and in 2017, an adjacent building was purchased to house the company's administrative offices. Between 1957 to 2020, another 10 locations were added throughout the D.C.- Maryland-Virginia metropolitan area, including three lighting showrooms. In 2020, under the leadership of CEO Stephen Krooth, Richard's son-in-law, the showrooms were rebranded as Dominion Lighting and the flagship Arlington showroom underwent a massive renovation. Krooth continues to run the company backed by a local management team, many who have been with the company for more than 30 years. Dominion Electric Supply Company, Inc. continues to be one of the few family owned and operated electrical distributors in the country.