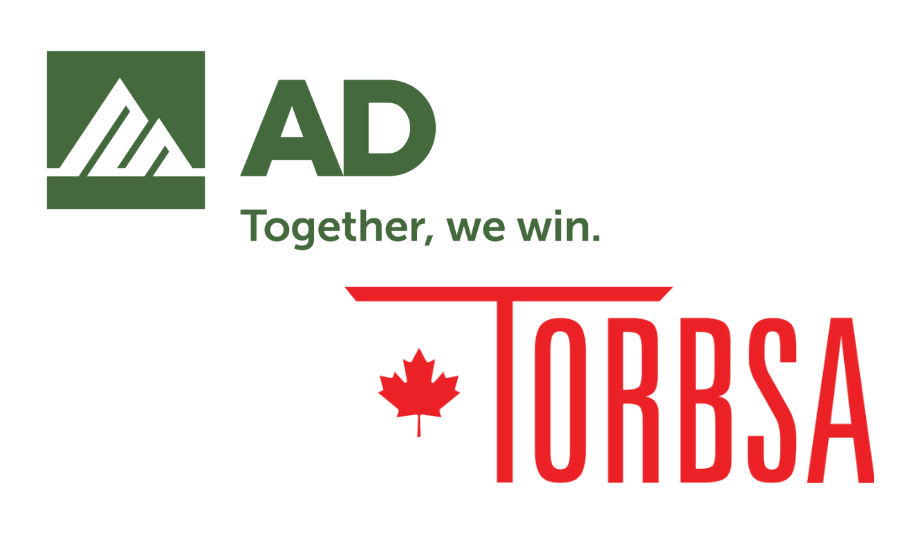 AD announces merger with Canadian buying group Torbsa
June 1, 2022
Wayne, Pa. – AD and Torbsa Limited, a leading building supplies buying group in Canada, are announcing an agreement to merge the two groups. The merger is expected to close July 1, 2022.
Established in Ontario in 1966, Torbsa is a shareholder-owned group made up of twenty-seven independent building supplies distributors, with 48 locations across Canada.
Rob Dewar, president of AD Canada, discussed how Torbsa's strong leadership and financial success made the buying group an ideal match for AD.
"Torbsa has been a leader in this space for a long time, and our new relationship will help us provide more benefits for members, including an increased supplier portfolio," Dewar said. "We both share a passion for serving independents and helping them thrive in competitive markets, and we're honoured to have them join the AD community."
The merger will create a new division: AD Canada – Building Supplies. Torbsa President Paul Williams will head the division while reporting to Dewar, and three additional Torbsa employees will join the AD team.
"The decision to align our business with AD was one that was scrutinized thoroughly," Williams stated. "TORBSA and its shareholders are truly excited at the road ahead, as we lay the foundation for what will be many years of success as a business."
AD Chairman and CEO Bill Weisberg talked about how this merger deepens AD's presence in Canada and marks another significant point of growth for AD.
"A key priority for us in recent years has been growing our presence in Canada, and our leadership team has done an amazing job identifying opportunities and expanding our multi-divisional footprint. With a new Canadian division and multiple new associates coming on board, the future continues to look bright for AD Canada," Weisberg said.
Williams commented on AD's reputation in the industry and how the merger will support Canadian independents.
"AD brings decades of experience, strong leadership throughout the organization, with strong business ethics and core values that align with our own. Their scale and expertise across North America give us the strength to compete and succeed in an ever-changing marketplace," Williams said.
---
AD annonce sa fusion avec le groupe d'achat canadien Torbsa
Wayne, Pa — AD et Torbsa Limited, un important groupe d'achat de matériaux de construction dans Canada, annoncent un accord pour fusionner les deux groupes. La date de clôture de la fusion est prévue pour le 1er juillet 2022.
Fondé en Ontario en 1966, Torbsa est un groupe détenu par des actionnaires et composé de vingt-sept distributeurs indépendants de matériaux de construction, avec 48 sites au Canada.
Rob Dewar, Président d'AD Canada, a souligné à quel point le leadership solide et la performance économique du groupe Torbsa, constituent un partenariat idéal pour AD.
« Torbsa est depuis longtemps un chef de file dans ce domaine et ce partenariat nous aidera à proposer encore plus d'avantages à nos membres, notamment un portefeuille de fournisseurs bien plus étoffé », explique M. Dewar. « Nous partageons tous deux la même passion de servir les indépendants et de les aider à prospérer sur des marchés compétitifs, et nous avons l'honneur de les accueillir dans notre communauté AD. »
Cette fusion donnera naissance à une nouvelle division : la Division matériaux de construction d'AD Canada. Paul Williams, le Président de Torbsa, prendra la relève de la direction pour la division tout en se rapportant à M. Dewar, alors que trois autres employés de Torbsa rejoindront l'équipe d'AD.
« La décision d'aligner notre entreprise avec AD a été examinée minutieusement », a déclaré M. Williams. « TORBSA et ses actionnaires sont tout à fait ravis de la route qui s'ouvre devant eux, alors que nous construisons les piliers pour ce qui promet d'être un succès commercial pour plusieurs années à venir. »
Le Président et Chef de la direction d'AD, Bill Weisberg, a précisé à quel point cette fusion approfondira la présence d'AD au Canada, et marquera les débuts d'une nouvelle ère pour l'entreprise.
« Depuis quelques années, l'une de nos principales priorités a été de développer notre présence au Canada et notre équipe de direction a fait un excellent travail pour cerner les possibilités et étendre notre empreinte multidivisionnelle. Avec la création d'une nouvelle division canadienne et au recrutement de plusieurs nouveaux associés, l'avenir continue d'être prometteur pour AD Canada », a déclaré M. Weisberg.
Quant à lui, M. Williams s'est exprimé sur la réputation d'AD dans l'industrie et comment la fusion appuiera les indépendants canadiens.
« AD met à profit des décennies d'expérience, une direction solide à travers l'organisation, ainsi qu'une éthique commerciale et des valeurs fondamentales qui s'alignent très bien sur celles de notre entreprise. La portée et l'expertise d'AD à travers l'Amérique du Nord nous permettront d'être plus compétitifs et de réussir dans un marché qui ne cesse d'évoluer », a affirmé M. Williams.