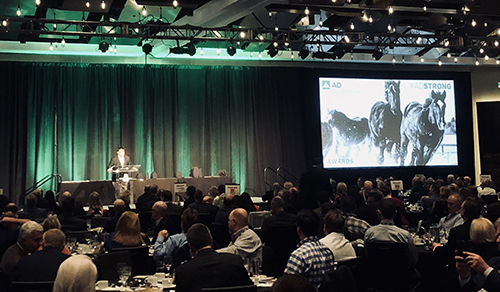 AD Building Materials Announces Record Attendance at 2018 Spring Meeting
May 23, 2018
AD Building Materials hosted the 2018 Spring Meeting in Nashville, TN April 23 – 25, 2018. The 3-day event held record breaking numbers with approximately 400 in attendance. Best practice sharing, networking, and building stronger relationships at face to face meetings were only a few of the benefits that member and supplier partners enjoyed. "Attending my first meeting, experiencing the energy, camaraderie, and independents uniting, solidified my decision to join AD. The affiliation is everything advertised and more. I am looking forward to many years of growth as a business and as an individual together with AD," reflected new AD Building Materials member and first-time spring meeting attendee Adam Starr with Starr's Building Supply.
A focused initiative the past few years has been to help members guide the emerging leaders of their companies. Over 40 emerging leader representatives joined together to commence the spring meeting at an event promoting the program. The event began with an educational presentation by supplier sponsor United States Gypsum Company and included topics tailored to emerging leaders such as innovative products, commercial construction and macro-economic industry trends. The presentation was followed by a networking reception and interactive golf driving range games at Top Golf.
In addition to the Emerging Leaders event, each year one of those representatives is invited to join the AD Building Materials Divisional Board meeting. This year Lenin Juarez II with Action Gypsum Supply accepted the invitation. Juarez volunteered his thoughts, "My experience as an Emerging Leader attending my first AD board meeting was very enlightening. It gave me a sneak-peak into what discussions, ideas and obstacles the board members face daily as well as the confidence each of them exude to be able to overcome and become stronger!"
Other meeting highlights include member facilitated network groups composed of non-competing member companies, an economic speaker and a speaker that specializes in optimizing talent and organizational performance.
The final night at the awards dinner, AD Building Materials President, Dan Maroni delivered a powerful speech motivating members and suppliers. Maroni stated, "Each of us has a role to play in how our industry will look in the future. We don't have the luxury to sit back and see what happens to us. We need to work together, to protect Independents today and ensure we are poised for growth tomorrow." Awards were given to honor new members, those that give back to their communities and members and suppliers that grew within AD Building Materials over the past year.
Congratulations to the 2017 AD Building Materials award winners:
New Members Awards
KIMCO Supply LLC
IDI Distributors
Spahn & Rose Lumber Company
Starr's Building Supply, LLC.
New Branch Locations Awards
Action Gypsum Supply West, LP (Phoenix AZ)
Action Gypsum Supply West, LP (Hayward CA)
Gypsum by McCarthy (Utica, NY)
J.E. Allen Company (Jonesboro, AR)
Tri County Building Supplies (Surf City, NJ)
Commercial Builders Group, LLC (Walker, LA)
Outgoing Divisional Board Member Award
Pam Mower, Northwest Drywall and Roofing Supply, Inc., 2014 – 2018 Service years
Outgoing Product Committee Member Awards
Brad Campbell, Campbell Supply Company
Gary Scrutchfield, Lumbermans Drywall and Roofing Supply Company
Brian Pickard, Interior Supply, Inc.
Member Supplier Participation Award
Action Gypsum Supply, LP
Holmes Drywall Supply
Bond Drywall Supply, Inc.
Member Growth Award
Messco Building Supply
Supplier Growth Awards
CEMCO
Dricon Fire Retardant Treated Wood
Member Award of Excellence
CF Supply, Inc.
Supplier Award of Excellence
National Gypsum Company
Member Giving Back Award
Delta Gypsum, LLC
Supplier Giving Back Award
Trim-Tex, Inc.
Best Workplace Award
Holmes Drywall Supply, Inc.
Preferred Supplier of the Year Award
CertainTeed
Order of the Wolf Award
Bill Courtney - Supplier Partner
Ed Sleeman - Member
Ann Sleeman - Member
To view and download photos from the event, visit AD's Flickr Account.
The 2018 AD Building Materials Fall Meeting will be held in Fort Lauderdale, FL at the W Fort Lauderdale from October 18-20, 2018 and the 2019 Spring Meeting will be held in San Diego from April 14-16, 2019.