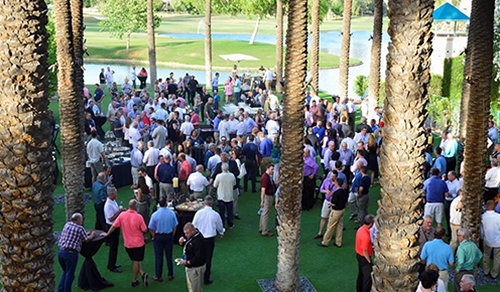 AD Building Materials Celebrates 20th Anniversary at 2017 Spring Meeting
May 15, 2017
The AD Building Materials Spring meeting successfully celebrated a 20 year milestone of the founding of AMAROK. Held at the Hyatt Regency Scottsdale at Gainey Ranch on April 23–25, 372 attendees immersed themselves in the spectacular resort setting.
With over 50 AD Building Materials Supplier Partners in attendance, our members valued the opportunity of having face to face meetings with them. Additionally, members appreciated the multiple networking events and being able to share best practices.
AD Building Materials President, Dan Maroni, addressed members by providing an overview of where the division started and what it has become. Maroni stated "I believe we have proven a sustainable track record after 9 years as AD and 20 years of AMAROK. We continue to support our members to grow their businesses and not be denied the opportunities our industry has to offer." Bob Motz, President of RM Supply Inc. and AMAROK founding member, spoke on behalf of the remaining AMAROK Founders, Trowel Trades and Outwest Drywall. In appreciation of the continued support from AD Building Materials, Motz communicated "Today with the challenges of industry consolidation, Big Boxes and government regulations, the need for this group is even larger than it was 20 years ago. I want to thank all of you for helping me to survive and prosper for the last 20 years."
AD executed a successful Emerging Leaders event sponsored by ClarkDietrich who discussed topics such as a steel market update, evolution of communication and an overview of their new products. Over 40 Emerging Leaders attended the event and competed in teams of 3 in an exciting blindfolded rock wall competition.
Emerging Leader and next generation owner, Jeff Branson of Inland Empire Drywall Company was invited to attend the Divisional Board Meeting. Branson shared his experience, "It was truly fascinating to be an emerging leader board representative. The level of discussion and professionalism was outstanding. I feel very confident that the board has the best interests in mind for the entire group. It was a great experience and I would welcome the opportunity to become a board member in the future, to help continue the standard of excellence that we have attained." Lenin Juarez of Action Gypsum attended his last meeting as Divisional Board Chairman. Juarez joined AD Building Materials as Chairman in 2011 and will be passing the torch to John Kindt of Delta Gypsum, LLC after a successful 6 year term.
Congratulations to the 2017 Spring Meeting Award Winners:
New Members
Gulfeagle Supply
Messco Building Supply
Metzger Building Materials
Stucco Supply Co. of San Jose, Inc.
Home Builders Supply Company
Young's Drywall Supply, Inc.
New Branch Locations
Delta Gypsum, LLC (Charlotte, NC)
T-5 Distributors, Inc. (Forest Hill, Texas)
Suncoast Building Materials, Inc. (Gibsonton, Florida)
ARGOS Material Distribution, LP (Long Beach, California)
Action Gypsum Supply, LP (Forth Worth, Texas)
Outgoing Divisional BOD Members
Troy Osborne, LDM, LLC, 2012 - 2017 Service Years
Ed Sleeman, Colorado Drywall Supply, LLC, 2013 - 2017 Service Years
Outgoing Product Committee Members
Steve Barriere, Waltham Lumber
Jim Buddo, Delta Gypsum, LLC
Founding Members
Trowel Trades Supply, Inc.
RM Supply, Inc.
Outwest Drywall Supply
Member Supplier Participation Awards
Allsteel & Gypsum Products, Inc.
Action Gypsum Supply, LP
Delta Gypsum, LLC
Lynwood Building Materials, Inc.
Member Growth Award
J.E. Allen Co., LLC
Supplier Growth Award
Member Award of Excellence
ARGOS Material Distribution, LP
Supplier Award of Excellence
Member Giving Back Award
Lumbermans Drywall and Roofing Supply Company
Westover Building Supply, Inc.
Supplier Giving Back Award
CertainTeed Insulation Group
Crane Composites, Inc.
Preferred Supplier of the Year
Order of the Wolf Award
Lenin Juarez
Mary Daly
To view and download photos, please visit the AD Flickr Account.
The 2017 AD Building Materials Fall Meeting will be held in Burlington, VT at Hilton Burlington from September 28–30, 2017.