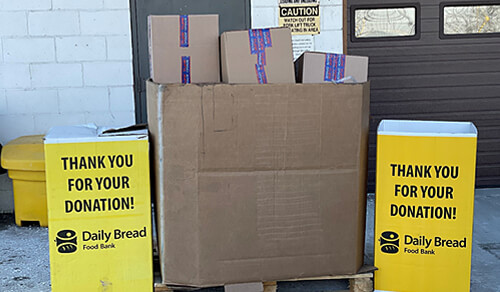 AD Canada community supports fight against hunger amid challenging economic times, donates 450 lbs of food to Toronto's Daily Bread Food Bank
March 1, 2022
Photo Details: The AD Canada community raised over 450 lbs. in food donations for Toronto's Daily Bread Food Bank.
TORONTO – In the year leading up to the unparalleled COVID-19 pandemic, the need for food banks in Toronto was evident, with close to one million visits being recorded. By 2021, with economic challenges continuing to exacerbate, food bank distributions saw a jump of 53 percent compared to pre-pandemic levels.
In response to this rampant surge, the AD Canada team facilitated a cross-divisional holiday food drive, engaging its member and supplier communities from AD Canada's Industrial & Safety, Electrical, and Plumbing & Heating Divisions, endeavouring to make a difference for those impacted by food insecurity. In true AD fashion, the community surpassed expectations—raising over 450 lbs. of non-perishable items for Toronto's Daily Bread Food Bank.
AD Canada's President, Rob Dewar, spoke on the strong sentiment the initiative fostered.
"Here at AD Canada, we are exceptionally grateful to our members and suppliers who, time and time again, show their generosity and commitment to their community," relayed Dewar. "It's efforts like these that truly amplify our group's guiding notion—'Together, we win'—and display how great organizations can collaborate to multiply their impacts—not only on a business level, but also on a personal level. In a period where so many of our friends and neighbours are struggling, our strong alliance stepped up to take care of one another, because that's the AD Way."
AD Industrial & Safety - Canada supplier Watson Gloves was among the organizations that championed the initiative by contributing a heaping donation to the food drive. Watson Gloves' National Accounts Director, Graham Kerr, expressed his thoughts on the importance of being an engaged member of the community.
"As both a proud supplier within the AD community, and an organization with a strong sense of corporate social responsibility, Watson Gloves is thrilled that we were able to make even a small difference for individuals and families struggling this holiday season through AD Canada's food drive initiative," said Kerr. "Making a concerted effort to give back is deeply embedded in our company values—because a strong, supported community is a thriving community."
AD Canada is grateful for additional food donations received from member Runnalls Industries and suppliers Moen and Brady.
To find out how you can donate to or volunteer with Daily Bread Food Bank, please visit www.dailybread.ca.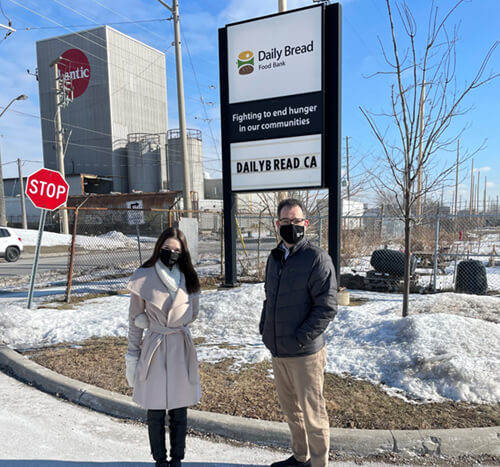 Photo Details (L-R): AD Canada Marketing Coordinator Haly Baran and Director of Marketing Darryl Lee visit the Daily Bread Food Bank in Toronto to drop off the donation.
---
La communauté AD Canada contribue à la lutte contre la faim dans un contexte économique difficile et offre un don de 450 livres de nourriture à la banque alimentaire Daily Bread de Toronto.
Description de la photo: La communauté AD Canada a récolté plus de 450 livres de dons alimentaires pour Daily Bread Food Bank dans Toronto.
TORONTO - Lors de l'année sans pareil ayant précédé la pandémie de COVID-19, la nécessité de banques alimentaires à Toronto était bien évidente avec près d'un million de visites ayant été enregistrées. En 2021, alors que les défis économiques ne cessaient de s'aggraver, les distributions des banques alimentaires ont connu un bond de 53% par rapport aux niveaux prépandémiques.
En réponse à cette vague effrénée, l'équipe d'AD Canada a lancé une campagne de collecte d'aliments pour les fêtes, auxquelles ont participé les membres et les fournisseurs des Divisions Industrie et sécurité, Électrique et Plomberie et chauffage d'AD Canada, visant à apporter une contribution aux personnes touchées par l'insécurité alimentaire. Fidèle à la tradition d'AD, la communauté a dépassé les attentes, en recueillant plus de 450 lb de produits alimentaires non périssables, qui ont été donnés à la banque alimentaire Daily Bread de Toronto.
Rob Dewar, le président d'AD Canada, a évoqué le fort sentiment que cette initiative a suscité.
« Ici, chez AD Canada, nous avons une reconnaissance exceptionnelle envers nos membres et nos fournisseurs qui, encore et encore, montrent leur générosité et leur engagement envers leur communauté », a relayé M. Dewar. « Des initiatives de ce genre amplifient véritablement la notion qui guide notre groupe de membres — "Ensemble, nous gagnons" — et témoignent de la façon dont les grandes organisations peuvent collaborer pour multiplier leur impact positif — non seulement sur le plan commercial, mais aussi sur le plan personnel. Dans une période où tant de nos amis et de nos voisins sont en difficulté, notre vigoureuse alliance est venue prendre soin les uns des autres, parce que c'est la voie d'AD ».
Parmi les organisations qui ont soutenu l'initiative, Watson Gloves, fournisseur de la division Industrie et sécurité d'AD Canada, a fait un don important pour la collecte d'aliments. Le directeur des comptes nationaux de Watson Gloves, Graham Kerr, a déclaré qu'il était important d'être un membre engagé de la communauté.
« En tant que fournisseur fier de la communauté d'AD et en tant que société ayant un sens aigu de la responsabilité sociale, la société Watson Gloves est ravie d'avoir pu faire une différence, ne serait-ce que modeste, pour toutes personnes et familles qui ont des difficultés en cette période de fêtes, grâce à l'initiative de collecte d'aliments d'AD Canada », a déclaré M. Kerr. « La volonté de s'efforcer à faire un tel geste de soutien en retour est profondément ancrée dans les valeurs de notre entreprise — sachant qu'une communauté forte et soutenue est une communauté prospère. »
AD Canada tient à remercier les membres Runnalls Industries et les fournisseurs Moen et Brady pour leurs dons additionnels de nourriture.
Pour savoir comment vous pouvez faire un don ou du bénévolat à la banque alimentaire Daily Bread, visitez leur site Web www.dailybread.ca.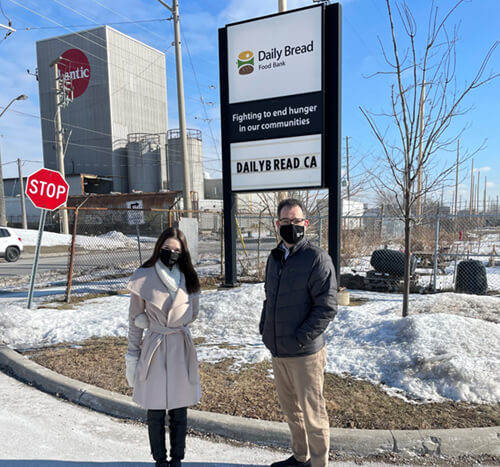 Description de la photo (de gauche à droite): Haly Baran, la Coordinatrice du marketing d'AD Canada, et Darryl Lee, le Directeur du marketing, visitent ensemble la banque alimentaire Daily Bread à Toronto pour remettre le don.