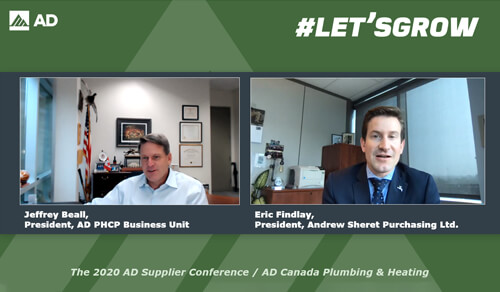 AD Canada Plumbing & Heating members build strategies for growth at 2020 Virtual AD Supplier Conference
October 12, 2020
Wayne, Pa. – As the first in a slate of virtual fall meetings, AD's Canada Plumbing & Heating Division hosted over 235 independent distributor members and supplier partners at its first-ever virtual supplier conference.
From Sep. 15 – 17, 2020, attendees participated in a series of sessions that included member and supplier updates and one-on-one booth sessions.
The theme of this year's AD meetings is "Let's Grow," symbolic of the challenges the world has faced this year and the countless ways AD's independent distributor members have innovated and partnered with each other, supplier partners, and AD to thrive in this difficult environment. The AD community has always been passionate about growth, and Let's Grow represents the commitment that AD members, suppliers and associates are making to look to the future, build momentum and charge forward.
With growth at the forefront of the member business meetings, AD's Business Unit President Jeffrey Beall conducted a panel discussion with the AD Canada Plumbing & Heating Supplier Advisory Council, whose members shared the challenges this year has brought to each of them and the ways they have adapted to overcome them.
During the supplier business meeting, Eric Findlay, president of AD member-owner company Andrew Sheret, gave suppliers a first-hand account of ways member companies are acclimating and learning in this new environment, directly contributing to their ongoing success.
Findlay noted that because they're independently owned and managed, "AD members can make quick decisions and have the ability to pivot and be adaptable to change operational flow almost overnight," he said. "Seeing the strong commitment this year to our relationships has been fundamental to foster growth and source mutual opportunities ahead to always grow stronger together."
Linda Hoff, AD's Decorative Brands Division director, spoke to the incredible growth AD's newest division has seen over the past year.
"I am so pleased to see the way Canada has embraced AD Decorative Brands," she said. "These member companies already have an active presence in this space, and I look forward to working together to build on AD's group initiatives to drive future growth."
In addition to the respective business meetings, AD shifted its signature one-on-one member and supplier booth meetings to a virtual format, with over 450 meetings taking place in two days.
Beall commented on the significance of shifting AD meetings to virtual and its positive impact on the Canada Plumbing & Heating community.
"This year has brought challenges for businesses across the board, to say the least," Beall said. "Times like these make you happy you have a network of strong and diverse members and suppliers to help weather the storm and provide guidance on how to come back stronger. The ability to connect and bring together this AD community, albeit virtually, was integral in our strategies to grow in 2020 and beyond."