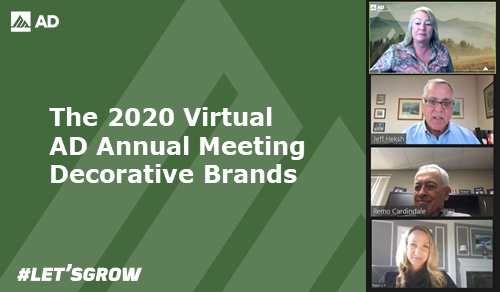 AD Decorative Brands annual meeting celebrates success while reflecting on adapting through adversity
December 1, 2020
Photo Details (Top to Bottom):  Linda Hoff - AD Director of Decorative Brands, Jeff Heksh - COO, Crawford Supply, Remo Cardinale - General Manager, PMF Plumbing Supplies, Katie Poehling Seymour - COO, Gerhard's The Kitchen and Bath Store.
Wayne, Pa. – AD hosted its Decorative Brands Division 2020 virtual annual meeting, the last of AD's seven fall meetings that shifted to virtual, from Nov. 17 – 19, 2020. During the meeting, a record-breaking 175 attendees from 66 member and supplier companies gathered virtually to network and invest in valuable relationships.
Over the three days, attendees participated in sessions including AD leadership-led member and supplier business meetings, providing information on divisional performance metrics, and member and supplier updates, which highlighted programs and services available to the AD community. In addition, meeting attendees participated in a virtual wine tasting session, AD's signature one-on-one member and supplier sessions, and best-practice sharing group network meetings.
Linda Hoff, AD director of the Decorative Brands Division, reported on the record-breaking year-over-year growth the division is having despite the challenges of 2020.
"With the challenges our industry faced this year, showrooms were hit especially hard having to practice social distancing," Hoff shared. "The AD member community has adapted in 2020, developing new and more efficient ways to operate that have already helped them thrive, now and into the future."
Katie Poehling Seymour, Chief Administrative Officer, First Supply/Chief Operating Officer of AD member owner Gerhard's - The Kitchen & Bath Store and Decorative Brands Division board chair spoke to participants about the way their industry is working to capitalize on the remodeling boom.
"Embracing change with the events of 2020 has helped us to more adeptly listen and respond to our customers," Poehling Seymour said. "The adaptations we have made to help our customers shop in advance, with virtual visits for example, will stay as an extremely efficient enhancement to fostering both more knowledgeable salespeople and customers alike."
At the start of the fall meeting season, AD shared its annual meeting theme is Let's Grow. Let's Grow speaks to the challenges the world has faced in 2020 and the creative ways AD's independent distributor members have pivoted and partnered with supplier partners, each other and AD to continue to outpace the industry, embracing the challenges to not only weather the storm but improve business overall.
Jeffrey Beall, president of AD's PHCP Business Unit highlighted the ways members can utilize AD programs that were put in place to support and foster member business development, to support growth for the remainder of 2020 and into 2021.
"This year has many business owners stretched thin and wearing multiple hats," Beall commented. "Utilizing the AD market planning program and AD field marketing summits right now is a great business practice for partnering with AD suppliers and laying the groundwork for growth. Taking the time to do the work now, to plan for 2021, enables you to have the roadmap for success to look and think ahead."