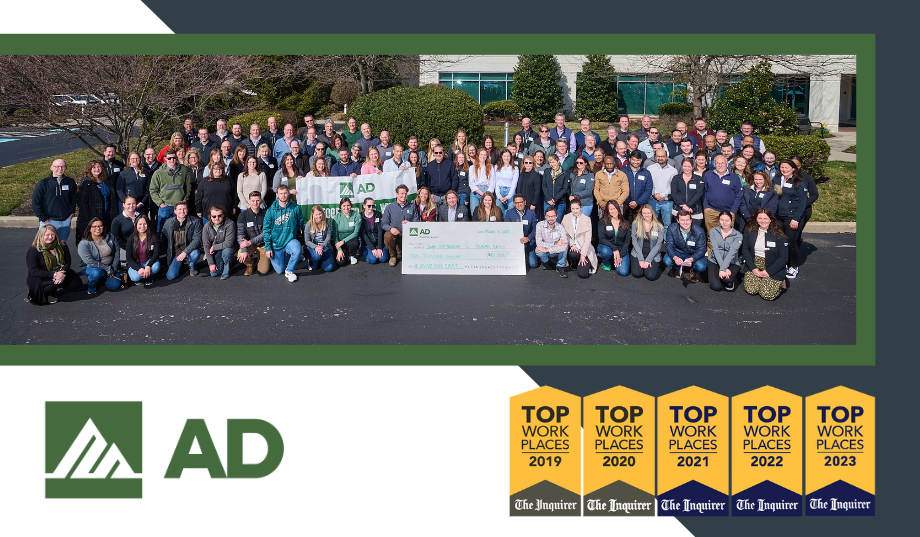 AD earns Top Workplace recognition for fifth consecutive year
April 17, 2023
Wayne, Pa. – AD has been named a Top Workplace in the Delaware Valley for the fifth consecutive year.
The Top Workplaces list is based solely on employee feedback gathered through a third-party survey from employee engagement technology partner Energage, LLC. The anonymous employee engagement survey measures 15 drivers of engaged cultures that are critical to the success of an organization, including alignment, execution and connection. Energage partners with The Philadelphia Inquirer to recognize organizations that lead a people-first culture, prioritize associate well-being, and excel at attracting top-tier job seekers and new business.
AD's Chairman and CEO Bill Weisberg shared why AD values strong workplace culture and associate engagement.
"When our associates are engaged and feel valued in the workplace, we are a stronger company for our members and supplier partners and can help our associates reach their full potential," said Weisberg. "Building and sustaining a workplace culture to be proud of does not happen overnight; it takes intentional effort at all levels of the company and true respect for the value and needs of our people."
Neil Cohen, Senior Vice President of Human Resources, thanked the entire team for contributing to AD's work environment and sharing their feedback.
"The Top Workplace recognition is a wonderful validation by our associates that AD has demonstrated a commitment to investing in them and ensuring that they have a great place to work," said Cohen. "Their honest feedback helps us celebrate areas where we are strong and intentionally focus on and create action plans around areas where we want to improve. I thank them for their participation and their efforts in making AD a great workplace."
Eric Rubino, CEO of Energage, shared his thoughts on what the Top Workplace recognition means for companies and their employees.
"Earning a Top Workplaces award is a badge of honor for companies, especially because it comes authentically from their employees," said Rubino. "That's something to be proud of. In today's market, leaders must ensure they're allowing employees to have a voice and be heard. That's paramount. Top Workplaces do this, and it pays dividends."