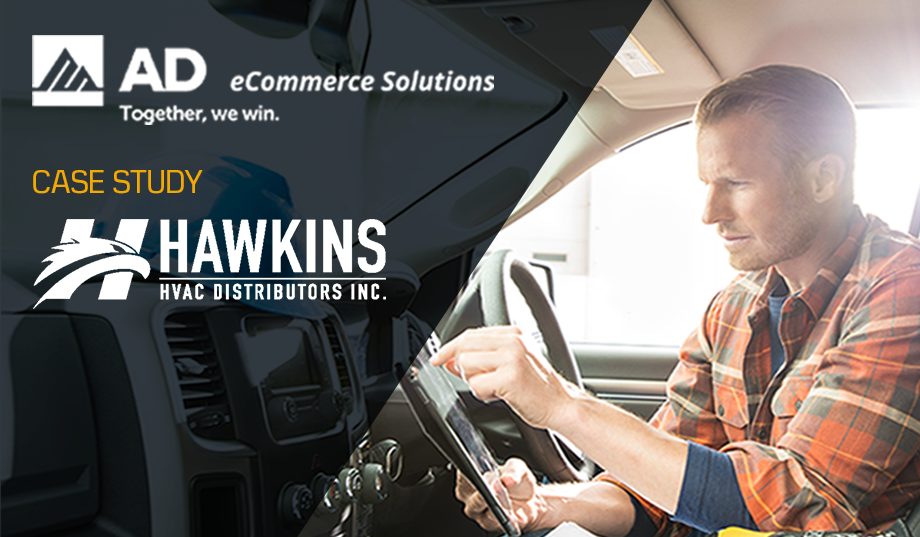 AD eCommerce Solutions helps accelerate Hawkins HVAC digital branch
July 21, 2022
"The AD eCommerce team was focused on helping us achieve our digital goals from the start. Their experience and professionalism made partnering with them a no brainer." - Melanie Cochran, Vice President
Company Background
Incorporated in 2017, Hawkins HVAC is a young independent distributor of HVAC equipment, parts and supplies based in Charlotte, North Carolina. Since their founding, Hawkins HVAC has been dedicated to being an innovative industry leader that partners with their customers to serve the HVAC needs within their communities. Over the past 4 years, they have opened 3 local branches with strategic expansion plans to continue to grow with their customer base. Hawkins HVAC is an AD member in the HVAC Division.
The Challenge
Hawkins HVAC launched their original website in 2018 with rudimentary, home-grown eCommerce functions as the overall growth strategy at the time was centered on the addition of branch locations. When the COVID-19 pandemic began, the branch expansion plan was halted, presenting an opportunity for innovation. As the team quickly pivoted their strategy, they shifted their focus to a "digital branch" leveraging eCommerce as a means for growth.
Understanding the importance of eCommerce and digital adoption, Hawkins HVAC knew their existing website would need to be upgraded to a more robust and functional eCommerce experience. With professional high-resolution images, product taxonomy with defined categorization, and normalized attributes as part of the vision for the new site, they quickly realized that there were not enough internal resources available to support the build and upkeep of product content in-house. Without dedicated resources to create, and more importantly, maintain content, they feared the new site would be out of date within a year after launch. Especially given the aggressive targeted launch timeline, a partner capable of providing normalized, standardized enhanced content with attributed data quickly would be instrumental in meeting this goal.
Solution
In order to build a SKU catalog the way Hawkins had envisioned for their new website, partnering with AD eCommerce Solutions was the first step. From day one, they were able to build their online SKU catalog from a repository of millions of enhanced SKUs across 4,000 manufacturers within the AD Member Product Information Management (PIM) tool. Using the AD eContent and AD Member PIM, Hawkins was able to create a robust SKU catalog equipped with standardized attributed data, product taxonomy, images, and documents both quickly and completely. Additionally, the flexibility of the AD Member PIM allowed for customizable export templates enabling integration of the AD data with ease. Along with the strong catalog of AD eContent and AD Member PIM to manage the data, Hawkins's partnership with AD eCommerce also provides access to vetted and curated service provider partners, a strong community of other eCommerce users for advice and networking, and a dedicated team with a passion for helping members like themselves digitally advance.
Results
Partnering with AD eCommerce and vetted AD service provider, Xngage, for strategy and implementation, Hawkins HVAC launched their website to beta users in less than 6 months of signing up for the AD eCommerce program. The AD eCommerce Solutions team helped accelerate Hawkins HVAC's digital presence to their customers. Since rolling out the site to all customers in early Q4 2021, Hawkins's customers have gained an online tool where they can check AD enhanced normalized content, conduct price checks between competitors, and utilize new self-service capabilities like making a payment online, driving a better customer experience. This addition of a "digital branch" enables their customers to purchase 24/7 rather than limiting them to store hours and allows Hawkins to acquire larger customers that expect digital solutions to be available. Internally, the Hawkins team has streamlined their order entry process, saving time at the counter. The site has also become a resource for new and existing employees to easily reference AD enhanced product content rather than navigating through their ERP system with limited ERP product content.
"Get started today. The world will continue to go digital, and you don't want to get left behind. It may seem challenging and daunting, but you need to trust the journey." – Joe Hawkins, President
AD eCommerce Solutions leverages AD's scale and community to enable members to achieve their eCommerce objectives and win in an evolving digital world. To learn more about AD eCommerce Solutions, contact Caroline Ernst at cernst@adhq.com or (610) 977-3162.