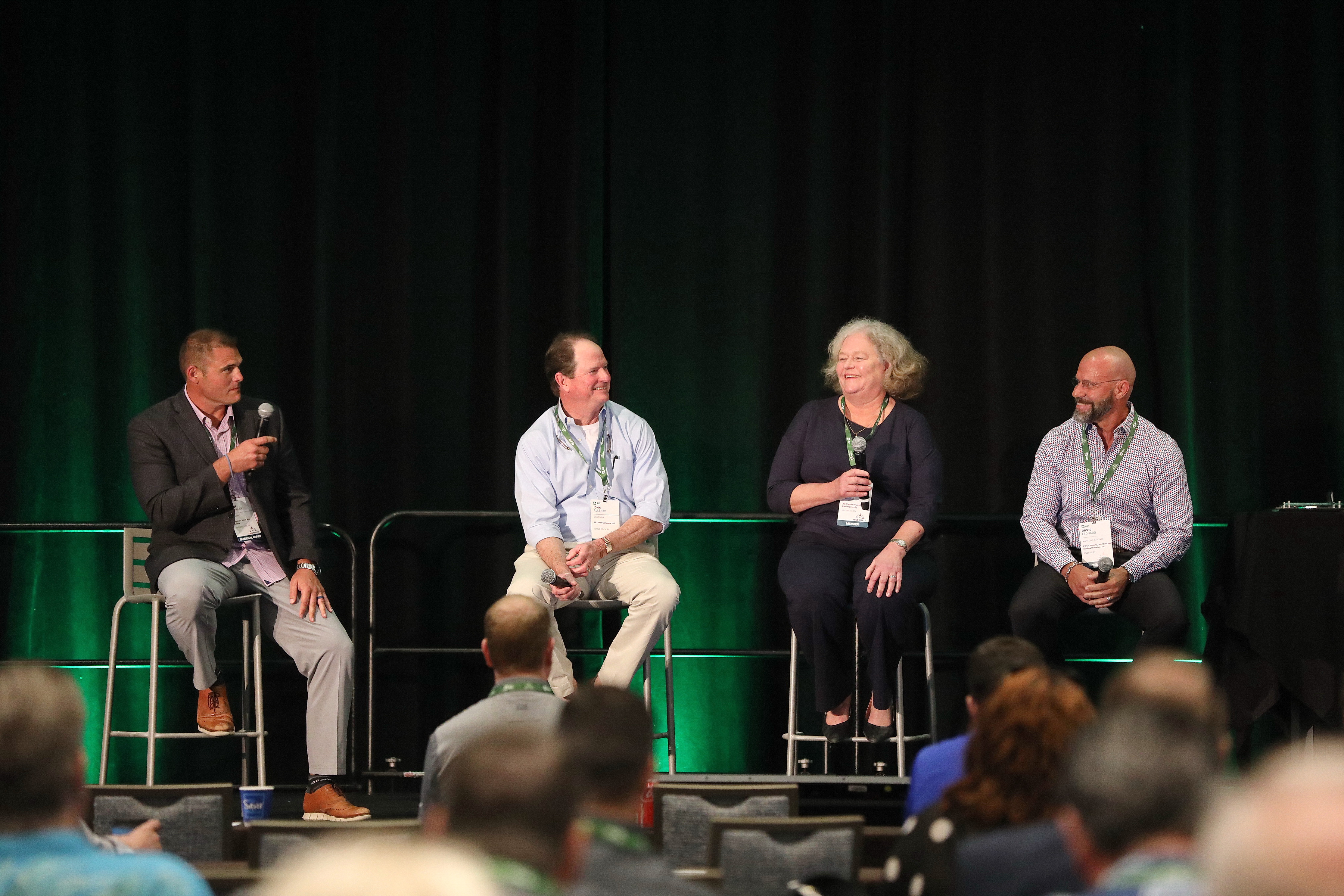 AD Gypsum Supply division's spring meeting focused on innovative discussions and celebrating success
April 28, 2022
Orlando, FL. – The AD Gypsum Supply division met on March 28 – 30 at the annual member and supplier spring meeting in Disney Springs. With over 355 in attendance, the meeting was focused on ways to collaborate and strengthen relationships. 
The three-day event began with a business meeting session, featuring a presentation from Pawan Thampi, Vice President of Building Products with John Burns Real Estate Consulting (JBREC). Thampi's presentation highlighted the positive outlook for building materials and focused on independents growth in 2022. Based on the 2022 US housing starts research which forecasted an estimate of 9% growth year over year in single-family starts and identified that building products spend is likely to increase 19 - 20% overall.  
Following, a new member panelist segment moderated by Dan Maroni, President of the Gypsum Supply division, offered an interactive forum to share solutions on post-pandemic hiring challenges, lessons learned, and opportunities using technology. 
Member panelist Pam Mower, President of Northwest Drywall & Roofing Supply shared her perspective on how the panel's discussion connected to AD's True North meeting theme. 
"The panel delivered a positive, relatable message, and the good news is that we all have a great story to tell," Mower shared. "We have all weathered the pandemic, grown our businesses, focused on becoming more and better in the future. I enjoyed participating with my fellow AD Gypsum Supply panelists, David Leonard of Suncoast Building Materials, John Allen with J.E. Allen Co., and Trent Chandler of Edgemont Stone and Supply. It was interesting to hear that we all have similar current issues: including labor shortages, equipment shortages, and supplier relationship changes/opportunities brought on by the pandemic. Before the meeting, I did not know the other panelists very well, now I do, and I feel fortunate. Going forward, I hope to see a new slate of panelists with fresh and differing perspectives. It was beneficial and I appreciated the opportunity."   
Market growth and networking power AD members
Maroni delivered a financial recap of 2021 and 2022 forecast as the business session concluded with a positive divisional update discussion. In 2021 alone, 11 new member branch locations opened which highlighted the resilience of the independents. Member purchases from AD suppliers tracked up 28% over the previous year and results from a recent quarterly industry update survey determined that 60+% of members' overall business volumes are forecasted to increase in the next 60 - 90 days.  
In addition to formalized non-competing member-to-member networking time, each evening reception presented additional relationship-building time. Additionally, over 1,300 face-to-face member and supplier appointments were conducted during the meeting, which is designed to enable members and suppliers to leverage transactions with current partners and discuss growth initiatives, marketing efforts, and new ways of partnering for the year.    
Spirit of Independence awards
AD welcomed three new members during its renowned Spirit of Independence awards ceremony: KJ Drywall Supply, Mack's Inc., and Redding Drywall & Stucco Supply. AD also recognized a member and a supplier company that exemplified significant data-driven growth over the last year through their growth awards. The member growth award went to ISC Building Materials and the supplier growth award went to MarinoWARE Industries. 
AD's participation awards go to companies that converted the highest percentage of business within the group. The member participation award went to L.K.L. Associates and the supplier participation award recognized Trim-Tex Drywall Solutions. 
Closing out the show, AD recognized one member and one supplier who demonstrated the overall greatest support in terms of participation, communication, and growth. The member of the year award went to Interior Supply, Inc. and the supplier of the year award went to Grabber Construction Products. 
Maroni shared his take on the final award that was presented, "I am proud Interior Supply, Inc. received the member of the year award. They continue to perpetuate their company through innovation of selling specialty products, educating the market, and focusing on the next generation. They are a great asset and partner within the AD community."