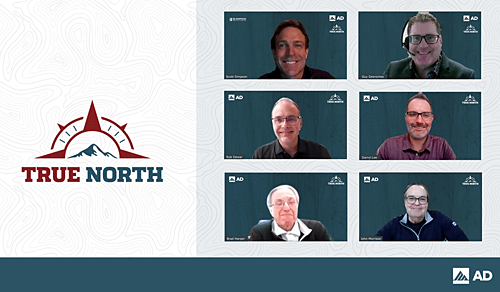 AD Industrial & Safety-Canada Division leverages remote networking at supplier summit to outpace the market
November 29, 2021
TORONTO – AD's Industrial & Safety–Canada Division virtually reunited over 700 participants from member and supplier organizations during the division's second Supplier Summit of 2021, facilitating over 2,400 face-to-face meetings throughout the event. The meeting took place Nov. 15 – 19 with the goal of fostering strategic discussions to devise new ways of outpacing the market.
Rob Dewar, president of AD Canada, spoke on the success the division has experienced throughout an unparalleled year and a half, while reflecting on the pertinence of this year's meeting theme, True North.
"We are remarkably proud of the triumphs we have experienced within our astute alliance of members and suppliers throughout 2021", emphasized Dewar. "With an impressive growth in member purchases with divisional AD suppliers in 2021, we continue to prove our guiding notion that we are stronger together. This year's meeting theme, True North, further encapsulates this idea by calling upon all of us to contemplate both our personal and organizational 'true norths' during these ever-changing times. Entrenched in the belief that core values and strong conviction make AD's independents resilient, we celebrate our member and supplier companies today and every day for their unending dedication to winning together."
Member governance at the forefront of division's work
The event's business update also saw the sign off-of the division's longstanding Chairperson, Scott Simpson of S.B. Simpson Group. Simpson will remain on the division's board.
"It was my great privilege to serve as the Industrial & Safety–Canada chairperson for this dynamic union over the past number of years", recounted Simpson. "From the 2019 integrative merger that amplified our network, to the day-to-day actions of the AD team that serve our members, and the strong commitment from our partners, AD Canada is truly a special place. I have no doubt that my successor, Guy Desroches, will extend the efforts of our goals of continually fostering strong relationships and engagement levels between AD's member and supplier partners."
Incoming Chairperson Guy Desroches, president of PSB Chaleurs/CONFIAN, spoke on his pledge to AD's members and suppliers.
"As we bid a heartfelt farewell to Scott as chairperson, it is my promise to our partners that in this new position, I will make it my priority to cultivate connections between AD's member and supplier organizations, while honing in on opportunities to learn from one another — because there is truly so much knowledge and experience that we can leverage between us," said Desroches. "Going back to the very tagline of AD — 'Together, we win' — it has never felt so relevant. After 20 long months of reinventing ourselves, it is time to get back together, more unified than ever. I eagerly anticipate seeing our members and suppliers in Vancouver in 2022 for our next supplier summit".
The kickoff touched on a few previously launched undertakings that continue to provide value for AD's partners. Among them, AD Industrial & Safety–Canada's supplier webinar series connects AD's members to its supplier community by providing informative webinars, opportunities for additional training and an open line of communication between organizations. The recently unveiled supplier star rating system provides an internal scale based on objectively measurable criteria that echo a supplier's efforts in areas such as rebate programs, market planning, meeting participation and more.
The supplier summit's virtual one-on-one booth meetings between members and suppliers offered a platform for companies to share best practices and strategize on breakthrough ways to expand the independent channel. A follow-up survey found that 97% of members and 98% of suppliers surveyed were pleased with the meetings, with the appointments offering a convenient way to connect with a myriad key decision makers over one week.
Among the participants that found the meetings valuable was Mark Levac, president of member company Levac Supply.
"The AD Supplier Summit was a huge success", said Levac. "Nothing but good things to say about the engagement level of our supplier community throughout the four days of the summit. Despite significant disruption in the supply chain in recent months, the mood was upbeat and positive in all our meetings. We are well-poised for a successful 2022 with the support of our AD supplier partners. Kudos to the entire AD team for a job well done."
Launch of new initiative helps break glass ceiling
The supplier summit also saw the formal launch of an important new initiative aimed at empowering women across AD Canada's industries. The Women in Industry Network's kickoff session during the event featured two panel discussions highlighting accomplished women from a variety of backgrounds in industries that are traditionally male dominated. Topics ranged from the importance of mentorship to how partner organizations are incorporating diversity and inclusion into their corporate initiatives in 2021 and beyond.
It's being spearheaded by AD Canada's Marketing Program Specialist Caroline Ebeid, who shared her excitement about plans for the future.
"We are ecstatic that the kickoff was such a great success," says Ebeid. "With the support of both women and men across AD Canada, we keenly anticipate the ability to prompt meaningful change in our community. We look forward to bringing our network members additional events, workshops, resources and experiences, all with the dedicated goal of contributing positively to equaling the playing field."
The kickoff session also left a lasting impact with attendees and panelists. Suzanne Jackson, key account manager of supplier partner 3M Canada participated on the session's first panel. Jackson relayed the effect of both the supplier summit at large and the introductory Women in Industry Network session, specifically.
"AD Canada was able to produce another first-rate virtual summit in 2021," said Jackson. "It enabled our teams to connect and discuss the ever-changing environment with our member partners and adjust our plans accordingly. The inaugural Women in Industry network session was motivating and inspiring! Well done, AD!"
Reuniting in person in 2022
The 2022 AD Industrial & Safety–Canada Supplier Summit is slated to be held May 30–June 2 at the JW Marriott Parq in Vancouver. The AD Canada team eagerly anticipates the opportunity to facilitate in-person connections between members and suppliers after a long-awaited two years.
Photo Details: AD Industrial & Safety-Canada outgoing Chairperson Scott Simpson (upper left) presented alongside incoming Chairperson Guy Desroches (upper right), President Rob Dewar (middle left), Marketing Manager Darryl Lee, Vice President of Finance & Operations Brad Harper (bottom left) and Vice President of Supplier Relations John Morrison (bottom right).
---
La division Industrielle et de sécurité d'AD Canada met au profit le réseautage à distance lors du Congrès virtuel des fournisseurs en vue de devancer le marché.
TORONTO - La Division Industrielle et de sécurité d'AD Canada a regroupé au virtuel près de 700 participants issus d'entreprises membres et de fournisseurs, dans le cadre du deuxième Congrès virtuel nord-américain des fournisseurs de la division, et a occasionné plus de 2 400 rencontres en face à face au cours du congrès. La réunion, qui a eu lieu du 15 au 19 novembre, avait pour objectif de susciter des discussions stratégiques pour trouver de nouveaux moyens de prendre le pas sur le marché du secteur.
Rob Dewar, Président d'AD Canada, a fait état du succès que la division a connu à travers une année et demie perturbante et sans pareil, tout en reflétant sur l'importance du thème de la conférence de cette année, « True North » (Vrai Nord).
« Nous sommes très fiers des réussites que nous avons connues grâce à notre alliance judicieuse de membres et de fournisseurs tout au long de 2021 », a souligné M. Dewar. « Grâce à une hausse impressionnante des achats de membres auprès des fournisseurs d'AD des divisions en 2021, la preuve demeure que nous sommes plus forts ensemble. Le thème de cette assemblée, "True North" (Vrai Nord), résume encore plus concrètement cette vision en appelant chacun d'entre nous à réfléchir à notre "Vrai Nord" tant sur le plan personnel que sur celui des entreprises en cette époque de perpétuel changement. Fidèles à la conviction que ce sont les valeurs fondamentales et une affirmation solide, qui assurent la résilience des indépendants d'AD, nous célébrons aujourd'hui et chaque jour nos membres et fournisseurs pour leur engagement indéfectible à gagner ensemble ».
La gouvernance des membres au cœur des efforts de la Division
Au cours de la conférence, Scott Simpson, du Groupe S.B. Simpson, Président de longue date de la division, a également annoncé son départ. M. Simpson continuera néanmoins à siéger au Conseil d'administration pour la division.
« J'ai eu l'immense privilège de servir à titre de Président de la Division Industrielle et de sécurité du Canada pour ce syndicat dynamique au cours des dernières années », a déclaré M. Simpson. « Que ce soit la fusion intégrative de 2019 qui ait amplifié notre réseau, les activités quotidiennes de l'équipe d'AD au service de nos membres ou l'engagement solide de nos partenaires, AD Canada est véritablement un organisme exceptionnel qui m'inspire. Je n'ai aucun doute que mon successeur, Guy Desroches, renforcera ainsi les efforts pour atteindre nos objectifs de promouvoir sans cesse des relations solides et de hauts niveaux d'engagement entre les partenaires membres et les fournisseurs d'AD. »
Le président entrant Guy Desroches, président de PSB Chaleurs/CONFIAN, a quant à lui, fait part de son engagement auprès des membres et fournisseurs d'AD.
« Au moment où nous saluons de tout cœur la présidence de Scott, je promets à nos partenaires qu'à ce nouveau poste, ma priorité sera de cultiver les liens entre les organisations membres et fournisseurs d'AD, tout en privilégiant les occasions de partager les connaissances des uns et des autres, puisqu'il y a énormément de connaissances et de savoir-faire que nous pouvons exploiter ensemble », a déclaré M. Desroches. « Revenons au slogan même d'AD — "Ensemble, nous gagnons" — qui ne nous a jamais paru aussi pertinent que présentement. Après avoir passé 20 longs mois à nous réinventer, le temps est venu de nous retrouver plus solidaires que jamais. J'attends avec impatience de voir nos membres et nos fournisseurs à Vancouver en 2022 pour notre prochain Congrès des fournisseurs ».
La cérémonie de départ a porté sur quelques initiatives déjà lancées qui continuent à profiter aux partenaires d'AD. Parmi celles-ci, on retrouve la série de webinaires des fournisseurs de la Division Industrielle et de sécurité d'AD Canada, qui établit un lien entre les membres d'AD et la communauté des fournisseurs par le biais de webinaires informatifs, de formations continues et de voies de communication libres entre les organisations. Le récent système d'évaluation par l'usage d'étoiles, proposé aux fournisseurs, établit une échelle interne fondée sur des critères quantitatifs qui reflètent les efforts des fournisseurs « étoiles » dans divers domaines tels que les programmes de rabais, la planification du marché, la participation aux réunions, etc.
Les rencontres virtuelles en tête-à-tête entre les membres et les fournisseurs ont permis aux entreprises de partager leurs meilleures pratiques et de réfléchir à des stratégies novatrices pour développer des voies indépendantes. Une enquête de suivi a révélé que 97 % des membres et 98 % de nos fournisseurs interrogés ont trouvé les réunions très satisfaisantes et que les rendez-vous ont offert un moyen pratique de rencontrer un grand nombre de décisionnaires clés au cours d'une semaine.
Parmi les participants qui ont jugé les réunions utiles, on trouve Mark Levac, Président de l'entreprise membre Levac Supply.
« Le Congrès des fournisseurs d'AD a été un énorme succès », a déclaré M. Levac. « Je n'ai que de bonnes choses à dire à propos du niveau d'engagement de notre communauté de fournisseurs au cours des quatre jours du sommet. Même si la chaîne d'approvisionnement a été sérieusement perturbée lors des derniers mois, toutes les réunions se sont déroulées dans une ambiance positive et optimiste. Nous sommes bien placés pour réussir en 2022 grâce au soutien de nos partenaires fournisseurs d'AD. Félicitations à toute l'équipe d'AD pour un excellent travail si bien accompli ! »
Une initiative visant à briser le plafond de verre
Le Congrès des fournisseurs a aussi donné lieu à la présentation officielle d'une nouvelle initiative importante ayant pour but de renforcer l'autonomie des femmes à travers les secteurs et industries d'AD Canada. La séance de lancement du Réseau des femmes dans l'industrie, qui a eu lieu au cours de l'événement, comportait deux discussions de type table ronde mettant en vedette des femmes accomplies, provenant de divers secteurs d'activité où les hommes ont traditionnellement assumé une place prépondérante dans les cadres exécutifs. Parmi les sujets évoqués, les conférencières ont abordé l'importance du mentorat et la façon dont les organisations partenaires intègrent la diversité et l'inclusion dans leurs initiatives d'entreprise en 2021 et au-delà.
Cette initiative a été chapeautée par Caroline Ebeid, Spécialiste du programme de marketing d'AD Canada, qui s'est montrée très enthousiaste quant aux projets pour les années à venir.
« Nous sommes absolument ravies du succès de ce lancement », a affirmé Mme Ebeid. « En nous appuyant sur le soutien des femmes et des hommes à travers AD Canada, nous sommes convaincus de pouvoir déclencher des changements concrets au sein de la communauté. Les membres de notre réseau pourront participer à d'autres événements, ateliers, ressources et expériences, afin de contribuer à l'égalité des chances pour tous. Nous avons hâte de voir ce qu'on peut faire ensemble à l'avenir ».
La séance de lancement a également eu un impact durable sur les participants et les panélistes. Suzanne Jackson, Directrice des comptes clés du partenaire fournisseur 3M Canada, a été invitée à participer au premier panneau de la conférence. Mme Jackson a souligné l'effet du sommet des fournisseurs en général et celui de la séance d'introduction du programme Réseau des femmes dans l'industrie (Women in Industry Network) en particulier.
« AD Canada a réussi à organiser un autre superbe congrès virtuel en 2021 », a déclaré Mme Jackson. « Ce rassemblement a permis à nos équipes de se rapprocher de nos partenaires membres, de parler de notre industrie en constante évolution et de revoir nos projets et prévisions en conséquence. La toute première séance du réseau des femmes de l'industrie a été source de motivation et d'inspiration ! Bravo, AD! »
Se réunir ensemble en personne au Congrès de 2022
En 2022, le Congrès des fournisseurs de la Division Industrielle et de sécurité d'AD Canada aura lieu du 30 mai au 2 juin au JW Marriott Parq à Vancouver. Après deux ans d'attente, l'équipe d'AD Canada est impatiente d'avoir l'occasion de réunir à nouveau et en personne (physiquement), les membres et les fournisseurs.
À propos de cette photo: Le Président sortant de la Division Industrielle et de sécurité d'AD Canada, Scott Simpson (en haut à gauche), a donné un discours aux côtés du nouveau Président Guy Desroches (en haut à droite), du Président Rob Dewar (au milieu à gauche), du Directeur de marketing Darryl Lee, du Vice-président des finances et des opérations Brad Harper (en bas à gauche) et du Vice-président des relations avec les fournisseurs, John Morrison (en bas à droite).