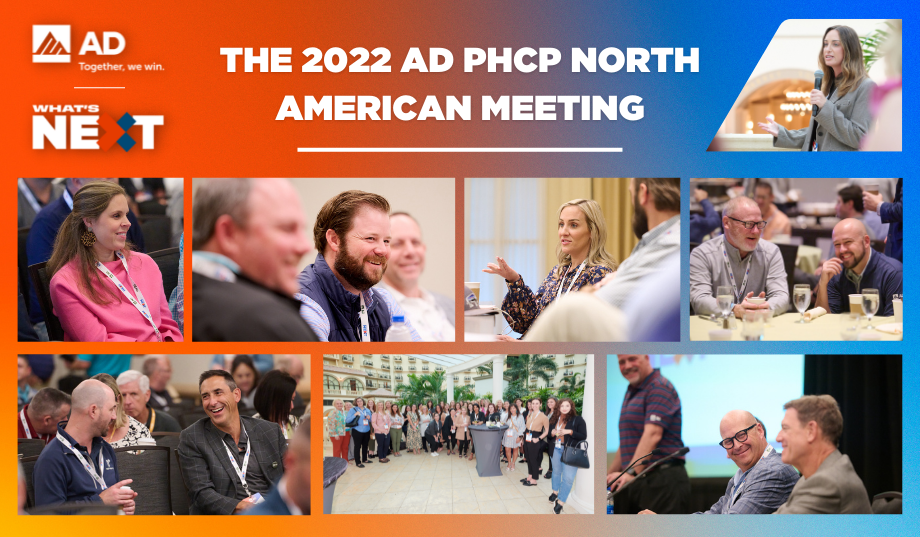 AD PHCP Business Unit shares best practices, forms new partnerships at 2022 North American Meeting
November 14, 2022
Kissimmee, Fl. – From October 17 to 20, the 2022 AD PHCP North American Meeting brought together 1,192 attendees from member and supplier companies in AD's Plumbing, PVF and HVAC divisions that make up its PHCP business unit. The AD community came together to explore new business opportunities and share best practices regarding industry trends and business challenges.
The theme for the PHCP North American Meeting and AD's 2022-2023 meeting season is "What's Next" – a call for AD members and supplier partners to embrace new ideas and anticipate the future of their companies. The theme served as a significant backdrop to the meeting's agenda, guiding the focus of the meeting sessions toward partnership and innovation for the future.
AD member and supplier companies grow together
Across AD's PHCP Business Unit, comprised of Plumbing, PVF and HVAC divisions, member sales increased by 30% in 2022 year to date.
"Across the three AD divisions at the meeting, our members and suppliers have displayed their passion for continued success, not just for their own companies, but for the entire independent distribution industry," said Jeffrey Beall, President of the PHCP Business Unit. "The amazing people at our member and supplier companies inspire our team and fuel our passion for supporting the mutual growth of the AD community."
Within the PHCP Business Unit, Plumbing member purchases from AD suppliers have increased 32% and PVF member purchases from AD suppliers have increased 52%.
"Every year at this meeting, I am impressed by the growth of the Plumbing and PVF divisions and how we have overcome obstacles together," said Justin Dunscomb, President, Plumbing and PVF Divisions – U.S. "Thank you for your support and collaboration and for representing the best of the best in our industry."
In the HVAC division, member purchases from AD suppliers have increased 34% in 2022 year to date.
"We're excited about the progress we've made in 2022, but we're not resting on our past success," said Randy Lee, Vice President, HVAC Division – U.S. "We look forward to building on our successful programs and evaluating potential new value-add services for our members and suppliers."
Leaders collaborate at networking sessions
During the meeting, AD held supplier panel discussions, where seven key AD supplier partners discussed growth opportunities with member attendees and shared how the AD community can come together to best support each other for increased business.
"Our meetings showcase our members in action, coming together to collaborate, partner and exchange ideas and advice with fellow industry leaders," said Bill Weisberg, AD Chairman and CEO. "I look forward to seeing the exciting ideas that come from our conversations this week that will drive the AD community forward.
"Janine Driver, New York Times best-selling author and body language expert, spoke to attendees at the Sales and Purchasing Member Network session about how to spot nonverbal communication, build rapport and build trust faster to ultimately increase sales.
"The Women of AD's PHCP team" hosted their annual Women in Leadership Reception, which helps attendees build connections and reflect on how they can ensure equity and advancement in the workplace. The networking event enhances relationships within the industry and provides women in the AD community a place to connect and share personal experiences.
The 2022 AD PHCP North American Meeting marked the first AD meeting for Dan Kelly and Kyle Cline as new leaders in the business unit. Kelly, Senior Vice President of Supplier Relations, PHCP Business Unit and Decorative Brands Division, and Cline, Director of Supplier Relations, PHCP Business Unit, will be essential to the future growth and mutual success of PHCP members and suppliers.
"Coming to AD with over 30 years of distribution and supply chain experience, it was an amazing experience to attend the PHCP North American Meeting as one of the business unit's newest leaders," said Kelly. "Together with Kyle, we are excited to help our suppliers explore new business opportunities."