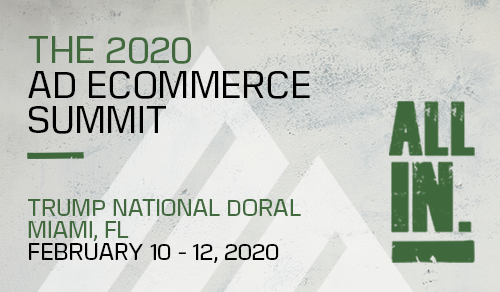 AD to host 4th annual eCommerce Summit
November 19, 2019
From February 10 – 12, 2020, AD will host members from 9 divisions across the U.S. and Canada to its fourth annual eCommerce Summit in Miami, Florida. Building on this year's pilot, the 2020 Summit will feature network groups and booth sessions modeled after AD's divisional meetings and will newly introduce designated facilitators in networks and a larger number of service providers available during booth sessions.
The 2020 Summit will feature three keynote speakers focusing on key topics in eCommerce:
Mary Shea, principal analyst from Forrester, on how to adopt digitally immersive selling
Robert Tercek, author of Vaporized: Solid Strategies for Success in a Dematerialized World on the future of the digital revolution
Eric Qualman, author of Socialnomics: Winning Customers Hearts and Minds at Scale on social media marketing to reach your customers
In addition, the agenda provides three different tracks for attendees to follow with tailored sessions on topics including analytics for your business, driving ROI beyond expectations, the science of taxonomy in product data management, search engine optimization, eProcurement, and more.
This meeting is one of two annual cross-divisional Summits AD hosts, along with the Finance & HR Summit, and is designed to offer networking opportunities, learning from industry experts, and access to best-in-class service providers to eCommerce decision-makers at member companies.
Jack Templin, AD president of the industrial & safety business unit and chief programs officer, shared that the Summit is open to all AD members and is not limited to those currently subscribing to AD's eCommerce program.
"The Summit's agenda is designed for members in any stage of their eCommerce journey," he said, "whether they are just getting started or have been live for some time. The tracks are separated into executive, content & technology, and business user, which allows members to bring multiple people on their teams that have different areas of focus for a well-rounded Summit experience. The goal is for all AD members to attend, share best practices, and team up together to go live and win."
Caroline Ernst, AD VP of eCommerce solutions added that the AD team is always looking for ways to enhance the Summit so that members can return to their businesses with actionable learning.
"We rely on feedback from our members to make sure the Summit provides value to their businesses," she said. "The content is fresh each year – focused on helping AD members be innovative and agile, to focus on the digital experience and deliver results. Since the Summit's launch in 2016, we've had record-breaking attendance year-after-year and last year, 99% of attendees said they would recommend the Summit to a friend and attend again. We are very excited to keep this positive momentum going and have another record-breaking year."
Registration for the Summit is now open – check out AD's private website to register and view the full agenda, speaker bios, hotel information, and more. If you have any questions about registration, please reach out to Kim Smith at ksmith@adhq.com.