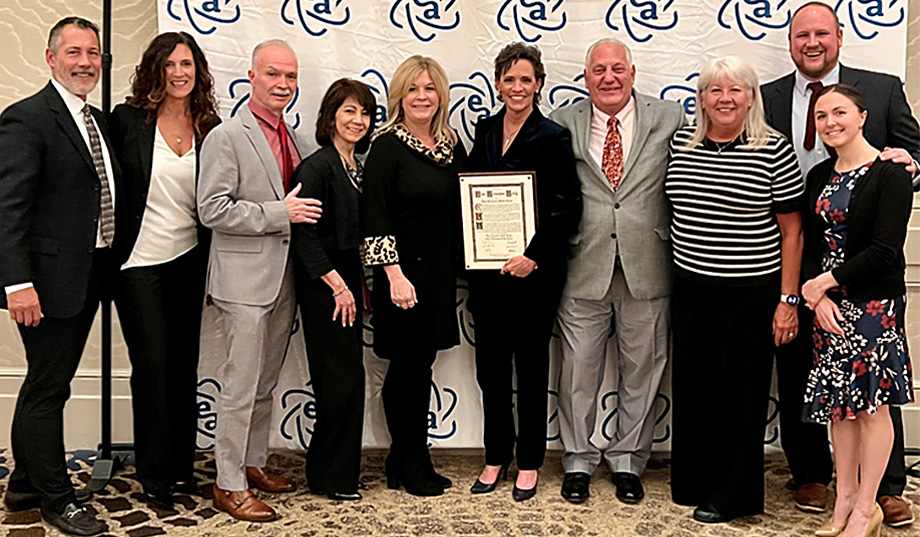 Blue Kinander Kelly Wins JP Simons Award
February 18, 2022
Photo Details: (L to R) Phil Bolduc, Alison Bassetto, Ricardo Gascon, Leticia Gascon (Dir. Of Human Resources), Denise Butler (Distribution Manager), Blue Kinander Kelly (VP & Owner), Roy Hunn (VP Operations), Peggy Hunn, Brock Klein (National Sales Manager), and Christina Klein.
ELECTRI-FLEX COMPANY, Roselle, IL, is pleased to announce Blue Kinander Kelly, VP, and Owner, as the winner of the JP Simons, 2022 Woman of the Year Award, presented by The Electric Golf Club of Chicago. This award is presented annually to a member of the Electrical Industry who performs outstanding personal contributions for the Chicagoland Electrical Industry.
"It has been my honor to serve the Chicagoland Electrical Industry," stated Blue Kinander Kelly. "This award means so much to me, as I have so many treasured friendships and memories from the past three decades. I am proud to say that I stand in good company as my father, West Kinander, Jr., was a recipient in 1988, as well as my second father, Edward Marinelli, in 2006."
The Electric Golf Club of Chicago originated in 1923 by Joseph P. Simons, Sr., with the purpose of promoting friendly and cooperative relations throughout the electrical industry. The award was created and awarded to those personifying this same spirit, becoming a treasured, annual tradition of the Club.
To learn more about the employees at Electri-Flex, visit the Meet The Team page.
Electri-Flex Company, a leader in electrical conduit design and manufacture for over 65 years, produces Liquatite®, the most diverse line of liquidtight flexible electrical conduit in the industry. The company offers custom design, engineering, quality assurance, and testing capabilities. For more information on Electri-Flex Company, call (630) 529-2920 or (800) 323-6174; fax: (630) 529-0482; e-mail: MKTG@ELECTRIFLEX.COM; visit: ELECTRIFLEX.COM; or write: 222 West Central Avenue, Roselle, IL, 60172-1994.