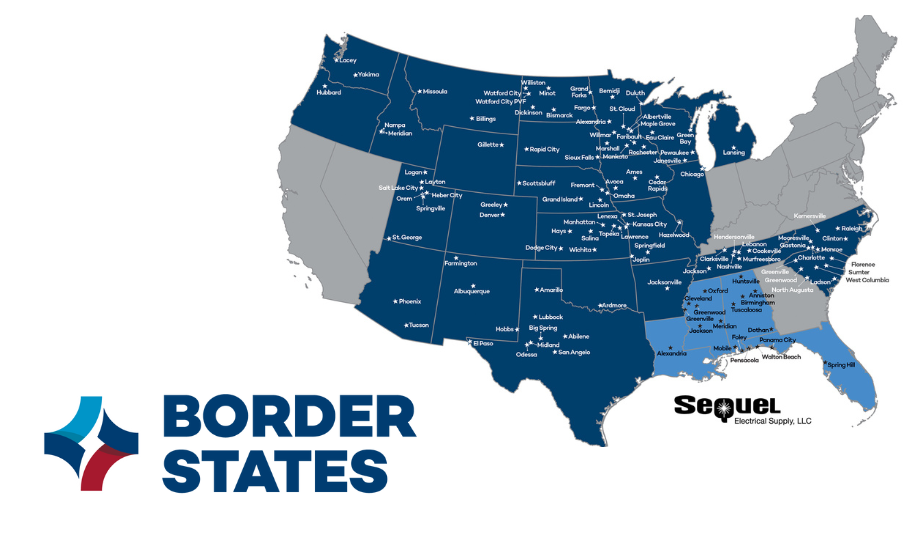 Border States Acquires Sequel Electrical Supply
August 11, 2023
Fargo, ND — Border States, a 100% employee-owned company, announced it has reached an agreement to purchase Sequel Electrical Supply, LLC, headquartered in Meridian, Mississippi.
Sequel was founded in 2004 as a single location in Greenwood, Mississippi, under the name of Dixie Supply. Today, the company operates in 18 locations across Louisiana, Mississippi, Alabama and Florida. Lee Moseley, President, leads the organization and the 220-plus employees, primarily serving the construction and industrial markets. Under Lee's leadership, Sequel has become a leading electrical distribution company in the region.
"We have an incredibly talented, dedicated group of employees — the move to join Border States places each of them in a position to enjoy the rewards of employee-ownership," said Moseley. "Being part of an American employee-owned-and-operated company was part of our plan and important to our team, Border States has a reputation of being a successful Employee Stock Ownership Plan and a place employee-owners can build a career and develop professionally — this is a great fit for Sequel."
Sequel's geographic coverage is strategically appealing to Border States; the acquisition adds four states in the economically growing Eastern U.S. Gulf Coast while creating no overlap with its current 25-state footprint.
"They have built an impressive distribution company in the Eastern U.S. Gulf Coast," said David White, Border States' CEO. "Sequel is the right geographic addition for our footprint; the potential for growth is clearly present. The Sequel team is well respected, driven for success and focused on customer service. We are excited to welcome them to our 100% employee-owned company."
The acquisition will close, pending regulatory review, on Saturday, August 26.
Border States supplies products and services to construction, industrial and utility customers. The 100% employee-owned company is ranked the sixth largest electrical distributor in the United States by Electrical Wholesaling magazine. Border States will have more than 3,250 employee-owners and more than 120 branch locations in 29 states after they join forces with Sequel Electrical Supply. Corporate headquarters are located in Fargo, North Dakota.