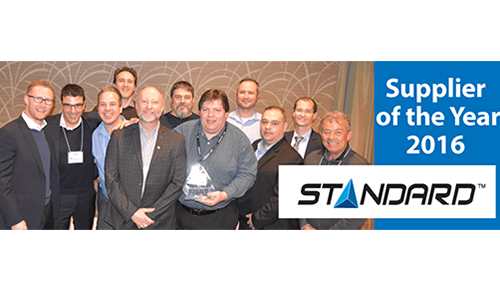 E.B. Horsman & Son Awards Supplier of the Year Distinction to Standard Products
March 27, 2017
Thursday March 23, 2017 - We are very happy to announce that the 2016 E.B. Horsman & Son Supplier of the Year distinction has been awarded to AD supplier partner, Standard Products.
Throughout the year we monitor the sales and activities with each of our supplier partners. At year end we bring to close our process of determining who will walk away with our supplier of the year distinction.
We solicit feedback from our sales force, discuss significant and strategic sales wins, inquire about the effectiveness of our team work, and analyze the effectiveness of marketing campaigns. Our process includes a survey of our branches affording them the opportunity to provide feedback on the topics of Growth, Branch Coverage, Sales and Marketing activities planned and executed as well as Ease of Doing business.
Feedback was analyzed, the results were tabulated, and the award was presented at our Annual General Meeting, held March 7, 2017.
Congratulations and Thank You Standard Products for being selected as E.B. Horsman & Son's Supplier of the Year!
About E.B. Horsman & Son
Established in 1900, E.B. Horsman & Son is the largest independently owned full-line electrical distributor in Western Canada and designated as one of Canada's Best Managed Companies. Through Operational Excellence, we are dedicated to helping our customers grow and prosper. We strive to provide our customers only the highest quality products, tenured technical expertise and industry leading customer service. Our goal is to be your Distributor of Choice by providing you with the best people, products and service in the electrical industry! To find out more, please visit www.ebhorsman.com.