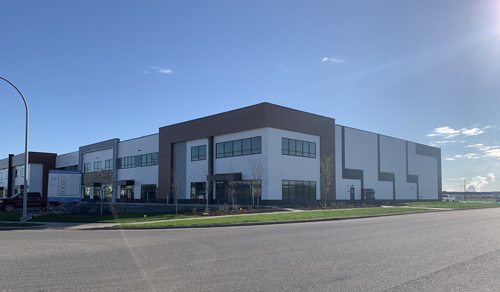 E.B. Horsman & Son Calgary is Moving to Larger Location
August 19, 2020
Calgary, AB, Canada - E.B. Horsman & Son is excited to announce that their Calgary branch will be moving to a new building located down the street (350m away). The new address will be #104-11080 50 St. SE Calgary as of August 24, 2020.
The brand new 21,000 square foot facility will replace their current 14,500 square foot location at 10551 50th Street that has served Calgary and surrounding area since inception, in 2017.
The new location is better suited to accommodate their growing business and provides ample parking for customers, office space for staff, and a shared work environment for manufacturing partners. The new building will also give them the greater capability to stock local inventory such as lighting, power distribution, process instrumentation, automation, industrial controls, sensors, data communications, wire, and general electrical supplies in order to better serve customers.
"The new location gives E.B. Horsman & Son a long-term home in Calgary and allows us the opportunity to have all of our branch staff and divisional specialists (process, automation, controls, and lighting) under one roof," says Adam Dries, Alberta District Manager. "Our business has grown substantially since entering the Alberta market in 2017, and we are excited to continue investing in the communities we serve. With this expansion we will be able to meet and exceed the growing demands of our customers and move towards our goal of becoming the electrical distributor of choice in Alberta."
New Branch Information
Address: #104 11080 50 Street SE Calgary Alberta T2C 5T4
Branch Phone Number: 587.620.0020
Alberta District Manager: Adam Dries
Hours of Operation: Monday through Friday from 7:00 am to 4:30 pm
About E.B. Horsman & Son
Established in 1900, E.B. Horsman & Son is one of the largest independently owned and operated electrical suppliers in North America. Designated as one of Canada's Best Managed Companies, we continuously strive to improve ourselves and our capabilities to meet the ever-changing needs of the full line electrical, process instrumentation, industrial automation, lighting, and data communications markets. We are committed to exceeding the needs and expectations of our valued customers by providing the best people, best products, and best service in the electrical industry. To find out more, please visit www.ebhorsman.com or email us at info@ebhorsman.com.