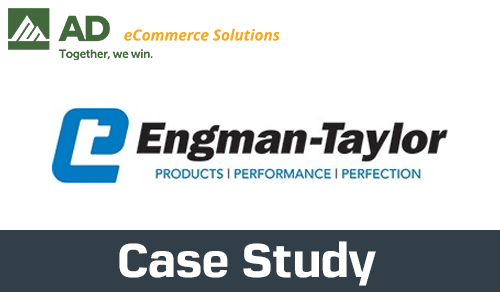 Engman-Taylor leverages AD eCommerce Solutions to meet customer expectations and grow digital at scale
August 13, 2020
Before AD, I never would have thought it would be possible to bring all our items online. - Bill Bomm, Manager of Advanced Marketing Projects, Engman-Taylor
Company Background
Engman-Taylor is a family-owned, industrial distribution and integrated maintenance, repair, operating and production (MROP) supply company, dedicated to being a valued partner to their customers and community. They were founded in 1945 and based in Menomonee Falls, Wisconsin, with five locations. They are a member of AD's Industrial & Safety – U.S. Division.
The Challenge
In 2008, Engman-Taylor was approached by a customer who requested a digital ordering channel, and their digital journey began. Engman-Taylor's customers have grown accustomed to a world-class experience from their customer care associates and account managers and this expectation extended to their digital storefront. Engman- Taylor launched their first eCommerce webstore in 2009 to meet that customer's expectation and set out populating their site with product content they built internally, as well as through outsourced third parties.
They quickly found that while the content they created internally was high-quality, the quantity produced was low and extremely time-consuming. Many suppliers did not have digital content available and for those that did, it didn't meet Engman-Taylor's quality standards and was provided in different formats with no normalization. Engman-Taylor had to create their own taxonomy and maintaining data governance standards for normalization was exhausting their resources. The cost to produce a SKU far outweighed any potential profit resulting from future sales and they were unable to get SKUs on the site fast enough to meet customer demand.
Outsourcing allowed Engman-Taylor to get large quantities of SKUs produced, but the quality was poor, with mediocre descriptions, attributes and images. They consistently uncovered errors and long delays in production that led to poor customer online experience and negative search results.
Engman-Taylor knew in order to scale quickly without adding dozens of new team members, they needed a partner that could provide them with quality enhanced product content as well as additional services and educational opportunities so the Engman-Taylor team could focus on building the eCommerce business.
Solution
In 2017, Engman-Taylor decided to join AD, citing AD's eCommerce Solutions program as a driving factor in their decision to help solve their online content challenges.
Table compares AD's eCommerce Solutions program to Engman-Taylor's internal capabilities and other third-party vendors.
By partnering with AD, they would no longer have to track down manufacturers for their data, figure out how to ingest different file formats, and keep up with regular product updates as the AD team would do that work for them.
In addition to their partnership with AD, Engman-Taylor works with AD webstore solution partner, Unilog, to leverage ready-made exports that connect the AD Product Information Management (PIM) to their webstore for quick transfer of enhanced content without needing field mappings.
The AD eCommerce Solutions partnership provides consultation through quarterly strategic calls, a staffed helpdesk, and opportunities for Engman-Taylor to provide direct feedback to influence product and content improvements and prioritization.
Added benefits of the partnership with AD's eCommerce Solutions program include the annual eCommerce Summit where they expand their eCommerce knowledge through topic-specific presentations formulated from AD member input, hands-on training sessions, and access to industryexpert speakers. Additionally, the network opportunities at the summit give them access to eCommerce professionals at all levels and create relationships with other AD members focused on eCommerce. The AD eCommerce Digital Community provides online forums as well as training videos, instructional materials for education, thoughtleadership support and regular news and program updates.
Results
By partnering with AD eCommerce Solutions, Engman-Taylor now has access to millions of enhanced SKUs. In the first year, Engman-Taylor was able to increase their enhanced online SKU count from 70,000 to 130,000. They continue to add more SKUs to their webstore to meet their customers' expectations, reaching 250,000 by the beginning of 2020, with a goal to double to 500,000 enhanced SKUs by later this year.
According to Bill Bomm, "AD has been a lifesaver. Their great data has dramatically changed the pace at which we get items live on our site."
Through this partnership with AD, Engman-Taylor now gets high-quality content, in large quantities, for a lower cost.
In addition to eContent, Engman-Taylor leverages the AD product classification taxonomy. They update the taxonomy quarterly as AD promotes updates to the category structure and attributes and no longer need to spend time classifying each individual product and populating the attributes.
The AD enhanced eContent and taxonomy has improved the entire online customer experience at Engman-Taylor, making product discovery easier by improving inbound and onsite search and driving strong product filtering capabilities through the normalized attributes and values that AD provides. Engman-Taylor achieves a robust, but flexible, eCommerce offering, by combining their small internal team of experts with the vast resources AD provides.
Bill Bomm states, "We can adopt, react and change our online offering quickly and efficiently without all the bureaucratic red tape."
eCommerce is now central to Engman-Taylor's long-term strategy, providing exposure to new products for their existing customer base, penetrating new markets and bringing in hundreds of new customers annually – many are repeat customers, year after year.
AD eCommerce Solutions leverages AD's scale and community to enable members to achieve their eCommerce objectives and win in an evolving digital world. To learn more about AD eCommerce Solutions, contact Caroline Ernst at cernst@adhq.com or (610) 977-3162.