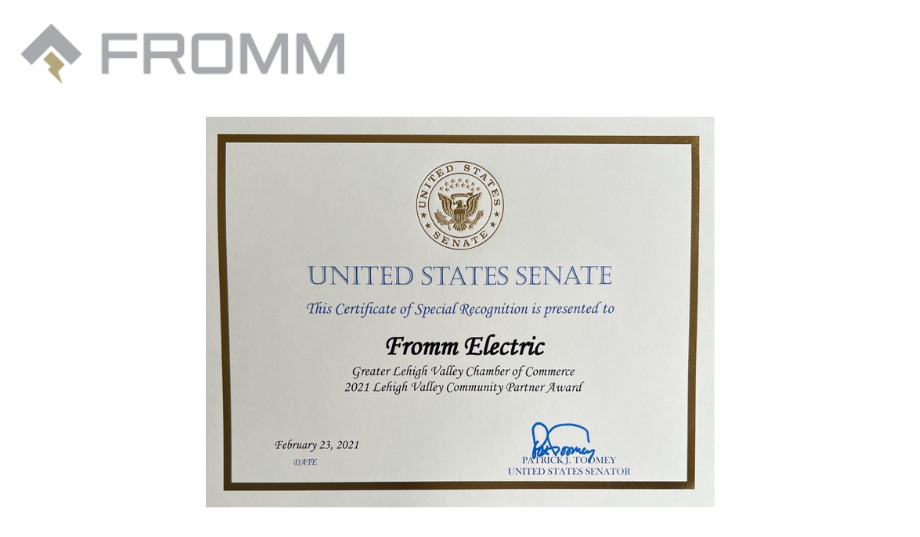 Fromm receives Lehigh Valley Community Partner Award
February 22, 2023
READING, PA - Fromm, a leading independent electrical distributor in the Mid-Atlantic Region, is honored to receive the Lehigh Valley Community Partner Award in recognition of their involvement in the Restaurant Relief Fund grant from the Greater Lehigh Valley Chamber of Commerce.
"Partners like Capital BlueCross, Boyle Construction, Dellicker Strategies, Embassy Bank, Fromm Electric and others didn't hesitate when we asked them to pitch in," said Lorie Reinert, Executive Director of the Chamber Foundation.
This initiative, spearheaded by the Chamber, assisted 109 businesses during the pandemic shutdown and associated restrictions on local restaurants. The money raised helped qualified restaurants with rent, payroll, and other operating expenses.
The award announcement was originally scheduled for 2021, but due to Covid-19 delays, it was jointly presented this year by the United States Senate, the Senate of Pennsylvania, and the County of Northampton. 
"I'm proud of our team for supporting our fellow businesses at a time when we were all facing hardship and uncertainty," said Lou Fromm, Vice President of Business Development. "As a family-owned and operated company, we feel it's important to be engaged in the communities where we do business."