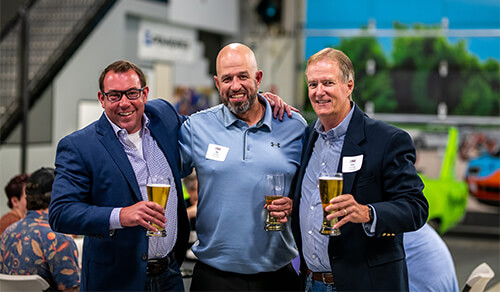 Frontier Drywall Supply, LLC Receives AWCI – Colorado Chapter 2020 Outstanding Distributor/Supplier of The Year
July 2, 2021
On June 9th, Frontier Drywall Supply based in Denver was named AWCI's – Colorado Chapter's 2020 Outstanding Distributor/Supplier of The Year.
Frontier Drywall Supply was founded in March of 2014 by Todd and Cindy Mills. In September of 2019, Larry Haligas, Andy Frank, and Jay Haddick acquired Frontier Drywall Supply and became the new Managing Partners. The combined experience of the Managing Partners is an impressive 75 years in the Drywall distribution business. In October of 2019, Frontier Drywall relocated to a larger 30,000 square foot facility in central Denver, their Fleet doubled in size to 25 pieces of delivery equipment, and additions were made to personnel. In the first full year after the acquisition, Frontier was able to double revenue and implement plans to open a new location in Fort Collins in October of 2021, and Colorado Springs in the fall of 2022.
Annually, AWCI – Colorado, which is a sub-chapter of AWCI National, hosts an Excellence in Construction Awards dinner to recognize industry accomplishments for both businesses and individuals. The award nominations are peer-created and based on 3 months of surveys sent out to the members of AWCI – Colorado. Once the nominees are designated, voting is held for 1 month, and the winners are determined from there.
Frontier Drywall Managing Partner and current President of AWCI – Colorado chapter, Andy Frank shares his thoughts regarding the recognition:
"This award for Frontier Drywall Supply brings great pride and humbleness. It reflects the hard work that ourselves and our team members have put forth since acquiring Frontier Drywall Supply in 2019. It's a great honor to be recognized as an industry leader in Excellence in Construction by our peers and customer base."
Larry Haligas Managing Partner of Frontier Drywall shared:
"We could have never won this award without our affiliation to AD. Being the former Co-Owner of Gypsum Products, Inc. and now a Managing Partner of Frontier Drywall Supply, AD is heads above other buying groups we have been part of. We are proud to be a member of this group."
Congratulations to the entire Frontier Drywall Supply Team on the well-deserved award.