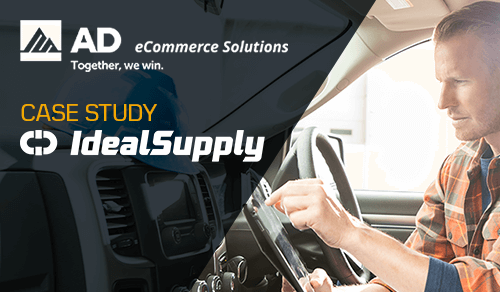 Ideal Supply sees record-breaking sales after deploying digital customer support platform
August 17, 2021
"The success of your digital platform doesn't lay in the bones of a website itself, but rather comes from providing consistent digital touchpoints for your customers by building a platform and enriched content that support those experiences, among many other things. This approach has to start with a "digital first" mindset up and down the organization, and in any area of the company that can lend its data or resources to improving the overall experience an end user may have in their digital interactions with you. With AD enhanced content accessible to support our digital initiatives, we are able to react quickly to support our customer needs." - Chris Moon, General Operations Manager at Ideal Supply.
Company Background
Founded in 1926 as the Ideal Manufacturing Company in Listowel, Ontario, Ideal Supply specialized in bread-molding machines. Over the ensuing 40 years, the company grew and proved itself adept at changing with the times. Ideal Supply has grown to become one of the largest privately owned wholesale distributors of automotive, electrical, and industrial products and services in Canada. They currently have 30 branch locations in Southwestern Ontario, 450 employees and a 75,000-square-foot head office distribution center.
The Challenge
For over a decade, Ideal Supply has understood the disruption of online ordering and the need to deploy their own eCommerce strategies to compete in the marketplace. In 2012, they launched their eCommerce website and quickly began seeing double-digit growth year over year. They would continuously revisit their digital strategy, focused on identifying the high-value features and functionalities that would support their customers' needs and drive adoption. While their eCommerce site generated significant revenue, their largest revenue driver remained their annual inperson conference where their customers could meet with manufacturers, learn about new products and promotions, and create orders. At the onset of the COVID-19 pandemic in 2020, their physical branch locations closed and the annual in-person conference was cancelled, leaving the Ideal Supply team in need of a more robust digital strategy that could recover this at-risk revenue and continue to grow their customer base online.
Solution
To replace their in-person conference, Ideal Supply pivoted quickly to create a virtual conference that would mimic the in-person experience in a digital environment. They started by reviewing customer feedback to understand which aspects of the conference were most valuable and would be necessary in a virtual conference. The feedback revealed that in addition to having virtual calls with supplier partners, their customers would most value a digital platform that could display promotional offerings, provide a dedicated training journey, and showcase products and brands.
The digital platform built was a microsite with login protected access so only those who were invited attended the virtual conference could attend. Additionally, they built the microsite to host only enhanced content, which helps support contextual and keyword search capabilities and a superior user experience due to robust data, from AD supplier partners. Ultimately, over 250,000 AD enhanced SKUs were built into the platform.
Results
Despite the shift in format, Ideal Supply's virtual conference exceeded their in-person conferences' revenue, reporting double-digit growth and record-breaking sales. Ideal Supply has now completed their second virtual conference utilizing this platform leveraging AD enhanced catalog and in 2021 they saw another significant increase in total customer visits, total page views, and total unique page views year over year. Additionally, the number of unique accounts that interacted with the platform increased by 40% year over year and the Ideal Supply team was able to provide over 800 unique training sessions to customers.
AD eCommerce Solutions leverages AD's scale and community to enable members to achieve their eCommerce objectives and win in an evolving digital world. To learn more about AD eCommerce Solutions, contact Caroline Ernst at cernst@adhq.com or (610) 977-3162.