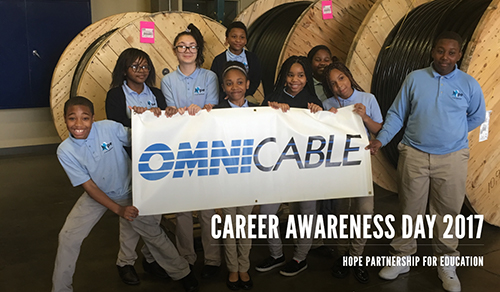 Omni Cable's Corporate Office Hosts Hope Partnership for Education's Career Awareness Day
May 25, 2017
Omni Cable's Corporate Office (West Chester, PA) was proud to host Hope Partnership for Education's 5th grade class for Career Awareness Day on Tuesday, May 23, 2017. Throughout the day, the children learned about the company & what we do, as well as toured the facility and various departments.
Hope Partnership for Education works to effect positive change in the lives of families in the Fairhill neighborhood of Eastern North Philadelphia by providing quality education services to a community known to be undeserved and overlooked through its Middle School, Graduate Support Program and Adult Education Program.
Click here to check out all of the photos from that day!
Omni Cable is a Premier Supplier Partner in AD's Electrical Division and is a leader in accelerating relationships and ongoing growth with AD members.