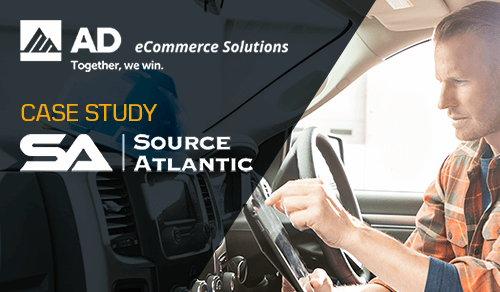 Source Atlantic shifts digital implementation strategy due to COVID-19 pandemic and launches on an accelerated timeline
August 4, 2021
"AD's eCommerce Solutions have allowed Source Atlantic to build and launch our ecommerce as the cornerstone to our digital strategy. By building resources and partner networks, AD has not only helped us with the heavy lifting of content management, they have shared insights and experiences that have allowed us to make more informed decisions regarding our digital evolution." - Matt Hanlon, Applied Innovation & Tech. Manager at Source Atlantic.
Company Background
Source Atlantic Ltd. is an innovative and industry-leading wholesale distributor passionate about delivering value and exceptional service to customers in Canada and beyond. Source Atlantic partners with hundreds of world-class suppliers, offers a multitude of specialized and technical services and has many value-added business solutions designed to improve customers' efficiency and productivity. Source Atlantic has 24 locations in Canada with 14 specialized product and service divisions and are members of AD Electrical- Canada, Plumbing & Heating - Canada, Industrial & Safety – Canada and Bearings & Power Transmission – U.S.
The Challenge
In early 2019, Source Atlantic identified the need to implement a comprehensive eCommerce site and partnered with AD strategic partner, Optimizely, for their platform. Once the platform was developed and base SKUs added to the site, they began to focus on driving traffic to the website and identified the need to onboard their strategic accounts to the online platform, which would provide their customers with a valuable additional touchpoint and ordering mechanism. In order to successfully onboard their key accounts, getting internal buy-in from their sales and marketing teams was crucial. To support their internal effort, Source Atlantic leveraged their partnership with AD's eCommerce team, who delivered an onsite strategy session that provided recommendations around developing and implementing a customer-focused strategy. The strategy included identifying the key stakeholders and teams that needed to be involved, product content planning, creating a remarkable customer experience and using analytics to measure progress, all with the goal of enabling their sales teams for success.
When the COVID-19 pandemic hit in early 2020 and lockdowns began, Source Atlantic needed to re-evaluate the strategy they had developed and identify the key areas that they would need to focus on to support their business. Without being able to rely on traditional face-to-face sales meetings, which are a staple in B2B sales, Source Atlantic knew their digital business needed to be a top priority to drive success in the new, virtual, normal.
The first priorities were to get their strategic accounts set up online, review inventory and supply chain, and decide whether they should put all products online, especially safety products, or if they should hold stock for their top customers. While the digital plan was already underway, the pandemic forced a shift from long-term planning to quick implementation of their digital transformation.
Solution
Since Source Atlantic had already hosted the strategy session with AD's eCommerce Solutions team, they were armed with the planning and implementation tools they needed to accelerate their digital transformation. They immediately created an internal project to evaluate years of sell-through data and to re-evaluate their key products and inventory levels, which allowed them to identify gaps in their product offering that their customers needed available online. Knowing they needed to have all their customer SKUs available on the site, they worked quickly to increase their online SKU count from 180,000 to 300,000 SKUs and partnered with AD's eContent Service to ensure their SKUs were enhanced for an optimal customer experience.
Source Atlantic then evaluated the structure of their sales team to maximize their efforts during the pandemic, and ultimately pivoted to a larger inside sales team that would help handle all the small and medium sized accounts with exclusively online orders.
With the goal of driving online account creation, they developed marketing campaigns to educate their existing accounts on the eCommerce site and its capabilities. Knowing some of their customers were able to go into the office, their marketing team also created a "Return to Work" campaign that drove traffic to their eCommerce site landing page with COVID-19 focused items.
By May 2020, within three months of the onset of the pandemic, Source Atlantic was fully operational online and had shifted their internal teams to support a digitally focused strategy to serve their customers.
Results
During the peak of the pandemic from April to June 2020, the Return to Work campaign drove large increases in customer activity on the site month to month. In July, Source Atlantic started seeing those customers coming back to place reorders on the eCommerce site! Without their eCommerce site and digital marketing efforts, they wouldn't have been able to acquire these visitors and convert them to repeat customers.
Driven by the importance of eCommerce during the pandemic, Source Atlantic is permanently embedding their eCommerce site into their customer routine to help build brand awareness and close sales. Sales easily shares links to products on the eCommerce site with their customers from remote locations. Customers who previously thought of Source Atlantic as a niche distributor are now able to see that Source Atlantic is a much larger provider that could support more of their business. The outside sales team is taking a more consultative approach and spends their time developing solutions for customers to grow sales by leveraging their eCommerce site for product discovery and research.
Moving forward to a post-pandemic environment, Source Atlantic is putting more focus on data cleansing and digital analytics to not only better manage and track success in their business, but also in their customers' businesses. They are working with their customers on improving their data to create cross-data opportunities that will improve inventory consolidation to reduce overstocks and get better costing. This focus is driven from the knowledge that the investment in quality data and digital systems will improve their relationships with their customer and ultimately help Source Atlantic increase revenue.
Source Atlantic's team continues to implement additional AD recommendations from the initial on-site strategy session to drive deeper internal and external adoption, better data governance to drive operational efficiencies and implement data and analytics into the decision-making progress.
AD eCommerce Solutions leverages AD's scale and community to enable members to achieve their eCommerce objectives and win in an evolving digital world. To learn more about AD eCommerce Solutions, contact Caroline Ernst at CErnst@adhq.com or (610) 977-3162.