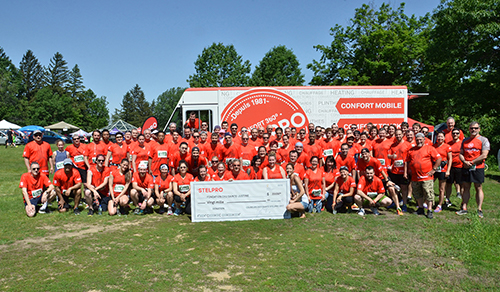 Stelpro Employees Run for the Benefit of the Sainte-Justine Chu Foundation
June 23, 2017
Stelpro employees ran for sick children for the 10th consecutive year, bringing the total amount of donations to $170,000.
Saint-Bruno, June 15, 2017 - AD Canada Supplier Stelpro, a Canadian manufacturing company of integrated heating solutions, is proud to present a cheque for $20,000 to the CHU Sainte-Justine Foundation, bringing the total amount of donations from Stelpro over the past 10 years to $170,000. The financial contribution is made possible thanks to the participation of 80 Stelpro employees who took part in the 14th Edition of "La Grande Virée des Sentiers du Mont-Saint-Bruno" in Saint-Bruno-de-Montarville, Quebec on Sunday, June 11th of this year.
"After 10 years, La Grande Virée des Sentiers du Mont-Saint-Bruno has become an annual event for Stelpro employees. Year after year, no matter their fitness level, their goal is to make a difference in the lives of sick children" explains Yves Chabot, President of Stelpro. "The conditions at this year's run were extremely trying. A blazing sun and overwhelming heat might have deterred some, but all participants rose to the challenge and finished the race".
For every employee who crosses the finish line, Stelpro donates $250 to the foundation. The company is also committed to helping young people by sponsoring the children's race every year in the amount of $2,500.
Stelpro plays an active role in the community, supporting numerous activities, especially those promoting physical well-being for the collective good.
About Stelpro
Stelpro offers, since 1981, a unique line of innovative and reliable heating products, designed and manufactured in Canada according to the highest standards. The company has over 400 employees in two plants, one in Saint-Bruno-de-Montarville and the other in Grand-Mère, both in Quebec. Stelpro manufactures and sells 800,000 heating units annually, making it the leader in the North American electric heating and ventilation industry. For more information visit stelpro.com.