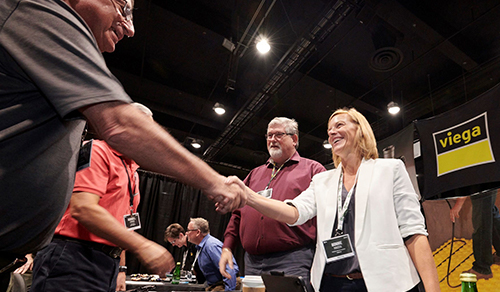 The 2018 AD North American Meeting Breaks Attendance Records and Celebrates Growth
October 19, 2018
On September 25 - 28, 2018, the AD PHCP Divisions hosted a record breaking AD North American Meeting, with over 1000 attendees, 210 of which were first timers to the event. The increase in attendance is a testament to the growing AD PHCP Divisions along with the quality and effectiveness of this annual event.
Attendees participated in a variety of events over the four days which included, Strategic Supplier Briefings, Industry Trend Sessions, Young Leaders events, updates from the AD eCommerce team, and the very popular Optional Multi-Denominational Faith Breakfast.
During the Member and Supplier Business updates, it was reported that AD Plumbing sales are up 12%, AD HVAC are up 16% and AD PVF sales are up 17%. Purchases from AD suppliers are up 16% through August.
Jeffrey Beall, AD's President of the PHCP Divisions shared, "At AD our goals are to drive growth for our members and suppliers while continuously enhancing our value proposition. Through our member and industry engagement activities in recent years we have identified expansion opportunities in the oil & gas industry, which has become a very popular AD Network and we identified an expansion opportunity in plumbing showrooms." Beall continued, "One year ago, we launched AD Decorative Brands, led by industry icon, Linda Hoff, which now includes 24 distributors with 250 locations, over $50M in inventory and 1M in square foot of showroom space. Looking ahead we are evaluating opportunities in Waterworks / Utility, hydronics and others."
In addition to Linda Hoff the AD Decorative Brands Director, AD added Randy Lee to their team as the VP of HVAC. Justin Dunscomb, the former VP of HVAC now serves in the role of VP of AD Plumbing. These staffing changes for AD PHCP reflect a theme of succession planning for the organization, after AD transitioned to member ownership earlier this year.
Brian G. Peirce, President & CEO of Peirce-Phelps was honored during the AD Spirit of Independence Awards with the 2018 AD Leadership Award for his commitment to AD during his 12 years of service on the AD Board of Directors. 2018 marks his final year as a Board member, his replacement will be voted on by the AD members in December. "This year the Board accomplished our greatest work of formalizing our governance and accelerating the transition to a member owned organization. AD has been a key factor in Peirce-Phelps's success and it is wonderful and gratifying to know that the foundation has been laid for the future success of AD and all our companies," shared Peirce during his acceptance speech.
Beall concludes, "Change is inevitable in our industry, and all we can do is embrace it, own it and adapt. That is why the theme of our meeting this year was "own it." AD continues to add services and programs to help our members compete, such as AD eCommerce Solutions, where we now have over 3M SKUs normalized and attributed. AD HR Services and AD Procurement Services, help our members save on non-product purchases and services and builds a community of HR professionals. However, our greatest achievement is returning 100% of supplier rebates to our members. AD is the only buying group that can do this. Our multi-divisional model & efficient processing enables this, and I see a strong future for AD Independents aligned with AD."
The 2018 AD Spirit of Independence Awards honorees:
Habegger Corporation: AD HVAC Member of the Year
DiversiTech: AD HVAC Supplier of the Year
Locke Supply Co.: AD Plumbing Member of the Year
Matco-Norca, LLC: AD Plumbing Supplier of the Year
BPS Supply Group: AD PVF Member of the Year
Viega: AD PVF Supplier of the Year
Vulcan Threaded Products: AD Best Conversion of the Year
Consumers Pipe & Supply Co. Inc.: AD Best Field Marketing Summit
Lohmiller & Co.: AD Best Workplace Recognition
Famous Enterprises: AD Best Workplace Recognition
Corken Steel: AD Best Workplace Recognition
American Pipe & Supply: AD Best Workplace Recognition
Southern Pipe & Supply Company, Inc.: AD Best Workplace Recognition
Central Supply Co. Inc.: AD Giving Back Award
Brian G. Peirce, President & CEO, Peirce-Phelps: AD Leadership Award