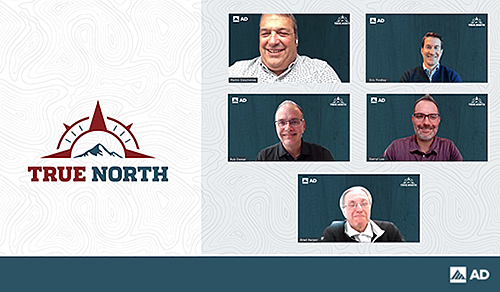 The 2021 Virtual AD Supplier Conference-Canada Plumbing & Heating strengthens strategic partnerships
September 29, 2021
Toronto – AD Canada's Plumbing & Heating Division held its five-day virtual supplier conference on Sept. 13-17, drawing nearly 400 participants from 29 member companies and 85 supplier companies. Demonstrating the intense engagement and open communication that are hallmarks of the AD community, the conference hosted more than 1,400 strategic one-on-one sessions for members and suppliers.
The theme of the meeting, True North, mirrors the AD community's strong guiding principles and commitment to staying true to one's core values. It invites AD's members and suppliers to reflect on their personal and organizational true north during these challenging times.
In his opening remarks, AD Canada's President Rob Dewar highlighted the division's impressive growth over the past year, despite global challenges.
"We are exceptionally proud of the progress we have made in our Canada Plumbing & Heating Division, particularly given the stormy conditions of the past year and a half," Dewar said. "Despite a few roadblocks along the way, we've managed to increase our divisional remittances by 31% from 2020—now up to $1.449 billion in 2021."
The conference's virtual booth sessions conducted in a rapid meeting format, facilitated conversations between members and suppliers around strategic alignment, best practices, and new ways to grow the independent channel.
After the event, roughly 95% of all attendees agreed that the meetings offered exceptional communication and were an effective use of time. AD supplier partner Dan Sloan, sales manager for the Little Giant business unit at Franklin Electric, was among them.
"This was my first time through the rapid meeting format," Sloan said. "It works well, was also well organized and communicated—well done! I look forward to meeting in person in 2022."
New communication tools aim to drive supplier success
Dewar also discussed the launch of two new initiatives in AD Canada's Plumbing & Heating division: the 2021 supplier webinar series and an all-new supplier rating system, which will be introduced in 2022.
The webinar series, launched this past June, gives suppliers a plug-and-play channel to engage with AD members to share product and business updates and provide training opportunities. The series will continue with significant force into 2022 as a way for suppliers to further enhance and expand engagement with AD members.
The new supplier rating system establishes an internal star rating scale that reflects how well suppliers deliver the services and resources that AD members value most. This system is determined via strategically weighted categories that can be objectively measured. Evaluation criteria includes rebate programs, market planning, eCommerce support, and meeting participation. The new system, where the overall rating is shared via ADHQ.com, not only gives AD members a means to evaluate suppliers, but also provides guidance to suppliers on how to succeed and rewards those who offer outstanding service.
The new initiatives are part of a push to further bolster the AD community by investing in programs that help both members and suppliers compete today and tomorrow. Dewar noted that in the post-pandemic landscape, it's the ongoing partnership between members and suppliers that enables the AD community to outpace the market.
"In true AD fashion, in the face of a challenging time, we've come out stronger," Dewar said. "I applaud each and every one of our devoted members, suppliers and board members today and every day for their keen dedication and for continuing to contribute positively to our growing alliance."
AD Canada warehouse and meeting center provides a competitive edge
Brad Harper, AD Canada's vice president of finance & operations, highlighted one of the organization's most valued resources: a 40,000-square-foot warehouse and office space in Mississauga, available to all AD Canada members and supplier partners.
Opened in June 2020, the warehouse offers significant shipping-related cost savings and operational efficiencies, while the office space has a state-of-the-art training center, board room and private offices that AD associates can book for meetings.
Essentially, said Harper, the goal of the facility is to bring value to both members and suppliers. "We want to be the best wholesaler to suppliers and the best supplier to members," Harper explained. "It's also important to create a space where AD members and partners can engage and share knowledge. In the end, the warehouse and meeting center must make the AD community more competitive."
Back to in-person meetings next year
AD Canada's Plumbing & Heating Division 2022 Supplier Conference is slated to be held Sept. 13-15 at Delta Hotel Toronto Airport & Conference Center. The AD Canada team looks forward to bringing members and suppliers together again to further strengthen the AD community.
Photo Details: AD Canada Plumbing & Heating divisional board co-chairs Martin Deschenes (upper left) and Eric Findlay (upper right) presented to members and suppliers alongside AD Canada President Rob Dewar (middle left), Marketing Manager Darryl Lee (middle right) and Vice President of Finance & Operations Brad Harper (bottom) during the general business update.