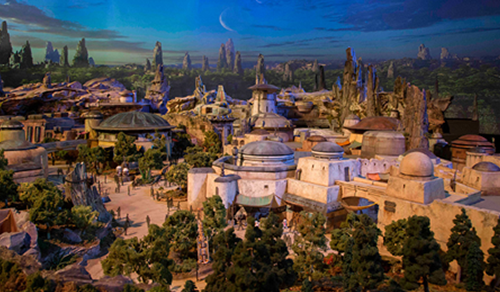 AD Building Materials Member Joins Forces with Disneyland on Star Wars Project
September 12, 2017
Disneyland in Anaheim, CA announced the 14-acre "Star Wars land" expansion set to open in 2019. The project has developed into the largest single-themed land expansion that Disneyland has created. Guests will embark on a never before seen planet, a remote trading port and one of the last stops before wild space, where the Star Wars characters and their stories come to life!
KHS&S is the contractor for all framing and exterior applications on the project currently in production. In addition, what better force could Disneyland choose to work with than AD Building Materials Member Action Gypsum Supply West (DBA: ARGOS Material Distribution). Action Gypsum Supply West is providing all metal studs/track, drywall, sundries and plaster goods for the "back of house" administrative building as well as "front of house" attractions, rides and store fronts.
All the metal and drywall products will be manufactured by AD participating suppliers and the attractions rock formations will be made from Quikrete's carving plaster and Parex acrylic products. Originally, the manufacturer specified to be used was Sto, but through the valiant efforts of the AGS West/ARGOS sales team the deciding spec is now Parex.
"We couldn't be more excited to work on the highest profile project on the west coast" said Tom Jordan, AGS West/Argos Vice President of sales and marketing. "This is a true testament to the hard work our team, Frank Nava and Dino Casillas in particular have put in to exemplify the value our customers received when working with a strong independent distributor.
"In my experience there is no such thing as luck" this Star Wars Obi-Wan Kenobi quote proves true in the case of Action Gypsum Supply West. Their hard work and dedication determines their success.