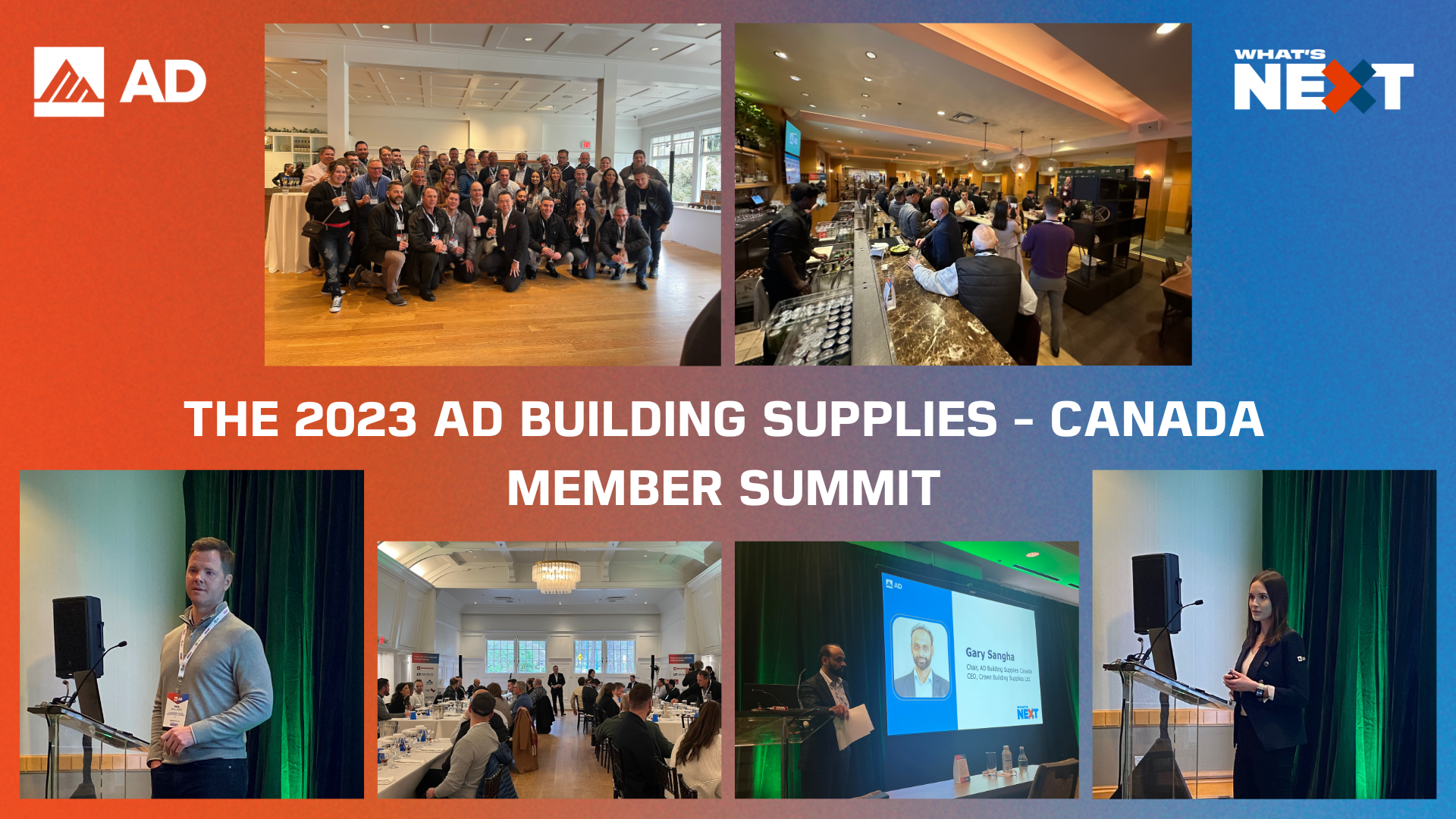 AD Building Supplies – Canada facilitates collaboration during inaugural divisional meeting
March 14, 2023
Vancouver, BC - Members and supplier sponsors of AD Building Supplies – Canada congregated to drive collaboration, facilitate growth, and network during the recent 2023 AD Building Supplies – Canada Member Summit, which took place February 21 – 23, 2023 at the Westin Bayshore.
Serving as this recently formed division's premiere AD meeting, participants enjoyed opportunities to nurture relationships both old and new, celebrate achievements while toasting to new partnerships, and collectively plan for 'What's Next' – which serves as this year's AD meeting theme, encouraging members and suppliers to look ahead and be proactive about the next innovation or creative solution.
AD Canada President, Rob Dewar, shared his sentiments on the conference and how it ties into the meeting theme.
"The theme of 'What's Next' feels especially pertinent to serve as the subject of our very first AD Building Supplies – Canada event," relayed Dewar. "As this division joined our AD family in July 2022, like with any new endeavour, there were some learning curves and adaptations to new processes required—but this exceptional group of member and supplier companies have approached us with open arms, and we're incredibly grateful for their dedicated and steadfast support of our group. With such a seamless integration, the answer to the question 'What's Next' feels innate—we look forward to driving AD Building Supplies – Canada to even greater heights through our mutual commitments and partnerships. We're grateful to have been able to facilitate such a wonderful opportunity for connection and collaboration during our time in Vancouver."
The Member Summit included events such as an update from AD covering the latest initiatives and happenings within the group, engaging presentations from supplier sponsors to drive growth opportunities and expand partnerships, and social events to celebrate this division's success while fostering relationships.
Paul Williams, AD Building Supplies – Canada's Vice President, spoke on the success of the event's core mission—to reunite and reconnect the group following the merger.
"Getting our owner/members back together in one venue is something we've all been looking forward to for quite a while," relayed Williams. "We've all experienced a lot of positive change in the last six to 12 months in the transition to AD Canada, so it was vital to give our distributors a platform to work within their buying group, share amongst the other members, and provide them with the opportunity to network with their key suppliers to strategize on 2023 and beyond. It was a great event for all involved—we're excited to host our next event in June and continue to leverage the scale of AD and everything it offers to the independent."
AD Building Supplies – Canada Chairperson, Gary Sangha, offered his thoughts on his first AD meeting.
"Following a fantastic few days spent planning for an even greater year and reveling in our collective success, it is more apparent than ever that joining AD was the best choice for our group of members," said Sangha. "The strong sense of leadership, commitment to the independent channel, and dedication to cultivating strong partnerships with top industry vendors have helped us to thrive in an ever-changing marketplace. Thank you to the entire AD Canada team for hosting such a successful debut event."
The AD Building Supplies – Canada division looks forward to reconnecting during the upcoming 2023 AD Canada Annual Meeting – Industrial & Safety and Building Supplies, happening June 19 – 22, 2023 in Toronto, ON.