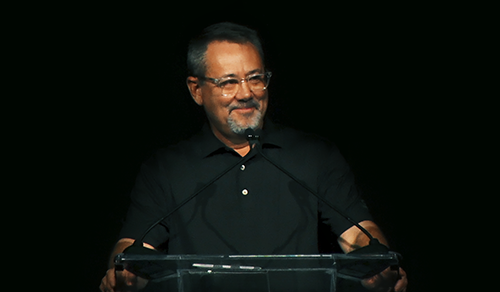 AD Chairman and CEO Bill Weisberg says #1 reason to be "all in" is its cause
February 18, 2020
As AD turns the corner to a new year, the organization and its members and supplier-partners clearly have a lot to be thankful for and proud of. 2019 was a record-breaking year, with a 12% increase in total members sales, at $46.3 billion. Member company purchases from AD suppliers were $12.1 billion, and net distributions for year-end were over $748 million on those purchases, an increase of 6% from 2018. In fact, virtually every AD division and business unit set a new sales record for member purchases from AD suppliers. These are record-breaking numbers, indicators that independents are successful, thriving, and stronger together.
AD also experienced its highest levels of fall meeting attendance in 2019, featuring networking, brainstorming, problem-solving and recognizing the best of the best in the industries it serves.
Chairman and CEO Bill Weisberg's keynote, ALL IN, described an absolute commitment, pushing the status quo, getting fully involved and having an unwavering drive with customers, business partners and fellow associates.
Weisberg says, "When members and supplier-partners are all in, they're actively participating, outspoken, contributing, engaged, making an impact on others and allowing others to have an impact on them."
Why be all in? Weisberg has four great reasons. In this post, we'll share the first.
Weisberg says AD's cause is reason number one to be all in for AD. AD's cause is independents. It exists to help independents win. But AD doesn't just serve and help independents, its associates truly believe in independents – AD believes they have a better business model, and a better approach to doing business than the international chains.
"Plus, AD believes in a prosperous future for independents," Weisberg says. "Independents are growing, winning and expanding. In every generation, independents grow at a faster rate than chains … in every industry, and local market. And it's because independents are built to be agile, nimble risk-takers who are fully invested in their future. Our cause is independents, every day, all the way."
To hear members talk about just how all in AD is for them, listen to David Ruggles, president of third-generation MRO distributor Martin Supply, talk about how together, independents are stronger. He says AD is more important today than ever. And Beau Aero, president and founder of Columbia Safety & Supply established in 2005, who said from the very beginning, AD invited them in as part of the family. Caleb Messer, their VP of business development, said being part of AD enables networking and best-practice sharing with those who've been at this for generations, sometimes since the 1800s. The clout, Beau said, they have from being part of a $40-plus billion organization makes Columbia powerful.
AD's associates are all in for the cause of independents.