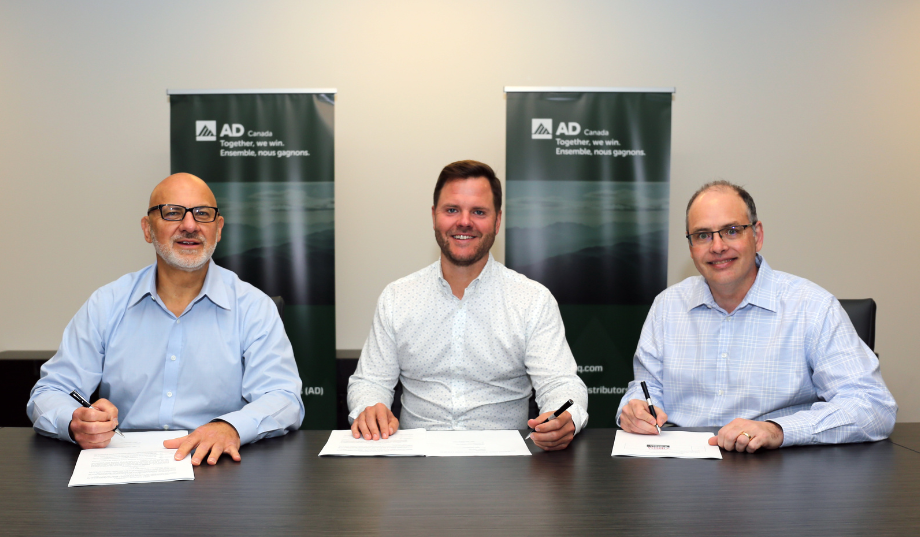 AD completes merger with Torbsa Limited
July 6, 2022
Wayne, Pa. – AD announced it has completed the merger with Torbsa Limited, a leading building supplies buying group in Canada, effective July 1, 2022.
The partnership creates AD Building Supplies – Canada, the fourth division in AD's Canadian business unit. Former Torbsa President Paul Williams will serve as vice president of the new division. AD welcomes three additional new associates as part of the transaction.
"Now that we have reached the completion of the merger process, our team looks forward to working with our members to bring them new relationships and services that come from AD's scale and history of success," said Williams.
The merger brings twenty-six independent Canadian distributors with forty-six locations into the AD family. Rob Dewar, president of AD Canada, said the merger will strengthen the market position of Building Supplies members and AD's membership as a whole.
"The AD team is thrilled to officially welcome Torbsa's employees, members, and suppliers into our family," said Dewar. "By joining forces, both our new and longtime members will be able to leverage increased buying power, and the merger gives us additional resources to explore potential new offerings to help our members grow."
AD Chairman & CEO Bill Weisberg added, "We are thrilled to see this continued growth in Canada, which now fully mirrors our U.S. footprint in terms of distribution segments."
To learn more about the merger details, read AD's previous announcement here.
---
AD finalise sa fusion avec Torbsa Limited
Wayne, Pa. — Le groupe AD annonce avoir conclu à compter du 1er juillet 2022, sa fusion avec Torbsa Limited, le groupe d'achat de matériaux de construction de premier plan au Canada.
Cette fusion donne naissance à une nouvelle division, la Division Matériaux de Construction d'AD Canada, qui sera la quatrième division de la branche canadienne d'AD. Paul Williams, ancien président de Torbsa, occupera désormais le rôle de Vice-président de la nouvelle division. Trois nouveaux associés viennent également renforcer l'équipe d'AD à l'occasion de cette transaction.
« Notre équipe est impatiente de travailler avec nos membres et de leur faire bénéficier des nouveaux services et des partenariats qui découleront du succès historique d'AD », a déclaré Paul Williams.
Avec cette fusion, vingt-six distributeurs canadiens indépendants, comptant quarante-six emplacements, s'intègrent à la famille AD. Rob Dewar, Président d'AD Canada, a affirmé que la fusion permettra de renforcer la position des membres de la Division Matériaux de construction sur les marchés, ainsi que celle de l'ensemble des membres d'AD.
« L'équipe d'AD est ravie d'accueillir officiellement les employés, les membres et les fournisseurs de Torbsa parmi nous », a déclaré M. Dewar. « En unissant nos forces, tant nos nouveaux membres que nos adhérents de longue date pourront profiter d'un pouvoir d'achat plus élevé, et cette fusion nous donnera des ressources supplémentaires qui nous permettront d'explorer de nouvelles offres potentielles pour favoriser la croissance de nos membres. »
Bill Weisberg, le PDG et Directeur général d'AD, a déclaré que « cette croissance continuelle que l'on remarque à présent au Canada, et qui reflète entièrement notre empreinte commerciale aux États-Unis en termes de segments de distribution, est pour nous une véritable réussite. »
Pour en apprendre davantage sur les détails de la fusion, consultez le communiqué précédent d'AD ici.