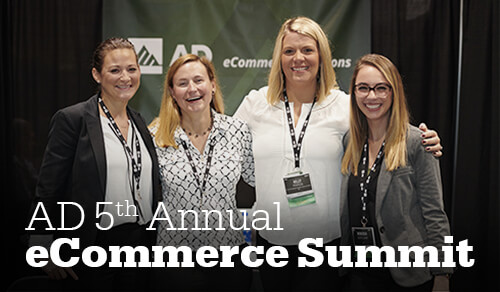 AD gathers in person to host 5th annual eCommerce Summit
May 20, 2021
AD is gearing up to host members and supplier partners from seven divisions across the U.S. at its fifth annual eCommerce Summit, the member-owned group's first in-person meeting since the onset of the COVID-19 pandemic. The meeting is slated to be held at the Gaylord National Harbor, Maryland Aug. 23 – 25, 2021.
The summit's agenda is focused on networking, gathering insights from industry experts, and partnering with AD's eCommerce Solutions team and strategic partners. It includes network groups, one-on-one booth sessions between members and strategic partners, member-led panels, and learning tracks that can be customized to each member's needs. The 2021 tracks include strategic sessions on key topics including eContent best practices, driving measurable results, leveraging eProcurement, eCommerce communication with texting and mobile apps, search engine optimization best practices, artificial intelligence enabled machine translation, and more.
In addition, the 2021 summit will feature two keynote speeches:
- An in-depth look at digital leadership from Brian Beck, industry expert and renowned author of Billion Dollar B2B eCommerce
- A thought-provoking motivational speech from Ryan Manion, founder of the Travis Manion Foundation on why character matters
Caroline Ernst, AD's VP of eCommerce Solutions, shared that AD's community is looking forward to being reunited in-person and to re-engaging their eCommerce learning.
"Our eCommerce Summit's mission is to create a collaborative environment where AD members and suppliers in all stages of their digital journey can come together, best-practice share, learn from experts, and go back to their companies with insights and action plans that support their goals," she said. "The AD eCommerce Summit helps members transform their business and customers' experience with the tools and the confidence to shape the future of their eCommerce experience and drive business growth."
The AD eContent Service started six years ago with 52 members from the Industrial Division and 200,000 SKUs and now, six years later, we are proud to have a dedicated team of 14 associates supporting over 200 member companies across 9 AD divisions get online and gain access to over 6 million SKUs.
Due to ongoing travel restrictions impacting Canadian members' and suppliers' ability to attend the in-person summit, AD will host an exclusive AD Canada virtual eCommerce Summit session, which will share key takeaways from each session breakout as well as the keynote speeches taking place at the in-person summit.
Since the Summit's onset in 2016, 99% of attendees have shared in post-Summit surveys that the program added value to their company, and they would attend again.
As a complement to AD's suite of member and supplier annual meetings, the eCommerce Summit is one of two annual cross-divisional and functional summits that AD hosts, along with the Finance, HR & IT Summit coming up virtually in June.