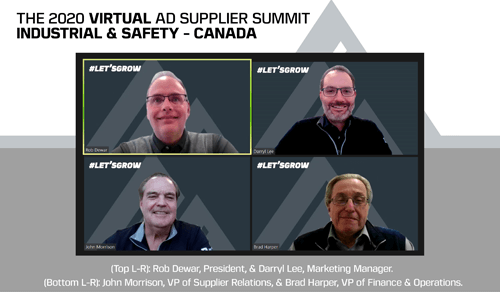 AD Industrial & Safety-Canada members and suppliers strengthen relationships during 2020 Virtual AD Supplier Summit
November 4, 2020
MISSISSAUGA, Ont. – AD's Industrial & Safety-Canada Division brought together over 230 independent distributor members and supplier partners at their first virtual AD Supplier Summit from Sep. 29 - Oct. 2, 2020.
The summit, along with the six other AD meetings that shifted to virtual this fall, was designed to enable networking, relationship-building, and to provide the AD community with business updates that can support the way members and suppliers partner for mutual growth.
Included in the shift to a virtual format were over 2,100 one-on-one meetings held between key decision makers from both members and suppliers over a three-day period, laying the foundation for continued growth in 2020 and into 2021. In a post-meeting survey, over 90% of supplier participants and 85% of member participants rated the overall value of the 2020 AD Supplier Summit a 4 or 5, out of 5.
As indicated by the success of the one-on-one meetings, and AD's meeting theme Let's Grow, the AD community is passionate about growth and building meaningful relationships, especially during this challenging business climate. Let's Grow represents the commitment AD members, suppliers, and associates are making to look to the future, build momentum, and charge forward, together.
Lana Jensen, channel marketer from 3M Canada, commented the high level of engagement by AD members really drove the success of the meeting.
"The (member) teams have been really engaged," she said. "We've had some great conversations about driving growth."
Offering the member perspective, Dan Amatruda, senior vice president of Weber Supply, credited AD suppliers with making the event a true win-win for everyone involved.
"Every AD supplier partner was well-prepared and on time," he shared. "The takeaways for us will result in actions that will benefit both companies."
The member and supplier business updates, hosted by AD Industrial & Safety-Canada leaders Rob Dewar, division president, Brad Harper, VP of finance & operations, and John Morrison, VP of supplier relations, provided participants with an update on divisional initiatives and key business metric updates. They also introduced participants to the new AD Canada Warehouse & Meeting Center that opened on June 1, 2020.
Dewar shared the cooperation and communication during the event perfectly reflected the mission of the conference.
"It was truly remarkable witnessing AD members & suppliers working together to develop plans to grow their respective businesses," he said. "The teamwork, dedication and drive the AD members and suppliers brought to the meetings will pay huge dividends in the immediate future and is another example of the strength and resilience of independent distributors and the suppliers who support them."
Scott Simpson, president of AD member-owner company S.B. Simpson Group and chairman of the AD Industrial & Safety-Canada board, kicked off both updates by reflecting on the year so far and his belief in both the members' and AD's ability to not only survive, but grow business with AD suppliers through these current challenges.
"Generally speaking, (AD) distributors are resilient survivors," he shared. "It's in our DNA to adapt and change to economic challenges we encounter. We've done it for generations, and I know this time will be no different. Our membership, the most agile distributors in the market, will pivot and shift to survive and find the opportunities to grow our way out of this."
Simpson continued by acknowledging that today's challenges impact both members and suppliers alike, and the importance of the AD community to both groups.
"This is a challenging time for our members and suppliers alike," Simpson added. "At the end of the day our (AD) community is a relatively small one and our fortunes are closely tied together. COVID-19 has shown us that we have to stay in touch and check in to nurture our relationships and keep them strong."