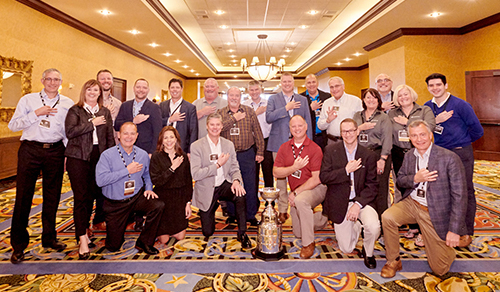 AD Members and Suppliers Celebrate Record Growth at 2018 Electrical North American Meeting
November 8, 2018
Wayne, PA – On October 29 – 31, 2018, AD, the largest contractor and industrial products wholesale buying/marketing group in North America, hosted the AD Electrical North American Meeting, with over 1,000 attendees. This event attracted 151 first time attendees and representatives from over 362 companies in the United States, Canada and Mexico.
Attendees benefited from a variety of agenda topics including; Network Meetings, Emerging Leaders Session, and Country specific Business Meetings. New to this year's agenda was a SPA Optimization Workshop led by industry veteran MO Barsema. In addition, members and suppliers also attended a panel discussion on Managing & Measuring Your Digital Success. AD Electrical members are live with 29 Digital Branches and can access over 1M normalized and attributed SKUs through the AD eCommerce Solutions Program.
One of the biggest highlights of the meeting was celebrating the first AD Electrical Conversion Cup winner, awarded to the AD network with the highest number of conversions. Year to date we have successfully converted $12M to AD supplier partners and project to close the year with a 20% increase vs. last year.
"OWN IT" was the meeting theme this year. Everyone was challenged to participate and contribute to the success of AD by owning the moment, the challenge and the future. During his keynote address, AD Chairman & CEO, Bill Weisberg introduced the "Four Rules for Owning It." Rule number four is: Do the hard stuff. "When you choose to work on the hard stuff, you know you are dealing with the real stuff," shared Weisberg during his talk. This year AD walked the talk by successfully completing their transition from being solely owned by Weisberg to being Member owned.
Ed Crawford, Chief Marketing Officer and President, Electrical Divisions shared, "OWN IT is about taking personal responsibility for making things happen. It's about looking for ways how we can do it, rather than focusing on why it can't be done. AD's scale advantage is built on a strategy of growth. Through the collective strength of our members, and our ongoing commitment to member and supplier recruitment, as well as new AD growth programs and services, we will continue to leverage our multi-divisional structure to drive efficiency and make things happen."
The 2018 AD Spirit of Independence honorees are:
US Member for Highest Dollar Growth Award - Border States
US Member for Highest Percentage Growth Award - Wabash Electric Supply Inc.
US Supplier for Highest Dollar Growth Award - ABB / Electrification Products Industrial Solutions
US Supplier for Highest Percentage Growth Award - SATCO Products Inc.
Canadian Member for Highest Dollar Growth Award - Franklin Empire Inc.
Canadian Member for Highest Percentage Growth Award - Beaulieu & Lamoureux Inc.
Canadian Supplier for Highest Dollar Growth Award - Stelpro
Canadian Supplier for Highest Percentage Growth Award - WattStopper Legrand Canada
Mexico Member Commitment Award - Grupo Díaz
Mexico Supplier of the Year for Performance Award - Acuity Brands México
Best Annual Planning Process Award - Van Meter Inc.
Best Conversion Award - Mid-State Supply Company Inc. & Leviton Manufacturing Co.
AD Conversion Cup AD - Network 804: Electrical Equipment Co.; Electrozad Supply Company LLC; Gerrie Electric Wholesale Ltd.; Horizon Solutions LLC; Kendall Electric; Stanion Wholesale Electric; Turtle & Hughes Inc.; Van Meter Inc.; Werner Electric Supply Co.
Supplier of the Year for Marketing Excellence - Siemens USA
MVP Award - Julie Sferes, Business Operations Director Horizon Solutions LLC
Giving Back Award - ConneXion
Best Workplace Recognition - Alen Eléctrica; Bricos; Electric Supply & Equipment Co.; Schaedler Yesco
Premier Marketing Partners:  AD's 2018 Premier Marketing Partners were also acknowledged throughout the event:  ABB; Atkore International; Acuity Brands, Inc; Encore Wire; General Cable; Hubbell; Legrand; Leviton; Omni Cable; Signify; Siemens; and Southwire.