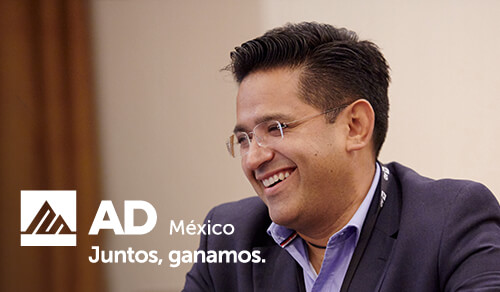 AD Mexico leader on the importance of AD Way fundamental #12: Honor Commitments
June 7, 2021
Internal company message from AD's Director of Electrical-Mexico, Juan Carlos Zacarías, shared on June 7, offering associates his perspective on this week's fundamental, honor commitments.
HONOR COMMITMENTS.
Do what you say you're going to do, when you say you're going to do it. There is no better way to build trust. This includes being on time for all phone calls, appointments, meetings, and promises. If a commitment can't be fulfilled, speak up and agree on a new deliverable to be honored.
Honor Commitments is undoubtedly a fundamental that allows us to show who we are as individuals and the company we represent.
As some of you know, I sometimes share some experiences that I find interesting about business practices in Mexico. As an example, we can close million dollars deals with a verbal commitment. It does not matter if the customer receives a better offer, they will always honor their commitment if they've given their word. Sometimes they can even get offended if we request a PO from them to close the deal. It was not difficult for me to understand this way of doing business because my grandparents and my parents are of that style, and that's how they educated me.
So for me it has been very important to work for a company that honors their commitments and supports their associates in fulfilling the agreements they make. Let me share with you an experience.
Before joining AD, when I worked for an industrial cable manufacturer, one of my distributors asked me to work with them to help them win a multi-million dollar new plant construction bid. As part of the bidding process, only distributors who would be able to provide all the materials the project required could participate. They could not participate if they only had some of the materials.
My distributor participated with its entire portfolio, from automation, control, lighting, distribution, and our cable. So we mutually agreed that they were going to participate with my offer. We did the entire specification process, quoted and gave a very competitive delivery time. Eventually the distributor won the project. When they placed the order, our plant confirmed the lead time, but after a week delivery dates began to slip. I kept the distributor informed, however the date changes continued until our plant canceled the order due to another large order they received. That meant the distributor would be disqualified from the entire project because of our inability to deliver the cable.
The CEO of the distributor called me and said, "We went with your offer. I am not going to look for another supplier and you are going to solve the problem for me because I do not want to lose the whole project." So I asked for the support of my company and after several meetings looking for an internal solution I suggested that we could get an equivalent cable from one of our competitors in the U.S. After I sensitized my company´s officers to the importance of supporting our distributor customer, the company accepted my recommendation to buy the cable and to deliver it to our distributor in order to fulfill their project. At the end my boss told me: "When the VP authorized your solution proposal, he asked me to fire you for selling a competitor's cable, but I am not going to do that because I have not seen someone so worried to fulfill a commitment with a client".
While I didn't know it at that time, a few years later that distributor became an AD Member and their CEO became part of the ESD Mexico Board. And ultimately, that person referred me to the job that I'm now in at AD!
So many times my AD colleagues have supported me in honoring commitments to our members, supplier partners and divisional board. I think this is one of the many things that is special for me about working at AD. We can feel very proud knowing that we have the support of our company and each other to honor the commitments that we make.
Have a nice week!