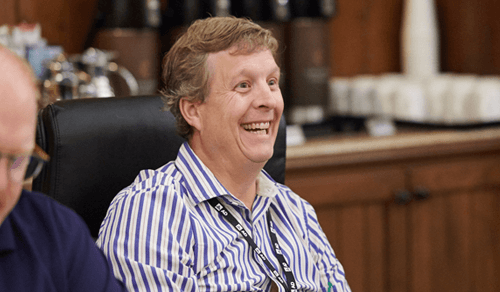 AD Rewards Spotlight: Peter Dalton, Daltco Electric
July 15, 2020
Daltco Electric is the largest independent family-owned electrical distributor in Eastern Ontario. They pride themselves on their commitment to professional and personal customer service, provided by an exceptional group of employees.
Daltco Electric is led by Peter Dalton, who became President of the company when his father, founder John Dalton, retired in 1997. Since then, Peter has led Daltco Electric with the determination to provide excellent customer service and add value to customer experience. With his leadership, Daltco has become a market leader in Eastern Ontario.
Of course, Peter insists that everything begins with the people who make the company run day to day–the employees. That's why Daltco Electric is committed to hiring and maintaining committed staff, who believe in the Daltco culture of strong work ethic and attention to customer needs. Staff are encouraged to take training and other growth opportunities, and to take on leadership roles in special projects.
Daltco Electric also gives back to the communities where they do business, holding family focused team building and charity events. For the past 3 years, the company has held staff led volunteer events, where staff members from all locations converge to offer their services to a local charity. As Peter explained, "Through a partnership with the United Way, we have been able to unite our team on projects that support our local community. We've done everything from paint and refurbish a kid's summer camp, to picking vegetables at a community garden, and cleaning up a courtyard for a youth and mental health group." In addition, Daltco adds to the staff's volunteer efforts with a financial contribution from the company, before ending the day with a fun, family event, like zip lining or a local tour. "It's a great way for staff from all our locations to get to see and know one another, and to realize it's more than just about our Monday-Friday work lives."
Another component to Daltco's success had been its partnership with AD. AD allows Daltco to have the buying power and leverage of a big multinationals, while still maintaining the benefits of being a small, locally focused independent. AD gives Daltco leverage with vendors, and offers e-commerce, marketing, and training opportunities. As Peter notes, "AD allows us to scale and have access to resources that might otherwise be prohibitive or unavailable as an independent."
Daltco has also taken advantage of the AD Rewards program, which has also become an important part of Daltco's interaction with customers, both homeowners and contractors alike. AD Rewards has become a primary marketing program for Daltco.
For Peter, the most personally fulfilling part of AD is meeting and learning from other leaders of independent distributors in Canada and the US. Attending bi-annual meetings with other executive teams allows for sharing of best practices, exchanging information, and getting updates on industry trends and opportunities. "It's like having your own board of directors, or a private consulting group. It's definitely added to my personal and professional growth over the past 23 years."
This article originally appeared in the July 14, 2020 online issue of Electrical Industry News (EIN) Digest. Peter Dalton is a long-standing AD Canadian Electrical Division Board Member, Daltco's AD Delegate and active member of AD Network #803. His leadership, contributions and support of AD and the electrical industry is greatly appreciated.