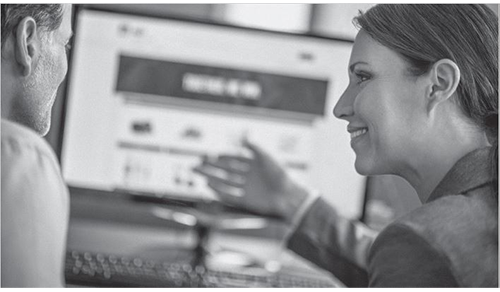 All In on eCommerce
December 3, 2019
AD members who are live with Digital Branches discuss the importance of sales enablement to maximize their eCommerce reach.
Over the last 5-10 years, eCommerce has grown rapidly as it allows businesses to gain new customers at lower acquisition costs, while enabling customers to benefit from 24/7 access to products at competitive prices. As a result, independent distributors have been among the many businesses focused on developing a Digital Branch. It's a big undertaking by all measures but one that, if done right, can help ensure a distributor's continued relevance in an increasingly digital market and contribute to its future growth and success.
Part of the successful introduction of an eCommerce capability involves understanding the unique role that salespeople play as liaisons to the customer base and engaging your salesforce in its development, rollout and promotion.
The value of sales team engagement
At Ideal Supply Inc. in Listowel, ON, Canada, "we really believe that we need to sell a mindset shift in the context of 'what's in it for me?' for each of our stakeholders," shared Chris Moon, Director of IT. "Specific to our salesteams, we identified two areas that we felt would benefit and appeal to them: (1) extending customer service hours to customers without resources and (2) unlocking value from their internal sales teams."
At Madison Heights, MI-based McNaughton-McKay Electric Co., eCommerce Project Manager Kristine Koscielniak said that clear communications helped sales team members get over any initial trepidations concerning the site. "While our sales colleagues understand the value of customers being able to access account and product information when they need it, we did experience the 'fear' from some customer-facing teams, which is often typical within companies who are building their online presence," she said. "However, we regularly communicate updates and enhancements to our sales teams to show we're continually improving our site and the experience for our customers. Open communication with our sales teams has helped to diminish most of the fear we initially experienced and they're becoming the advocates we need to grow eCommerce with our customers."
Investing in incentives
Among tools that can help engage buy-in, our experts confirm that incentive programs are one effective way to drive both internal salesforce and end user involvement in an eCommerce initiative. "We've run several different types of programsover the years," Moon confirmed, "and by far, we've found that the most successful type of program is one that provides an incentive enabling the end-user to enter the channel; in our case, we used an iPad with an earnback. The incentive is structured in a way that rewards 'habit building' inside the eCommerce channel as opposed to a pure focus on transactional volume," he said.
Doug Drendel, President of Capitol Group Inc. in Springfield, IL, agreed. "Our company's inside sales/customer service team has goals based around sales dollars written and we make sure that these goals are their own sales orders plus entire branch eCommerce sales because we want them to look at eCommerce as an ally to productivity, not a replacement of their job," he said.
Caroline Ernst, AD Vice President, eCommerce Solutions, can't emphasize enough the value of building web sales into a sales team's compensation package. "In terms of financial incentives, including web orders in commission calculations is as important as understanding the value of optimizing your sales team's activity," she confirmed.
Beyond incentives, Koscielniak said that a strong site can sell itself. "We're experiencing significant growth with our eCommerce usage -- partly organic in nature, but also due to our sales team's understanding of the benefits that our site currently offers and their focus on promoting our site to customers that are a good fit," she said. "Ultimately, the best incentive program is having a site that features accurate data and the value proposition your customers need, and we're continually moving that needle."
Reaping the benefits
Encouraging sales teams to be active in eCommerce has a wide variety of benefits such as:
Unlocking Employee Value – At Ideal Supply, for example, "our single biggest benefit is in unlocking the value of our people by shifting 'non value-added' work away from them so that they can focus on areas of the business and their jobs that are more satisfying and of more value to our company," Moon said. "We've also seen significant growth in non-traditional customers once they're transitioned into our eCommerce channel."
Current and Precise Data – At McNaughton-McKay, "our sales teams are the most integral piece of our eCommerce growth and they want to promote our eCommerce solution. To support them in doing this, we need to ensure that the site includes the highest-quality information," Koscielniak said. "As a result, one benefit of the drive to ensure that our sales teams can trust the site they're promoting is that we're continually working to ensure the accuracy of our data."
Increased Value in Productivity – According to AD's Ernst, securing buy-in for an eCommerce initiative from the sales team can make great strides towards boosting the bottomline. "The number one reason to focus on eCommerce sales enablement is that optimizing time leads to higher revenue," she explained. "Time is money and data reveals that each product detail page on an eCommerce site can save 20 minutes of a salesperson's time. When the web can replace administrative and order processing time, this yields more time for selling. This shift towards online self-service can lead to 5-10% more revenue."
Customer Retention – Jack Templin, AD President, Industrial Business Unit and Chief Programs Officer, believes that the benefits go beyond just sales to adding value that will cement customer relationships long into the future. "The term 'Omni Channel' is often used in reference to the retail channel, but it's a growing reality of the distribution market as well," he said. "Having a coordinated approach to the way customers want to transact is quickly moving from a strategy to a necessity. There will always be customers that prefer using the phone, going to the sales counter, or even sending a fax (yes, a fax!) to place orders, but there's a significant and growing population of B2B customers that want to place orders online as behaviors change and buyer demographics shift. As important as the online transactional capability is, it's equally important that distributors offer 'self-service,'" Templin confirmed. "Not only does self-service allow for improved productivity for distributors, but it's actually becoming increasingly preferred as customers use distributor websites to track order status, retrieve copies of invoices, secure proof of delivery and conduct product research."
Five tips for successful sales enablement
1. Focus on Value
"For the purposes of implementation and adoption, you want to focus on value generation for end users first and the 'transactional' nature of the channel last," shared Ideal Supply's Moon. "If customers find value in the platform, the transactional component will follow. There's no bigger source of feedback and knowledge on how to generate this than the end users actively engaged in the channel."
2. Incentivize Customers for Usage
According to Capitol Group's Drendel, "our company found that small incentives to the customer had a larger impact on user adoption than anything else. It enabled our salesforce to get a little more attention from the customer when presenting. We also lost some large users when we transitioned to a new site because we underestimated how change-adverse they would be," he added. "In retrospect, we should have incentivized them more to adopt the new site."
Among the specific measures they've employed,"customers get additional incentive points on our travel program for online orders and our HVAC dealers also get additional co-op dollars for using our eCommerce platform," Drendel said. "We also set up computers at all of our counters so that our inside sales force can show someone how to quickly use our website. Customers were given small incentives (e.g., things like tumblers, flashlights or tee shirts) for their first online order."
3. Integrate Offline with Online
AD's Ernst believes the strongest customer relationships are driven through a combination of face-to-face and online interaction. "Your eCommerce site provides another customer touchpoint," she explained. "For high-volume customers, keep sales visits/contacts and add eCommerce as a value-added service. According to the Analytic Partners 2017 Marketing Intelligence Report, offline interactions influence 40% of online searches. For low-volume customers who purchase more long tail SKUs, eliminate or greatly reduce visits/contact and add eCommerce as a primary order/contact method. For low-volume customers who buy core profitable SKUs, change the frequency of the personal contact/visits and add eCommerce to fill the gap," she said.
4. Consider the Big Picture
"Approach the offering of eCommerce as just another way to do business," advised AD's Templin. "When the first fast food restaurant put in a drive-through window, it didn't necessarily represent a shift as much as another method to serve customers. Some customers still came inside while others opted for the drive-through, but there's little doubt that establishments which elected not to put in a drive-through window lost customers to those who did." That being said, Templin recommends that the justification for eCommerce shouldn't be based solely on expectations of new sales attributable to the website. "I'm not suggesting that such sales growth shouldn't be a consideration, I just think it shouldn't be the only one," he said. "Distributors should ask such other important questions as: How do customers want to transact? How will my company's productivity be improved by self-service?What are the consequences of not having an eCommerce capability?"
5. Understand Your Customers' Needs
"One of my top pieces of advice for other distributors is to make no assumptions," shared McNaughton-McKay's Koscielniak. "We often hear of what we as consumers prefer in our personal buying journey and how the same features must be provided to the experience for our B2B customers. In actuality, however, this can lead to costly implementations that may provide very little value to your customers' experience, so it's important to understand your customers' needs and ensure that your implementations enhance their experience." In addition, she said, "understand where your competitors are with eCommerce, but don't become a follower. Monitoring other sites, reading articles, and attending webinars may offer you new ideas or best practices, but creating a dialogue with your customers and sales teams is where you'll find real value to help you create the user experience your customers truly want and need."
This article originally appeared in the 2019 edition of AD Today Magazine.