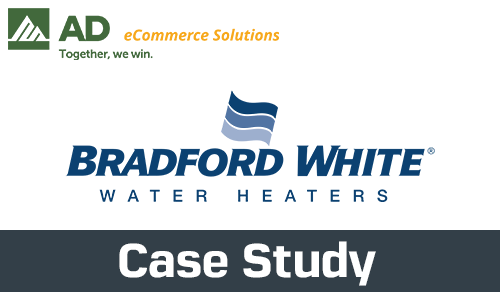 Bradford White Drives eCommerce Success
April 9, 2019
"Allowing AD members to draw from one 'source of truth' offers many advantages and we appreciate the convenience and consistency it affords our customers. The benefit to manufacturers like Bradford White is that all AD customers can feel confident in the data they procure via AD" - Bradford White.
Company Background 
Founded in 1881, Bradford White has a long history of providing high-performing, energy-efficient products including water heaters, space heaters, and storage products. Headquartered in suburban Philadelphia, Bradford White is an American-owned company with all of its manufacturing facilities located in the United States. Bradford White proudly employs over 1,600 people at its manufacturing operations in Middleville and Niles, Michigan, and Rochester, New Hampshire. Bradford White is an AD Supplier in the HVAC & Plumbing Divisions.
The Challenge
While historically, Bradford White did not offer the online sale of their products, they were keenly aware of the growing trends and need to embrace eCommerce distribution. Their progressive AD customer partners helped Bradford White solidify their commitment to eCommerce and related best practices in support of current and future customer needs.
Solution
Bradford White became an early adopter of AD eContent Services, joining in 2016 before any AD Plumbing or HVAC Members were live with AD eContent on their Digital Branches. After joining, they quickly began to submit product data that contained 15 attributes, including images, documents, UPCs, and list prices to be normalized according to AD's Governance Standards. AD eContent Services optimized Bradford White's product data by normalizing and enhancing SKUs so that they would be customer friendly.
In 2017, the first AD PHCP Distributor launched a Digital Branch containing Bradford White SKUs. In early 2018, AD Member Consolidated Supply Co. was preparing to launch their Digital Branch and had their product team review the Bradford White SKUs available in the AD Product Information Portal (PIM) to ensure all key selling features for each product were included. Without these key product attributes, conversion rates would be a challenge and the end customer experience would be less than ideal. Together, the AD Team, Bradford White, and Consolidated Supply Co. worked to incorporate additional product features and keyword descriptions that further enhanced the Bradford White digital catalog which in return, will produce better SEO results. 
Results
AD eContent Services' one-to-many model allowed Bradford White to feel confident that all AD distributors will have consistent and reliable data for their products. The ability to send AD product data in any format saved Bradford White's team significant time and quickly became their preferred method of product content transfer.
Since they joined AD eContent Services, Bradford White has increased their SKUs to include 85 attributes, 60 more than when they first joined, and they continue to work on developing more robust content for AD members.
Bradford White relies heavily on the AD eContent Supplier Scorecard to ensure they are providing their customers the product data they require, and they continuously receive the highest grade available. The AD eContent Supplier Scorecard provides a high-level summary of their product data in the eContent service, including member usage and SKU enhancement progress.
When discussing the value of normalized AD SKUs, AD Member & Bradford White Distributor Consolidated Supply Co. shared: "For customers to be able to self-serve online and select the correct product, accurate and detailed product data is as important as your search engine and eCommerce platform. Suppliers, like Bradford White, that support AD eContent Services make eCommerce feasible for wholesale distributors. Bradford White provides attributed product data as well as multiple images and documents for many of their products, greatly enhancing the customer experience."
AD eCommerce Solutions leverages AD's scale and community to enable Members to achieve their eCommerce objectives and win in an evolving digital world. To learn more about AD eCommerce Solutions, contact Caroline Ernst at cernst@adhq.com or (610) 977-3162.
The 2020 AD eCommerce Summit will be taking place February 10-12, 2020 at the Trump National Doral in Miami, FL. Save the date & don't miss the opportunity to attend!