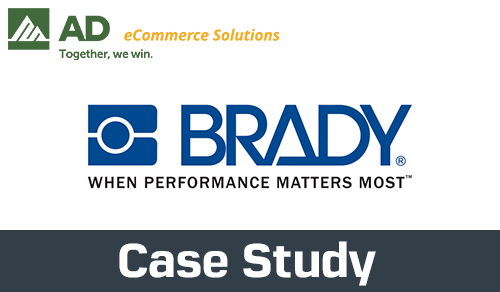 Brady Corporation Sees Doubled Sales Growth from AD Distributors Live with AD eContent
April 5, 2019
"Brady is a premium brand with great products, AD's eContent initiatives allows some of our most strategic partners to leverage our digital investment in an efficient scalable way. AD's eContent Service is an extension of Brady's overall digital strategy, which is to have the best content in the industry." - Brady Corporation. 
Company Background
Brady Corporation was founded in 1914 in Eau Claire, WI selling products like promotional photographic calendars, color displays for ice cream parlors, point-of-purchase displays, and roadside advertising. During WWII, Brady developed self-adhesive, pre-printed wire markers to help the military clearly identify wires on ships, planes, and other equipment. Since then, Brady has been dedicated to offering advanced technological capabilities that allows customers to print-on-demand and create their own labels customizable to their business, making them a global leader of safety and identification products. Brady currently has over 90 locations across 31 countries. Brady is an AD Supplier in the Industrial Division.
The Challenge
As the industry continues to emphasize the importance of eCommerce, many manufacturers are faced with the challenge of providing product content to distributor customers in a way that supports each individual platform and contains all the necessary information. With product portfolios consisting of thousands of items with tens of thousands of attributes, individually distributing data for each distributor is a daunting task.
AD Supplier Brady was no exception. As they focused on their eCommerce initiatives, Brady realized they would need a solution that could provide product content in multiple formats for different eCommerce platforms. Plus, they needed a scalable service to accommodate the quick growth they were seeing in eCommerce. 
Solution
At the beginning of 2016, Brady became an early adopter of AD eContent Service. They partnered with AD because of AD's one-to-many model, which allows them to provide AD with product content for new product lines and updated products in any format without needing a specific template.
On a continual basis, Brady submits their product content to AD through the Industry Data Warehouse (IDW), from which AD receives daily product updates. AD then syncs the SKUs and normalizes them to AD's Governance Standards so any subscribing distributor, regardless of their eCommerce platform, can download the product data they need from one location.
Results
AD's one-to-many model has provided Brady with a scalable way to share comprehensive product data with their independent distributor customers at once. This method of data transfer has maximized efficiencies for Brady's team. Since partnering with AD, Brady has almost 50,000 active and enhanced items live in AD's portal. Over 83 AD distributors have downloaded Brady's product content from AD's portal. Having Brady be able to send product content once and have it downloaded by 80+ different distributors in a single optimized format has been a significant advantage for Brady. Consider the amount of work involved in sending a 45,000+ item data file out in different requested formats for 80+ different distributors: it's an overwhelming, resource-heavy task which the AD program has all but eliminated for Brady.
In the past 3 years, Brady has seen AD distributors be more successful in marketing the advantages and differentiators of the Brady portfolio and has seen doubled sales growth from AD distributors live with their product SKUs.
AD eCommerce Solutions leverages AD's scale and community to enable Members to achieve their eCommerce objectives and win in an evolving digital world. To learn more about AD eCommerce Solutions, contact Caroline Ernst at cernst@adhq.com or (610) 977-3162.
The 2020 AD eCommerce Summit will be taking place February 10-12, 2020 at the Trump National Doral in Miami, FL. Save the date & don't miss the opportunity to attend!