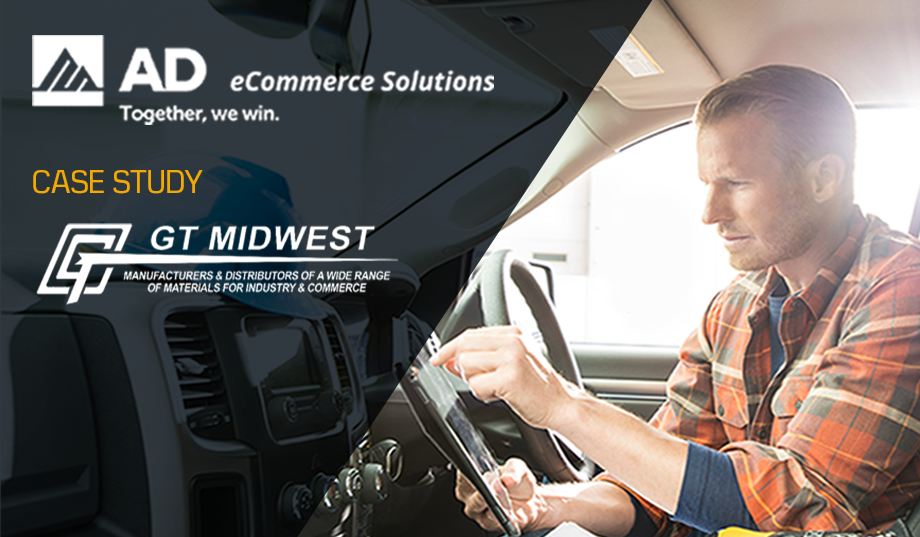 GT Midwest sees 45% increase in online sales as they grow in their digital maturity
November 10, 2022
"Without the significant boost to content provided by AD's program, we wouldn't be in the digital space the way we are right now." - Matt Onofrio, COO & President,GT Midwest
Company Background
Founded in 1946, GT Midwest is an independent distributor of manufacturing and construction supplies and materials. Since their start, they have been leaders in industrial distribution measured by quality, growth, and customer satisfaction. GT Midwest is a member of the AD Industrial and Safety division and are subscribed to over 140,000 SKUs of brand-name supplies through the AD eContent Service.
The 5 Pillars of Digital Maturity
AD eCommerce Solutions' Advisory Services collaborated with industry leaders to establish the 5 pillars for evolving and transforming independent distributors digital maturity. Strategy, Organization & Culture, Content, Technology, and Measurement make up the 5 pillars and enable growth in all things digital. This framework provides distributors with specific focus areas to prioritize building their digital strategy.
By aligning their digital strategy with the 5 pillars, GT Midwest positioned its organization for success with a winning strategy tailored to their goals and level of digital maturity.
Strategy
Matt Onofrio, President & Chief Operating Officer at GT Midwest, understood the importance of eCommerce and is invested in the organization's digital success. When customers started requesting self-service features on the web such as the ability to quote orders, Matt began to align resources, both human & financial, to develop & execute their digital strategy.
Defining their digital strategy included strong adherence to AD's pillars of Organization & Culture, Content, and Technology. This included:
Hiring a team of individuals with a digital mindset, focused on the development and growth of GT Midwest's digital business.
Investing in AD eCommerce Solutions to ensure they had access to complete & enriched product data necessary to scale their business along with vetted & curated partners.
Investing in technologies that allow them to create meaningful interactions with their customers and expand their digital footprint through additional touchpoints like mobile.
Starting in 2018, GT Midwest began investing in their online presence. The team saw immediate results with a 50% increase in digital sales from 2018 to 2019. Growth continued an upward trajectory in 2020 at the onset of the COVID-19 pandemic with an increase in sales of 30% by the end of 2020. Their online sales continue to flourish today. Since 2020, they have seen 45% growth – a testament to consistent investment in their digital presence and strategic planning across their digital efforts.
Digital success starts with a strong strategy that aligns with ADs pillars of digital maturity and prioritizes customer outcomes.The GT Midwest team isn't going through their digital journey alone. As their team works to scale their business digitally, they are working alongside the AD eCommerce Solutions team partnering with AD's eCommerce Advisory services and building relationships through AD's eCommerce Community.
Organization & Culture
"We wouldn't be where we are today without having a dedicated eCommerce resource managing the business." - Matt Onofrio, COO & President,GT Midwest
Investing in dedicated digital resources is among the most valuable assets that contribute to long-term digital success. Matt first started by bringing on an eCommerce Manager to lead the growth of their digital sales.
GT Midwest recognized that sales enablement was critical to the success of their digital business. Their eCommerce Manager ensured that the sales team felt comfortable and confident in their new digital sales platform when it first launched by training them to leverage the digital tools to maximize their impact. Access to products in a digital space has been essential for building a digital-focused sales culture. Digital access to product data, availability, and order lead times have allowed the sales team to limit their time placing orders for customers and prioritize other sales opportunities and strategies.
When rolling out their eCommerce Platform, they also introduced incentive programs to their sales team for digital sales, creating a culture that prioritizes digital orders and the growth of their digital presence.
GT Midwest values continued education to help drive sales enablement. Each year, their eCommerce Manager visits the GT Midwest branches for a lunch & learn where the sales staff are trained on their eCommerce features & functionalities while also learning about the strategic benefits of leveraging digital and how it can improve their own work.
While their eCommerce Manager led the initial launch of GT Midwest's eCommerce platform & digital strategy, the team understood the need to bring on additional resources to support the growth of their digital business. GT Midwest added a Web Content Specialist to manage product content alongside an intern to help support their SEO strategy online.
Content
Partnering with AD eCommerce Solutions meant access to enriched, normalized & categorized product data. This information is made accessible to them through AD's Member PIM (Product Information Management System).
AD's eContent Service provided GT Midwest with the scalability necessary to quickly grow their online catalog from only 4,000 SKUs to over 140,000. Having their complete SKU offering on the web was essential for helping drive adoption from their sales teams & customers.
The AD Member PIM made it easy for GT Midwest to:
Centrally manage their new and updated product content
Match their product catalog quickly and efficiently to scale their online SKU offering
Go to market faster with automated processes and AD eCommerce Platform connected partners
Their team also leverages AD Advanced eContent. This advanced product content allows for their team to reference national competitor part numbers and evaluate customer searches to identify opportunities to improve their own search results to better align with how their customers interact with their digital platform. AD's foundational and advanced eContent creates a consistent and unique customer experience that drives conversions.
Technology
GT Midwest recognized the need to integrate with the right technology partners to effectively grow their business and evolve to meet their customer needs.
Through AD eCommerce Solutions they had access to curated and vetted service partners to support their digital growth mindset. They are currently working with AD eCommerce Service Partner & AD eContent connected platform, Unilog as their solution.
Their eCommerce platform includes access to Unilog's Site Analytics Pro which has been essential for them measuring the success of their business & identifying opportunities for improvement.
The team targets site search & purchasing as two key metrics to determine which products bring customers to the site. Some examples of how GT Midwest is analyzing & actioning on this data include:
Reviewing all null search results. This information is then cross-referenced against AD's Member PIM to identify additional product data that can be added to their platform.
Reviewing customer purchasing trends to identify which brands perform best. In cases where a brand is performing well, the team will list their complete product line on the web to capture additional conversions.
Reviewing cart abandonments to identify trends. One such example was seeing that customers were abandoning due to no shipping cost being shown. The team used this insight to update product shipping weights & dimensions, resulting in a 50% decrease in cart abandonments.
As the GT Midwest team assesses the need for continued digital growth, they are investing in:
Self-service features on their website, including invoice tracking, creating shopping list, ability to request quotes and more
ERP integrations: visibility of product availability for customers and internal sales teams
New mobile app solutions with vendor managed inventory (VMI) scanning capabilities
Technologies that allow them to integrate product recommendations into their platform to improve site discovery & uncover additional sales opportunities.
By incorporating new features on their eCommerce platform and investing in new services, GT Midwest's technology strategy helps the team create operational efficiencies and better meet the needs of their customers.
Measurement
By aligning with AD's 5 pillars of digital maturity, GT Midwest increased online sales by 45%.
Measuring the success of their digital strategy required GT Midwest to objectively review their investments in Organization & Culture, Content, and Technology.
When asked about their investments in these pillars and what the impact has been the team concluded:
Dedicated eCommerce resources have enabled them to drive digital adoption through regular trainings & incentive programs.

In addition to driving adoption, having a dedicated team with a digital mindset has allowed them to maximize their investments in content & technology.

Partnering with AD eCommerce Solutions alongside an eContent connected platform has accelerated their ability to grow their online catalog from only 4,000 SKUs to over 140,000 enhanced, normalized & categorized SKUs.

SKU build & data load processes that previously took them weeks to complete are now completed with just a few clicks using AD's Member PIM in combination with their eCommerce Platform.
Conclusion
Today, GT Midwest digital sales represent the fastest growing part of their business. Their strategies of scaling their product catalog, creating a digital-focused culture, and measuring the effectiveness of their platform have led to digital sales growth for the company. It's also allowed them to meet & exceed their customers' expectations by giving them flexibility to choose how they discover & purchase product. In their partnerships with AD eCommerce Solutions & ADs vetted service providers, GT Midwest will continue to invest in digital.