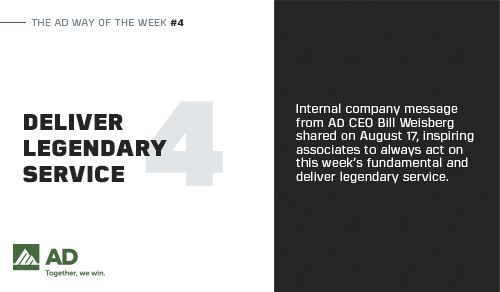 Let's Be Legendary, Together.
August 17, 2020
Welcome to week #4 of the AD Way!
DELIVER LEGENDARY SERVICE.
Do the little things as well as the big things, that blow people away. Create loyalty and value by going the extra mile and doing the unexpected. Create extraordinary experiences they'll tell others about. Make someone's day.
I love working at AD.
I love the people I get to work with. I love the members and suppliers I get to work for. And I'm proud of the work we do.
It's not like we're curing cancer. I know that. But we make a positive difference for a lot of people and companies. And making a positive difference in the lives of others feels good.
We aren't perfect. Not by any means. But we work hard at our mission every day. And while I may be a little biased, I don't think there's any group, in any of the industries we're in, that does what we do better or offers as many services and value-added benefits to its members and suppliers.
There's been a huge improvement in our company's culture in the 2.5 years we've been learning and living The AD Way. Don't you think? We treat each other better. We are more intentional about how we do everything we do.
I love the change.
But truthfully, I believe we could do a better job at this week's fundamental than we currently do. And when I say "we," I include me. I'm not sure I remember the last time I made someone's day or created an extraordinary experience. Do you? When was the last time you blew somebody away by doing something for them that was unexpectedly wonderful?
I'm not trying to be critical. We do excellent work. But "excellence" isn't what this week's fundamental talks about. It says we are supposed to create extraordinary experiences and blow people away through our interactions, gestures and decisions.
That's quite a goal! Are you up for it? Are you willing to give it a try?
Well, if you are, here's the deal.
Go the extra mile for an AD member, supplier or fellow Associate and I'll support your decision and action.
Create an extraordinary experience, make someone's day, wildly exceed their expectations, blow them away and I'll have your back.
Come on. Let's be legendary, together!
Bill