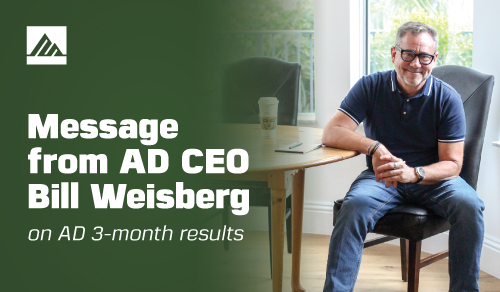 Let's get better
April 30, 2021
The AD community had an excellent start to 2021. 
The first quarter continued the positive momentum that began in the back half of 2020, especially Q4. While not every member and supplier experienced sales growth in Q1, the vast majority did, even compared to 2020 pre-pandemic numbers.
Total member sales across all divisions and countries were up 14% to $12.7 billion. Member purchases from AD suppliers were up 16%.
Our Canadian businesses grew more than 20%, despite significant continuing challenges associated with navigating the pandemic, a true testament to the strength and resilience of the Canadian business community. 
We continue to expect that 2021 will be a record year for the AD community. In fact, our current estimates are that we will experience more than twice the growth we originally budgeted.
It is good to remember, however, that we should not let dramatic growth swell our heads any more than we should let sudden downturns sadden our hearts. Life and businesses have ups and downs. Some are of our own doing, some are not. And while the ups are much more preferable than the downs, we would be wise to continue to focus on our operations, our people, and our strategic plans.
Can we do things better? Yes, we can. Can we partner together more effectively, serve our customers better, and serve our communities better? Yes, we can. 
Let's enjoy the recovery! But, let's get better, too.