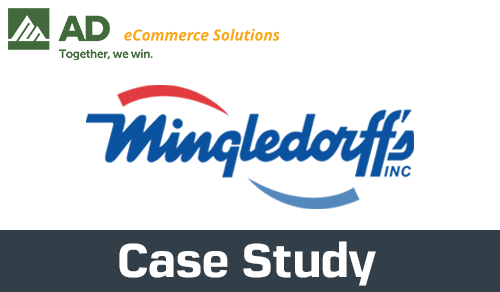 Mingledorff's increases online sales by 40% with AD eCommerce Solutions program
August 12, 2020
By participating in the AD eCommerce Solutions program, we have been able to fill in large gaps in our data that would otherwise require significant effort to complete and continually maintain. This saves us resources and time to work building our eCommerce strategy. - Brandon Viator eCommerce Product Content Specialist Mingledorff's Inc.
Company Background
Since 1958, Mingledorff's Inc. has been a leading wholesale distributor of HVAC and plumbing products to air conditioning contractors and industrial accounts. Their number one objective is to provide their customers, dealers and contractors the tools and equipment needed for continued success both in their branches and through their online channel. Mingledorff's has over 35 locations across the Southeast U.S.
The Challenge
As an early eCommerce adopter, Mingledorff's recognized that their customers were going online to research products and that they valued experience-driven approaches. Their reputation is based on the success of their customers. An investment in eCommerce and a team to champion their solution was imperative to the success of the organization and their customers. Their goal was to create a digital platform to better serve their customers as they research and buy online.
Solution
In 2017, Mingledorff's embarked on a digital journey to improve their online customer experience and by 2018, they invested in a new eCommerce webstore platform, product information management system (PIM), marketing technologies, dedicated eCommerce resources and the AD eCommerce Solutions Programs' eContent Services for enhanced product content. Through the partnership with AD, they were able to take full advantage of the following features:
Member-driven taxonomy, built-in and governed by AD members.
AD's CX1 branded PIM, providing catalog management and exports for your ERP and eCommerce platforms.
Unlimited access to a Customer Service Portal (CSR), a web based online catalog for customer service & sales representatives to use on the floor or on the road.
Downloads of SKU data, to include images, manufacturer documents, ready for use in ERP and eCommerce platforms of choice.
AD normalization of attributes, providing enhanced product data.
Data layering and custom exports to consume AD enhanced eContent.
Continual product updates and enhancements to ensure current manufacturer SKU catalog.
Consultative services, including quarterly calls with AD's dedicated eCommerce team with over 100 years of eCommerce experience.
AD eCommerce Digital Community, a one-stop-shop to connect with fellow AD eCommerce participants, access educational resources, collaborate with peers, and get the support needed to achieve eCommerce objectives.
AD partnerships with best-in-class eCommerce service providers.
Bi-weekly eCommerce training webinars.
AD's annual eCommerce Summit connecting independent distributors, industry experts and AD service providers across multiple divisions.
Results
AD's eContent Services, with its taxonomy, category and attribution model, was able to support Mingledorff's over 30,000 enhanced and normalized product SKU online catalog. In addition to exporting content directly from AD's PIM, Mingledorff's leverages AD's partnership to enhance additional fields and products not available from other sources of manufacturer data and have been able to fill the gap for thousands of products. Using the AD's PIM export process, they were able to develop more consistent data templates across 'like' products, ultimately drastically improving their customer's experience online and creating efficiencies for their internal teams.
After leveraging the AD team and its eCommerce program and going live with their digital solution, Mingledorff's reported a month-to-month sales increase of over 40% on products that had enriched product data. They've continued to make the switch from analog to digital services in their business, showing 22.5% growth year-over-year in the digital sector. Additionally, the initialization of the data governance program better supported internal alignment for the shift to digital and built in efficiencies for their teams.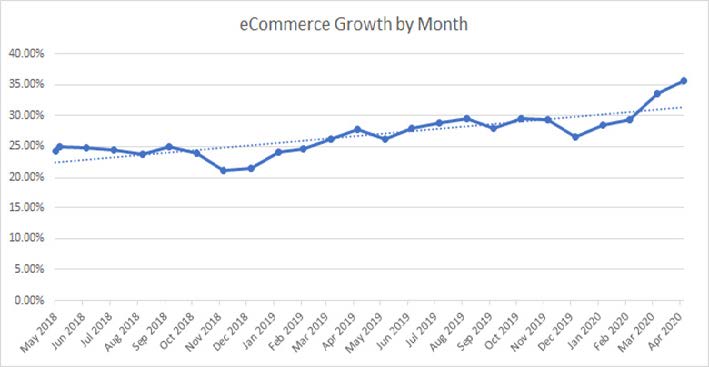 Sales Increase (Month to Month)
January 2020 - Baseline Month
February +24.77% Increase in February from January
March +55.66% Increase in March from February
April +38.25% Increase in April from March
"At Mingledorff's, we pride ourselves on being the leading distributor of HVAC and plumbing equipment in the Southeast. To that end, we are committed to partnering with our customers to provide products and solutions that help them succeed in these complex industries. Our partnership with AD is critical to achieve this goal. Our CEO, David Kesterton, and CFO, Rob Willis, have made a conscious decision to invest in Mingledorff's digital transformation to deliver on that commitment. In recent years, we've intentionally improved warehouse management; deployed a PIM (Product Information Management) where AD's content and support have been critical to our success; launched a new B2B eCommerce platform; automated ordering via our eCommerce channel; and are currently working toward a fully integrated Vendor-Managed Inventory (VMI) solution that will interface with our eCommerce Platform. All these enhancements translate to solutions that customers can access that tie all facets of their functional and operational tasks back to the business and financial aspects. Our consistent goal is to achieve an alignment with our customers where they view Mingledorff's as an extension of their team, working to further enable and enhance their capacity for growth and customers satisfaction." Gregg Jackson, CIO
AD eCommerce Solutions leverages AD's scale and community to enable members to achieve their eCommerce objectives and win in an evolving digital world. To learn more about AD eCommerce Solutions, contact Caroline Ernst at cernst@adhq.com or (610) 977-3162.