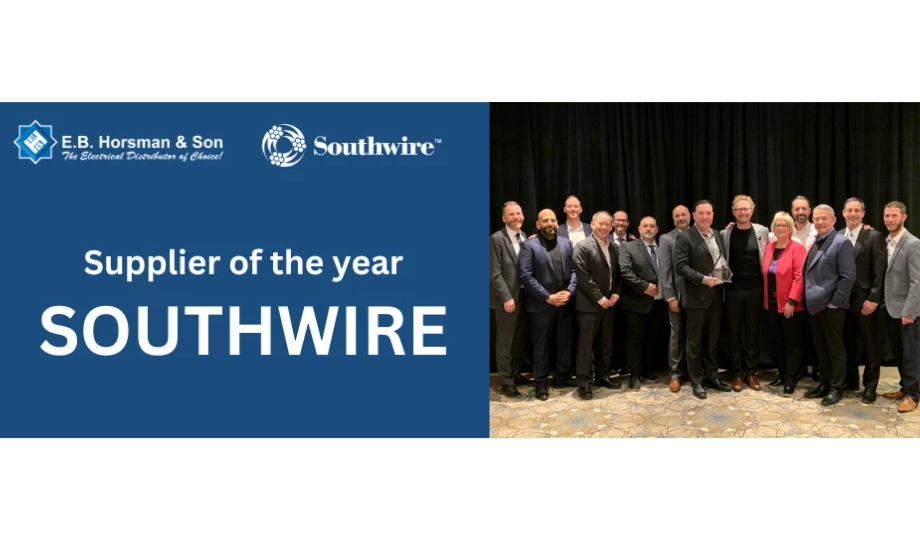 Southwire - E.B. Horsman Supplier of the Year
March 17, 2023
Surrey, BC – E.B. Horsman & Son (EBH) is delighted to share the news that Southwire received the 2022 E.B. Horsman & Son Supplier Partner of the Year award.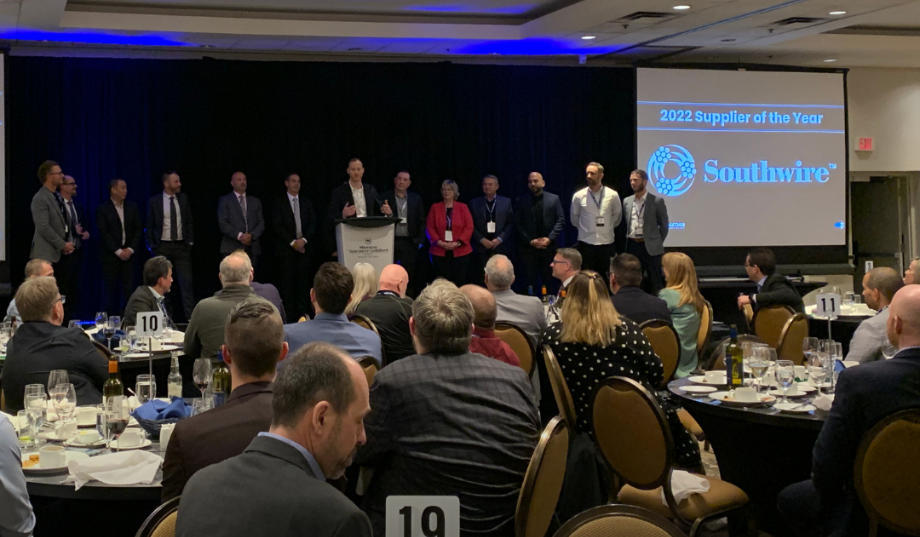 The award was announced March 8th, 2023, during E.B. Horsman & Son's Annual General Meeting and 18th Annual AD Field Marketing Summit. Tim King, President of Southwire Canada, Jordan Ellis, Regional Sales Manager Southwire Canada, Michael Jones, Regional Sales Manager Southwire Canada, Sundeep Bumbra, Distribution Sales Director Southwire Canada, and Goran Vitic, Contractor Equipment Specialist Southwire Canada, accepted the award on behalf of Southwire.
Over the past year, Southwire held a top position with E.B. Horsman & Son for their operational efficiency, inventory on hand, continued support and collaboration with our branches and head office.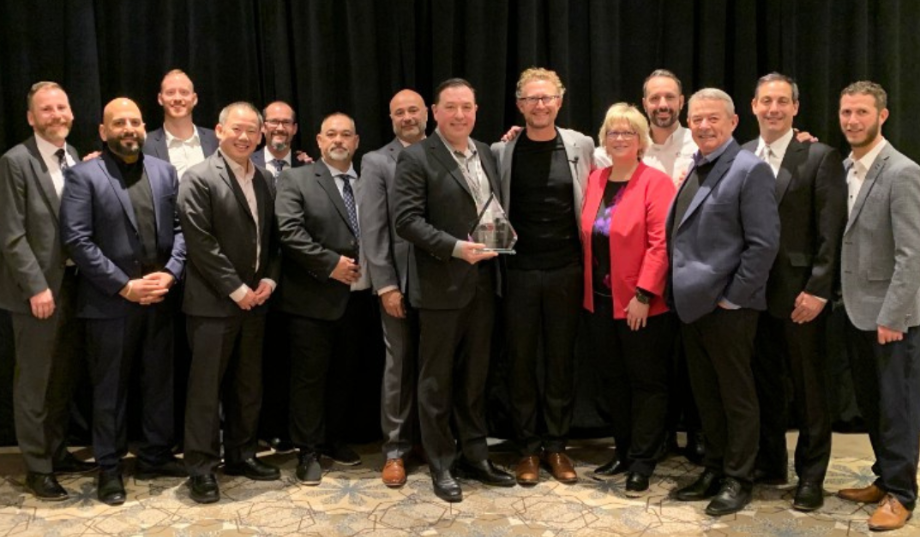 Southwire Receiving Award at E.B. Horsman's Annual General Meeting 2023
From left, Juri Vuletin (EBH), Sundeep Bumbra (Southwire), Jordan Ellis (Southwire), Bernie Ip (EBH), Tyson Carvell (EBH), Todd Taverner (EBH), Wade Emmons (EBH), Tim King (Southwire), Tim Horsman (EBH), Renee Lytle (EBH), Goran Voitic (Southwire), Roy Bragg (EBH), Reg Galanti (EBH), Michael Jones (Southwire)
"Southwire holds a top 5 position with us as it relates to Inventory on Hand and focuses on Operation Efficiency" said Tyson Carvell, E.B. Horsman & Son, VP of Marketing. "They are a big player in one of our top performing product categories and are a true partner with strategic accounts."
As Southwire grows, their commitment to Canadian businesses with aspirations to expand and diversify with Affiliated Distributors (AD) makes them a trusted partner of E.B. Horsman & Son.
We are proud to award Southwire our 2022 Supplier of the Year Award.